Whether you've been preparing for Halloween since June or are simply excited for half-off candy, the spookiest time of the year is finally here! At Streamlabs, we love a stream with a theme; here are some of our favorite Halloween stream ideas to terrifically terrorize your viewers. Don't forget to add a Halloween overlay to your stream for extra eeriness!
Gaming
There are a lot of spooky and spooky-adjacent games out there—far too many for us to cover in a humble blog post. Therefore, we've categorized a few special ones we think you'll enjoy. Also, check out our post on our favorite spooky mobile games, which you can stream straight from your phone with the Streamlabs Mobile app.

Staff Favorites
It's no surprise that many of our staff at Streamlabs are hardcore gamers. We asked around to find out what the Streamlabs crew is playing this Halloween Season and these were the top recommendations:
Xbox Game Pass
If you have an Xbox, you can stream directly from it with Streamlabs Studio. That's right: stay cozy on the couch and read your alerts/chat on your mobile device while Streamlabs Studio broadcasts your live stream to Twitch. Simply create an account, choose an overlay, and we'll take care of the rest. Here are some great spooky games available with the Xbox Game Pass:

Multiplayer Games
Gaming is always more fun with friends! Why not grab a few buddies and tackle some of these malevolent multiplayer games together? With Streamlabs Collab Cam, you can invite 1 friend for free or up to 4 friends with Ultra (for a total of 5, including yourself) to show their cameras (and even their game captures, if you wish!) on your stream. Pretty cool, right? We love Collab Cam and we think you and your viewers will too. Here are some of our multiplayer game suggestions for spine-tingling streams:

Budget Games
If you're not really into scary games but want to try one to get in the Halloween spirit, here are a few options that won't break your budget.
"Spoopy" Games
For those who prefer spoopy (less scary, more cute/comical) games, here are some of our favs that will get you in the Halloween mood.
Tabletop Games
Tabletop games have made an incredible comeback and we couldn't be happier. Streamlabs Collab Cam makes it easier than ever to invite your pals on stream so you can play your favorite tabletop games in real time or showcase your board from multiple camera angles. We recommend checking out these thrilling tabletop games this Halloween:
Just Chatting
Tarot Card Readings
Take a tip from our friend Antphrodite and try out a tarot reading on stream! Tarot decks are becoming more mainstream and can even be found in popular stores like Barnes and Noble. People appreciate not only the beauty of a well-illustrated tarot deck, but the introspection they can help provide. If you've been curious to try tarot or have your own tarot deck you haven't used in a while, now is the perfect time to dust your cards off.
Pumpkin Carving
It's not Halloween without a few jack-o-lanterns! Grab a carving knife (just be careful!), a pumpkin, and get to work while your viewers watch. Bonus: If you use Collab Cam, you can keep your webcam on your face and use your phone as a second camera to show your carving skills up close and personal.
Scary Storytime
Dim the lights, grab a flashlight, and get your storytelling pipes warmed up: it's time to scare your chat silly! You can use a tried and trusted tale or write an original story if you're feeling inspired. Either way, telling a scary story on stream is a unique and fun idea that's sure to be a hair-raising hit!
Halloween Party
If you've got an IRL setup, why not have your stream accompany you to a local Halloween bash? No setup? No problem! You can use the Streamlabs Mobile app to go live right from your phone. Your viewers who either can't or won't (some of us just prefer to stay home!) attend a Halloween party will enjoy being along for the ride.
Get Ready with Me - Halloween Edition
Years of successful beauty gurus have shown us that people really like to watch others get ready. Take the excitement up a notch by letting your followers see you apply face paint, special prosthetics, a wig, etc. Your chat will love watching you get ready for a night of trick-or-treating.
Twitch Watch Party
If you've never hosted a Twitch Watch Party on your channel, there's no better time to start than Halloween night. Grab a bowl of popcorn or candy, tell your viewers to do the same, and settle in together to watch something silly and festive (Hocus Pocus, anyone?) or a classic slasher film: streamer's choice!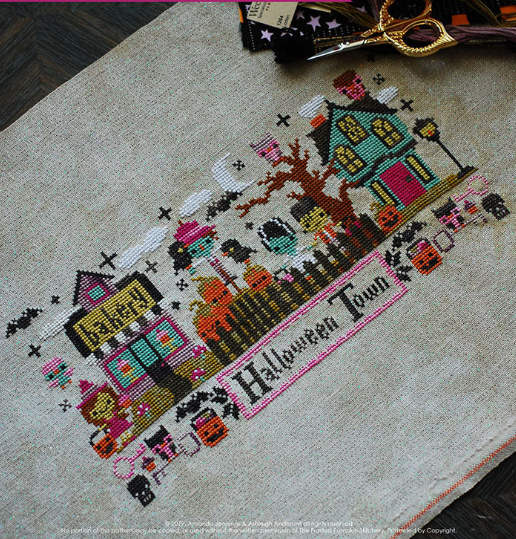 Cross stitch pattern by The Frosted Pumpkin Stitchery
Makers and Crafting
It's right around this time of year that crafters far and wide start preparing gifts for the holiday season. From hand-knitted socks to clay figurines, now is the perfect time to settle in and start a good old-fashioned handmade project. Get your creative juices brewing with a few of these frightfully fun ideas:
Creepy Cute Crafts
Makers everywhere know that Pinterest is a treasure trove of ideas. Therefore, it's no surprise that Pinterest is overflowing with craft projects for Halloween—from simple kid-friendly crafts to needlework that would cause even the most venerable grandmother to weep with envy. Whatever your craft of choice is, there's surely a creepy version for you to try this October. Amigurimi ghosties, cauldron-shaped candles, candy corn soap, jack-o-lantern cross stitch? Anything goes as long as it's handmade!
DIY Halloween Costume
Cosplayers rejoice, it's your time to shine! Costume designer or no, we've all tried our hand at making our own Halloween ensembles. This year, live stream your process for your viewers to marvel at your making skills. Who knows? Maybe your chat can help you come up with solutions if you find yourself in a jam.
Tasty Treats
Since Halloween is synonymous with treats, what better way to enjoy this sinfully sweet holiday than to make some vengeful vittles on stream? Again, we love Pinterest for recipe ideas but your local grocery store likely has cookie mix and other fixings. The best part? You can turn your cooking stream into a mukbang once you're finished. With all of our stream ideas where you're getting your make on, we recommend using Collab Cam so your phone can function as a second camera.

There you have it: a ton of different Halloween-themed games and activities for you to stream this October. As always, Streamlabs is here to support you with a variety of tools so you can create your dream streams with ease. Whether it be Collab Cam, our feature that lets you invite multiple guest cameras to show on your stream, Streamlabs Studio, the service that allows you to customize your Xbox streams with overlays, alerts, and more, or the Streamlabs Mobile app, where you can game or gab while on the go. Here's hoping your spooky streams will be great successes!