Does Streamlabs Desktop have the best overlays? Is Rudolph's nose red? Deck the halls, err…your streams, with these fun and festive overlays for the holidays. We have an assortment of winter-themed, cute and cozy, and over-the-top holiday overlays you can install in Streamlabs Desktop with just one click! We have so many holiday and winter overlays, you could use a different one every day from now until Christmas! Check out all of our different overlays (there's thousands!) to find the perfect match for your stream.
Ultra Overlays
Today we're bringing you a few of our favorite Streamlabs Ultra overlays. With a Streamlabs Ultra subscription, not only will you gain access to thousands of high-quality overlays, you'll receive premium subscriptions to our full creator suite of tools. A must for any content creator, Streamlabs Ultra offers software for creating TikToks from Twitch clips, video editing software (so you can upload your VODs to YouTube with ease!), a link-in-bio tool, and so much more. For a detailed description of all the goodies that are included with a subscription, check out our article on how to take advantage of Streamlabs Ultra.
Psst: If you're looking for free holiday overlays, scroll down to the bottom!
Christmas Gift by FragileGFX
First up, Christmas Gift by FragileGFX offers animated falling snowflakes and wrapping paper accented transitions. This beautiful overlay also has matching alert box widgets and an overlay for your custom website. Dancing presents, mistletoe, and stockings cheerfully adorn the starting/ending screens, making this overlay the complete Christmas package for you to use on stream.
Winter by TacticalLion Designs
Perfect for streamers who don't celebrate Christmas (or want something a little more subtle), Winter by TacticalLion Designs is a great overlay set to show off Mother Nature's powdery splendor. Complete with matching alerts and an overlay for your creator site, this set features fluffy falling snow and animated transitions. Best enjoyed with a handmade scarf and a piping hot mug of cocoa (or eggnog—streamer's choice!).
Neon Festive by TacticalLion Designs
No need for an expensive RGB lighting setup if you use Neon Festive by TacticalLion Designs on your next stream. Looking like the coolest overlay on the block, Neon Festive features electric snowflakes, a well-lit tree, and everybody's favorite red-nosed reindeer. Excluding the BRB and ending screens, this overlay could serve all streamers, as the webcam frame and matching alerts are more "wintery" than "Christmassy."
Neon Christmas by Kudos
Keeping with the neon theme, we have Neon Christmas by Kudos. If you're that person—the one who is overflowing with Christmas cheer this time of year (us too!), this overlay set is for you. Colorfully kitschy and oh-so-festive, you'll have no need to drive around and look at Christmas lights with this overlay lighting up your streams. Better yet, why not try an IRL stream showcasing your neighborhood Candy Cane Lane (just have someone else drive—trust us on this one).
Lofi Winter by StreamSpell
If Lofi Winter by StreamSpell isn't a vibe, we don't know what is. No holiday stuff here, just a cozy kitty lounging with their favorite human against a snowy mountain backdrop. This chill overlay features anime-style art with softly falling animated snowflakes and mood lighting on the headphones (a nice touch, if we do say so ourselves). We have loads of StreamSpell overlays on our site, each one more impressive than the last.
Christmas Jumper by TacticalLion Designs
Bring the world's most celebrated Christmas apparel item to your stream with Christmas Jumper by TacticalLion Designs. There's nothing ugly about this sweater-themed set though, just a darling, dashing reindeer and scenic snowflakes over a charming knit background. Pair this comfy overlay with your favorite frock or perhaps some items from your custom merch shop?
Christmas Cookies by StreamSpell
Even Scrooge himself couldn't say no to Christmas Cookies by StreamSpell. We can almost smell warm vanilla sugar wafting from the animated cookies, including a flying cookie transition with the words "Merry Christmas" behind it. Naturally, this sweet overlay set includes matching alerts and a custom website design. Now if only we could add homemade cookies to our Throne wishlist…
Holidays by WightVisuals
If you enjoy more of a kawaii Christmas vibe, Holidays by WightVisuals features a soft pink background and the cutest snowman we've ever seen. A fully animated candy cane webcam frame, cheeky mustachioed ornament, and twinkly bits and bobs round out this overlay set. As with all of the overlays we talked about today, this one has matching goodies too, including starting/ending screens, alerts, and more.
Magical Christmas by StreamSpell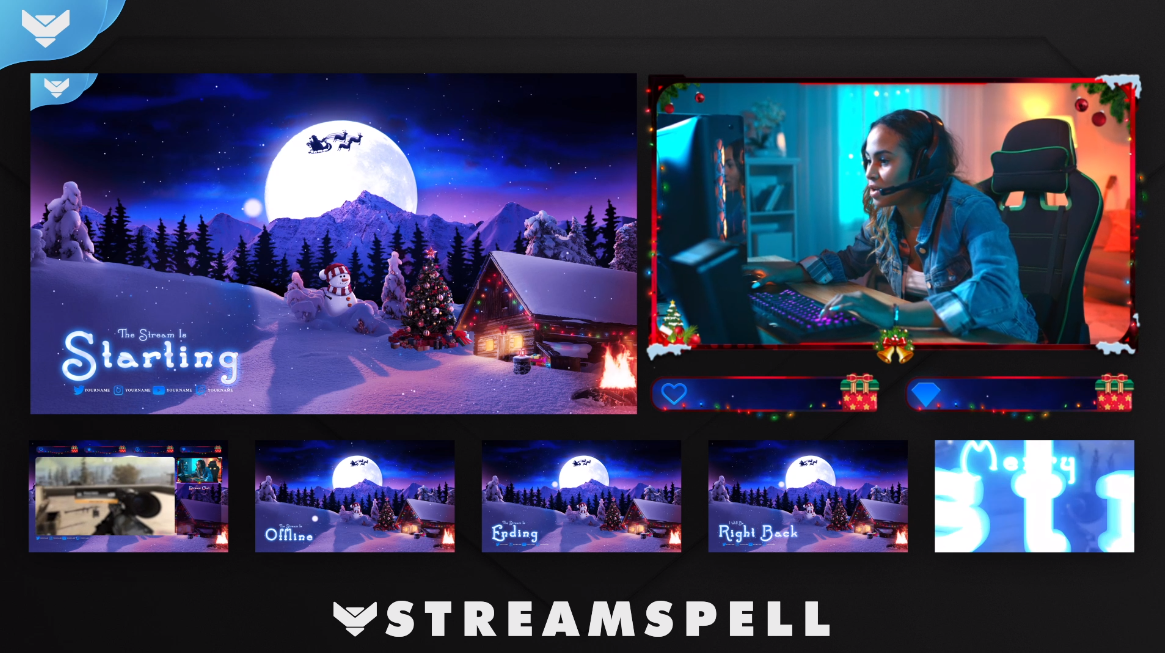 One of the most downloaded holiday themes on our site, Magical Christmas by StreamSpell would be a dream on your stream. This realistic overlay rivals some of the best Christmas ambience videos we've seen on YouTube with its stunning visuals. Fully animated with falling snow, a fireplace crackling merrily, and St. Nick with his reindeer, your starting/ending screens will be looking sharp. The webcam frame has swinging ornaments and twinkling lights, as do the matching alerts.
ESports Christmas by DreamerDesigns
Why should competitive gamers miss out on a little festive fun? If kicking some tail in your favorite PvP game gets you in the holiday spirit, ESports Christmas by DreamerDesigns is the overlay for you. Both the background and transition screen feature a ticker animation with snowflakes, controllers, and keyboards. The overlay also includes spinning candy cane themed poles and "Merry Christmas" written in a sporty font. This overlay is sure to deter even the grouchiest grinch from spoiling your holiday stream.
Free Overlays
If you haven't signed up for a Streamlabs Ultra membership yet and are looking for some free Christmas overlays to use on stream, check out our options below.
Cozy Winter by Streamlabs
Featuring a sleepy little village in a slow globe, Cozy Winter by Streamlabs (that's us!) is perfect for a snuggly, late-night stream. This overlay includes three stream screens (starting, BRB, and ending) as well as a subtle, snowy webcam frame. Oh, to be a resident of a tiny village during the first snowfall of the season—what a dream! If you can't run off to live in a quaint town in the Alps just yet, this overlay should tide you over in the meantime.
Holiday Spirit by Schyax
We love the wood grain style chat overlay and snowy capped webcam frame included in Holiday Spirit by Schyax. This overlay also offers starting and BRB screens with picturesque mountains, snowflakes, and pine trees. Pair this set up with a festive tune from our free sound library (which you can customize your alerts with) and your stream will be cooler than Christmas morning.
We hope you've enjoyed a showcase of some of our favorite Christmas overlays. As we mentioned, there's plenty more where these came from over on our overlay page. Pair one of these overlays with a cozy Christmas game and your streaming competitors will be green (and red) with envy. If you want to learn more about Streamlabs Ultra, check out this deep dive article into the features or head to the Streamlabs Ultra website.