Got an Xbox? You know you can stream directly to Twitch from your Xbox by using Streamlabs Studio, right? No PC required, all you need is your Xbox, your favorite game, and a Streamlabs Studio account (a comfy couch wouldn't hurt either). If you want to give your streams a professional look, a webcam as well as some Xbox exclusive overlays will provide the perfect touch.
Today we'll be spotlighting a few of the overlays from Streamlabs Studio that have been optimized for Xbox streaming. Whether you don't have a PC or would rather stream from your couch, going live to Twitch directly from your Xbox is now easier than ever.
Galactic Gamer
Take your viewers on an intergalactic adventure with the Jericho overlay. We love the galaxy vibes that the rich purple and dark pink colors provide. The font feels "spacey" in its own right, with its futuristic lines that look like they belong on the side of a rocket ship. Give "Jericho" a try—we think you'll love it to the moon and back.
Polished Perfection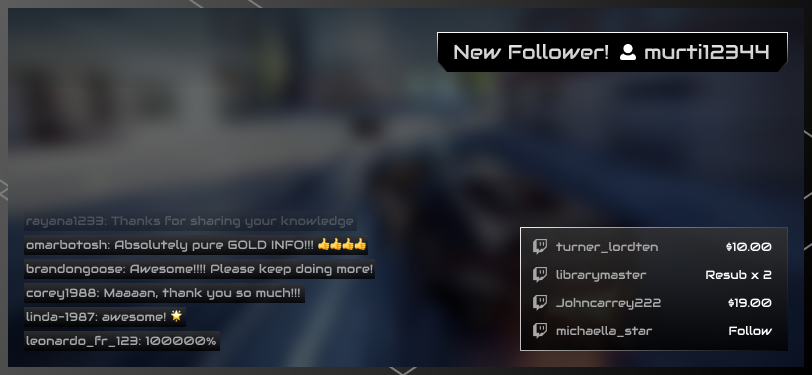 Nothing says "sleek" like black and gray. This overlay is called Matrix and it's easy to see why (Neo in his black coat and sunglasses, yes?). The subtle gray accents give off hints of chrome or steel, making this perfectly polished overlay a chic addition to any stream.
Fun & Festive
Get the party started with the Bubbles overlay. From the eye-catching blues to the brightly colored confetti, Bubbles will bring light-hearted energy to your streams—no afterparty clean up required.
Pastel Paradise
We don't know why this overlay is called Butter and frankly, we don't care. The combination of soft, rainbow pastels evoke the dreamiest feelings and are sure to wash away your worries. Don't take it from us—apply the smooth Butter overlay to your stream today to be whisked away to an ethereal paradise.
Nurturing Nature
Bring your streams back down to earth with Leaf, an overlay for nature lovers. The complementary green tones are so revitalizing that you'll think this overlay was made from chlorophyll. Breathe new life into your streams with Leaf and watch your follower count sprout.
Pope of Pop
Introducing Warhol, our wildest, wackiest overlay to date. To the "lay-viewer," it just looks like you really love bananas. Us intellectuals know better, and see Warhol in all its avant garde glory. The triadic color scheme and bundles of bananas make this overlay a true work of art.
This concludes our showcase of Xbox overlays, all available with a Streamlabs Studio subscription. If you're wondering how you can apply these overlays to your own streams, check out our article on how to get started using Streamlabs Studio. There are more overlays to choose from on the Streamlabs Studio website and new overlays are added regularly. Have an overlay idea? Let us know over on Twitter and we might be able to make it happen. A Streamlabs Studio subscription is $4.99 USD per month, or you can save a little cash by purchasing a full year for $49.99. Either way, you can try before you buy with 7 days of free access.