VTubing is booming these days, and in response, creators everywhere are launching fun, affordable assets for VTubers to use during their live streams. Streaming assets can be referred to as digital graphics used on stream, such as overlays, alerts, emotes, etc. Since VTubers use digital avatars, you can use all sorts of digital items that are exclusive to VTubing. Let's take a look at a few great VTuber assets (some are free!) and discuss how you can use them to encourage your viewers to follow or sub, donate channel points or bits, and more.
Reminder: Only Twitch Affiliates and Partners can receive bits, utilize channel points, and gain subscribers. Check out our articles on how to become an Affiliate on Twitch as well as the differences between Affiliates and Partners to learn more. If you don't have access to bits and subs yet, you can use follower and donation incentives as a means of displaying your VTuber assets.
The VTuber Blankie
Nothing says "cozy stream" like being wrapped up in your favorite blankie! In the photo above, you can see a fully customized VTuber blankie (designed by Crytoko on Twitter). If you use VTube Studio for your 2D avatar, free blankets and other accessories come with the program. You simply have to drag the item you want over to your avatar and double click to "attach" it. You can use a free blankie asset, purchase one through a site like Etsy or Booth, or commission an artist for maximum customization.
How to Use the VTuber Blankie in Your Streams
Many VTubers will use a blankie when they want their streams to feel extra cozy or when they're feeling a bit under the weather. Alternatively, a blankie can be used toward the end of your stream to show that you're winding things down. The blankie is also perfect for night owl streamers and for use during 24-hour streams when you need to grab a cat nap.
Donation Idea: Viewers can donate bits or channel points to have you snuggle up in a blankie for a certain amount of time (from a few seconds to a few minutes, depending on your preference).
Change "Form"
We just transformed from a cute schoolgirl in a blankie to a kitsune latte—amazing! While a fully customized VTuber avatar commissioned by an experienced artist can be quite expensive, premade avatars can be purchased for a fraction of the cost. In our article about the best free VTuber software, we briefly showed a premade model available for purchase on Booth, a Japanese marketplace that offers a variety of paid and free digital assets. You can find clothes, accessories, hairstyles, backgrounds, and even 3D avatars themselves on Booth. If you're using a 2D avatar, Nizima is the best place to go. If you'd rather use a site with full English support, Etsy, Fiverr, and Twitter are where most people go to search for premade models.
How to Use "Change Form" in Your Streams
Since the VTuber avatar is one of the most integral parts of your streaming identity, use "change form" as one of your bigger rewards from subs, bits, or channel points. There are inexpensive models available for purchase (typically between $5 and $30 USD) or you can create your own avatar (check out our 3D avatar tutorial). You can always change up your model to fit the theme of your stream or whenever you're in the mood!
Donation Idea: Have viewers donate bits or channel points to have you change form for a certain period of time. If you have a new model, outfit, or accessory you'd like to debut, you can also set a sub or follower goal before you make your reveal.
Let Your Followers Throw Things at You
Twitch Integrated Throwing System is an affordable program ($15 USD) that lets your viewers use virtual currency to pelt you with food and other items. Cheeky acronym aside, T.I.T.S. is an incredibly useful tool in that you can configure subs, bits, or channel points to automatically trigger the action. Let's face it: everyone loves to (playfully) bully the streamer! This program works with both VSeeFace and VTube Studios and is optimized for VTubers.
How to Use Twitch Integrated Throwing System in Your Streams
Like most interactive tools, you'll need to add the Throwing System to Streamlabs Desktop as a game capture overlay (if you read our article about Stream Avatars, you'll understand how this works already).
Donation Idea: Set T.I.T.S. to trigger the food throwing action for a certain number of channel points, bits, or subs. For those who aren't Affiliate yet, you can manually trigger the action by pressing the F9 key. Encourage people to follow you by adding a follower goal or text that says, "Follow to throw food at me" or something similar and press F9 whenever you receive a "new follow" alert. Be sure to give your viewers a funny reaction when you get hit!
Bonk Hammer, Headpats, and More
If you have a 2D avatar and use VTube Studio when you stream, you have access to a ton of free assets such as the bonk hammer (pictured above), headpats (pictured below), glasses, computer chairs, hats, etc. While you can use these items at your leisure, they're also a great incentive for viewers to donate channel points or bits.
A peek at some of the free assets that come with VTube Studio:
How to Use Headpats, Bonk Hammer, etc. in Your Streams
To automatically trigger anything from headpats to bonks to placing a dancing pudding on your head when a viewer donates channel points, you'll need to use an automation tool like Kruiz Control. Kruiz Control has a ton of customization options for your channel and is totally free.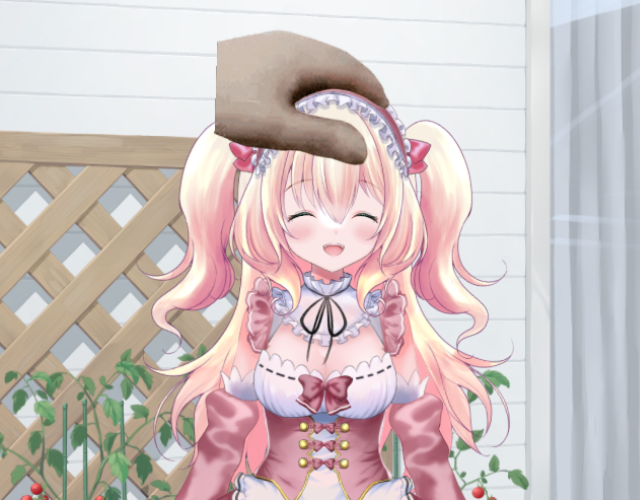 Donation Idea: Use Kruiz Control to automatically trigger certain actions to encourage not only channel point donation, but hype trains, bits, subs, follows and even donations from your tip page. With VTube Studio's free assets and Kruiz Control's compatibility with Streamlabs' alerts, you have a ton of customization options to play around with! Personally, we like the dancing pudding!
With the rise of VTubing, more tools are becoming available to brand your streams and make them more interactive. Take advantage of these tools as often as possible to encourage your viewers to get involved in your streams. Though the initial setup may require a bit of time, you'll reap the benefits and have a lot of fun too! What are your favorite VTuber assets? We'd love to hear about them over on our Twitter. Stay safe and happy streaming!