VTubing has a reputation as an expensive hobby: but it doesn't have to be! There are a lot of resources available to up and coming VTubers that are totally free to use. If you're thinking about trying out VTuber life but don't want to spend any money up front, you've come to the right place. But first you might be wondering, "How can I get my own VTuber avatar?"
When it comes to VTubing, you can either make your own avatar, purchase a premade avatar from a website like Booth or Nizima, or commission an artist to make a custom avatar for you. We strongly advise new content creators who are on a budget to either make their first VTuber model or purchase an affordable premade avatar. Do not spend hundreds or thousands of dollars commissioning a model before you've even experienced the VTuber lifestyle. Start with a basic model and work your way up through subs and donations from your community. We have a great tutorial on how to make your own 3D avatar for free.
Without further ado, here is some of our favorite free VTubing software.
Best Free 3D Avatar Creation Software:
VRoid Studio
One of the most well-known names in the VTuber sphere, VRoid Studio is a program that lets you create 3D avatars. Depending on your skills and effort, you can create a basic model in a matter of minutes or a highly detailed masterpiece over the course of a few days. To quote one of our graphic designers, "VRoid Studio is a software that I just can't believe is free." Check out these models to see why VRoid Studio is one of the top choices for new VTubers.
A simple model made in VRoid Studio by a beginner:
An advanced model made in VRoid Studio by a professional artist (available for purchase on Booth):
As you can see, the only limit in VRoid Studio is your imagination! If you aren't artistically inclined or have never worked with 3D, expect that your first model might not be perfect. As with anything, your skills will improve the more you practice. Since you've got nothing to lose, why not give VRoid Studio a try today?
Best Free 3D Face Tracking Software:
VSeeFace
If you end up making your own 3D avatar with VRoid Studio, you're going to need face tracking software to animate it. VSeeFace is free face tracking software that is user friendly and well trusted in the VTuber community. VSeeFace supports VRM 3D avatar formats, so you should be able to use any avatar made in VRoid Studio, Unity, or Blender.
Our article on setting up a 3D avatar for streaming will show you how to enable VSeeFace in Streamlabs Desktop or any other streaming software. The software responds well to blinking and speaking and can be calibrated to read certain facial expressions (sadness, anger, surprise, etc.) easily. For a new VTuber, VRoid Studio and VSeeFace make the perfect combo for streaming with a 3D avatar.
Best Free 2D Face Tracking Software: VTube Studio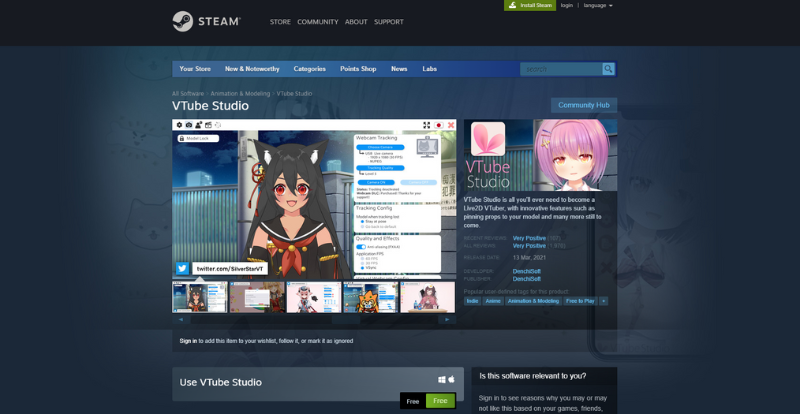 VTube Studio is face tracking software designed to work with 2D avatars. Available through Steam, it's totally free to download and use. Best of all, it comes with several avatars for you to try out. Without a doubt, VTube Studio is the quickest way to start experimenting with 2D VTubing. Depending on the capabilities of your model, you can enable hot keys to trigger certain reactions (i.e., blushing or crying). VTube Studio is really good at reading your facial expressions—you can even wink or narrow your eyes and it will pick it up.
VTube Studio also has certain props available, such as cozy blankets, mustaches, dancing puddings, and more. If you're an Affiliate or Partner on Twitch, you can have your viewers redeem their channel points or bits to have your avatar don these fun accessories. Check our our guide on how to become a Twitch Affiliate if you're looking for tips.
Best for Just Chatting Streams:
VRChat
Part game, part social media, VRChat is a virtual world where users can interact with each other's avatars (VR headset optional!). Upload your own avatar or use one of the premade models and walk around to meet new people and check out the different worlds available. Though there is definitely some questionable content on the platform (make sure to mark your stream as containing mature content if you plan to play with strangers), the use of VRChat for streaming has surged in recent years.
These days, many VTubers will use VRChat for Just Chatting streams on Twitch. By selecting a world and choosing "Invite Only," you can ensure that a random stranger will not come barging into your world and interrupt your stream. You can dance, sing karaoke, or just hang out and chat with your viewers.
Other Important Software:
We've talked about several programs that are specific to VTubers, but there are other programs you might need on your VTuber journey. Not all of them are free, but all of the ones listed below at least have free trials.
For VTuber Artists: Adobe Character Animator (Free Trial)
If you're a VTuber who is also an artist, you can create your own incredible, interactive world for streaming. Check out our article on how to use Character Animator for an in depth look at this cool software. A 7 day free trial is available.
For Drawing a 2D VTuber: Clip Studio Paint (Free Trial)
There isn't really a software that helps non-artists make their own 2D VTuber models. Instead, the model must be digitally drawn on separate layers and then "rigged" with animator software. Clip Studio Paint is one of the most recognized digital art programs available today. Depending on the type of device you're using, you can get either a 3 month or 6 month free trial.
For Rigging a 2D VTuber: Live2D Cubism (Free Trial)
As we mentioned, creating a 2D VTuber avatar is a two step process: character creation followed by rigging. In today's VTuber industry, Live2D Cubism is the gold standard when it comes to character rigging. It offers a 42 day free trial which may be just enough time for a beginner to fully rig a model. For best results, study tutorials before activating your trial.
For Self Promotion and Networking: (All Free)
Growing as a streamer can be difficult. That's why it's important to be active on social media and promote your content as much as possible. We recommend Cross Clip for making clips of your stream highlights and publishing them to TikTok and Instagram, Video Editor for editing your Twitch streams for YouTube, Canva for making graphics, and Link Space to post in your bio so fans can easily find all of your social media in one place.
With all of the free options out there, it can be easy and inexpensive to start your journey as a VTuber streamer. Though it may be tempting to commission a skilled artist for a top-of-the-line model, there's no need to go into debt: especially when you're not even sure that VTubing is right for you. Starting small and working your way up will not only be a rewarding experience for you, your community will enjoy supporting you and watching you grow.