➤➤ Highlights for Q4'18, TL;DR
Quarterly active streamers using Streamlabs Desktop reaches an all-time high of 2.4M
Streamlabs processes more than 141M in tips donated to streamers in 2018, a 41% increase from 2017
Streamlabs Desktop App Store launches with 25 Apps, over 15,000 paid app installs. New $1 million Grant Fund for Developers.
Monthly active users streaming on mobile increases 266% this year
YouTube Live closing gap on Twitch, increases 21% in quarterly active streamers
Facebook Gaming increases 23% in quarterly active streamers
Mixer's concurrent viewer count increase 195% in 2018
Fortnite decreases in quarterly active streamers for the first time since launching Battle Royale
Hours of streamed content for PUBG decreases by 26%, and the number of unique streamers decreases by 25%
---
As we take a look back on the year, we have a lot to be thankful for. After launching Streamlabs Desktop into beta last January about 41% of Twitch streamers are using our software today. We created an App Store; we added new widgets and features like Face Masks; we introduced the merch store and included more ways to tip. We've been working hard all year because we firmly believe that you, the content creators, are having a tremendous impact on video games and are shaping the live streaming industry into something special.
As we look onward into 2019 there is a lot of exciting growth, expansion, and development, not just for Streamlabs, but for the live streaming industry as a whole. Let's take a look the latest industry stats from this quarter and in 2018.
Streamlabs Desktop Continues To Grow
Quarterly active streamers using Streamlabs Desktop across all platforms increased 13% quarter over quarter from 2.13M to 2.4M.
Streamlabs Desktop App Store: 25 Apps, $1 million Grant Fund
The Streamlabs App Store was launched in Beta this quarter. The store has seen over 25 apps, each one built by an independent talented developer team, and 15,000 paid installs in less than 2 months since launch. For more information about the App Store download Streamlabs Desktop here and check out our blog post.
Streamlabs also announced a $1m Grant Fund for new app developers to continue to drive investment and innovation into apps for streamers.
If you are interested in building game-changing apps for the streaming community you can apply here for a grant to help build and scale your business.
Tipping: from 2015–2018
We've also processed over $35M USD in tips to content creators in Q4, a 34% increase from Q3 2017. That is a total of $141M USD in tips donated to streamers in 2018, a 41% increase from 2017 (100M).
The number of monetized channels, defined as a channel that has made $>0 in revenue, also increased by 60% year over year.
Mobile Live Streaming Still In Its Infancy But Growing Massively
Mobile MAU grew 266% over the year, increasing from 80K in January to 293K in December. One possible reason for this growth is that there has been a big push to mobile from developers and platforms alike. For one, Twitch has introduced several new categories aimed at non-gaming activities that lend themselves well to the mobile platform. This is to take the place of the IRL streaming category, which was officially replaced in August. New categories include Art, Hobbies & Crafts, Music & Performing Arts, Just Chatting, Travel & Outdoors, and more. The accessibility of mobile phones makes streaming in these various categories much easier and may be one reason why there is a rise in mobile live streaming. In fact, 39% of Streamlabs users on mobile use it to stream in real-life while 50% stream games and the other 11% use the app for the remote control feature.
While we believe the popularity of non-gaming live streams will continue to rise in the future, gaming is still the main allure, which is why there has been a big push to mobile from developers. New games on mobile this year include Tencent Games' PUBG Mobile, Epic Games' Fortnite Battle Royale, and even Blizzard with the announcement of Diablo: Immortals.
If you are a fan of Diablo you'll know that the move to mobile was controversial considering their core fan base are PC gamers. Activision Blizzard's stock actually fell following the announcement, and at the time of this writing, the announcement trailer has 27K likes and 719K dislikes on YouTube.
The decision to go mobile may have seemed questionable to fans of the franchise, but from a business perspective, it makes perfect sense. According to a report by newzoo, mobile revenue makes up more than 50 percent of the global games market and the mobile gaming market is expected to reach $106.4 billion USD in 2021. When 77 percent of Americans own a smartphone, it makes sense that Diablo would bet on mobile and perhaps become a dominant player in the growing mobile live streaming sector.
Twitch 2018: All-time Highs In Avg Concurrent Viewers And Streamers
There was an 8% increase in quarterly active streamers (1.63M vs. 1.76M), a 3.6% increase in concurrent viewers (1.11M vs. 1.15M), and a 5% increase in concurrent streamers (43.3K vs. 45.5K). By comparison, the average quarterly growth rate for Twitch in 2018 was 15% for active streamers, 6.8% for concurrent viewers, and 7.6% for concurrent streamers.
YouTube Q4 Growth Rate Spikes, Closing The Gap
YouTube Live saw a 21% increase in quarterly active streamers from Q3 to Q4 (623K vs. 756K) and a 75% increase in 2018 (432K vs. 756K). To put that into perspective, these are about the same numbers we were seeing from Twitch in Q3 2017. YouTube is displaying some serious signs of growth this year. According to Ryan Wyatt, YouTube's global head of Gaming, we've watched about 50B hours of gaming on YouTube alone. That number is staggering, and when combined with other various platforms, you get about 60B hours worth of watched gaming content, according to The Next Web.
We believe this return to high-growth for YouTube Live has a lot to do with some product changes that YouTube implemented in 2018:
Merging YouTube Gaming Live with YouTube Live, for a seamless unified experience and easier discovery
Adding better monetization and community tools such as SuperChat and Memberships
Supporting third-party developers via expanded API usage, such as Nightbot and Streamlabs
Mixer Streamer Count Idles But Sees Gains In Viewer Count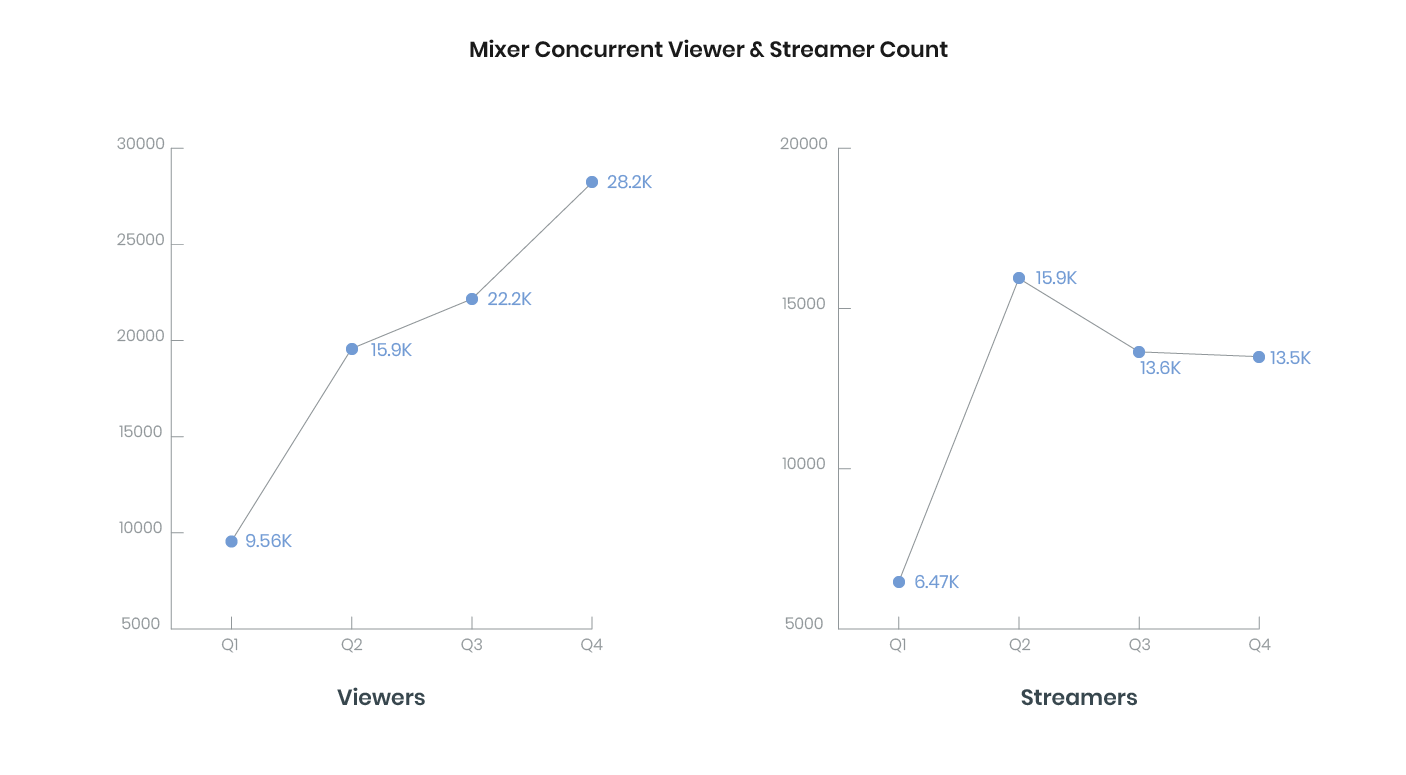 Mixer has managed to significantly bolster the number of viewers on the platform while sustaining the same amount of streamers. After reaching a major milestone of about 15,500 concurrent streamers in Q2, Mixer has since lost about 2,000 of those streamers by the end of Q4. In addition, quarterly active streamer growth is idle from Q3 to Q4 (70K vs 69K). On the other hand, concurrent viewers on the platform have increased 27% from Q3 to Q4 (22K vs. 28K) and have increased 195% throughout 2018 (9.5K vs. 28K).
Mixer is also currently rolling out a new payment system (Sparks) that could distinguish it from the competition. This new system guarantees the streamer gets a preset amount of money just by having viewers watch and interact with the stream, no donation required. It's a cool system that encourages interaction and we may see more streamers move to the platform in the future because of it.
Growth for Facebook Gaming Continues To Increase
The platform saw a 23% increase in streamers quarter over quarter (70K vs. 87K) and a 91% increase in streamers in 2018 (45K vs. 87K). It's been a busy quarter for Facebook and looks like they are taking steps to increase viewer engagement and attract more streamers to the platform. For example, Facebook recently launched their gaming hub, Fb.gg, into beta on Android, giving users the chance to discover more live streamed content. Their Level Up program was also rolled out to 21 countries to help streamers build a community, and they announced the ability for content creators to live stream for charity. All of these announcements add up to one nice package for live streamers looking to use the platform and may have helped boost the number of streamers in Q4.
Number of Streamers Playing Fornite Drops For First Time
Amidst a flurry of new releases this quarter, gamers may finally be getting tired of playing Fornite. There was a 5% decrease in quarterly active users streaming Fornite this quarter, from 2.37M users in Q3 to 2.25M users in Q4. The total hours of live streamed Fornite content stayed the same at just under 19M hours in both Q3 and Q4. These numbers may seem relatively small, but this could be a sign of things to come considering this is the first time since the launch of Battle Royale that the number of people streaming the game has decreased.
Call of Duty Enters The Game
Call of Duty: Black Ops 4 is becoming one of the most live streamed video games this quarter. It has seen 5.42M hours of live streamed content and 613K unique streamers, placing it securely in second place behind Fornite. Perhaps this comes unsurprisingly considering the game made over 500M dollars its launch weekend.
After Nearly A Decade, League of Legends is Still Topping Charts
League of Legends celebrated its ninth anniversary this October. After nearly a decade, it still remains one of the most live-streamed games of all time. The number of hours of live streamed content for League of Legends has increased by nearly 25% from Q3 to Q4 (3.63M hours vs. 4.5M hours) and the number of unique streamers has increased by 13% from 313K to 353K streamers. Throughout 2018 the number of hours of live streamed content has remained right around 3.5M so this jump is significant. The League of Legends World Champions in November can likely be attributed to this increase in interest, but a couple of key events could also have played a part. These include the one-hour "Esports 101" special that aired on TBS that featured League of Legends and The European League of Legends team announcements and rebranding.
Overwatch Growth Stable Amidst Concerns About Longevity
Despite concerns about the longevity of the game, Overwatch continues to see consistent numbers all year. The number of hours of live streamed content for Overwatch has increased slightly quarter over quarter (2.16M vs. 2.17M) and has remained the same all year with a slight 2% increase in 2018 (2.13M vs. 2.17M). With the launch of Overwatch League 2019 right around the corner we expect these numbers to remain consistent throughout the next year.
PUBG Continues Downward Spiral
The popularity of PUBG continues to decrease despite a campaign to fix issues with the game and efforts to improve declining interest. Even the release of a brand new map couldn't significantly bolster the games slowing fading player base. The number of hours of live streamed content for PUBG this quarter was 2.4M hours vs 3.24M hours last quarter. That is a 26% decrease quarter over quarter. The number of unique streamers has also decreased by 25% (295K vs. 221K) quarter over quarter. Overall, PUBG has seen a 47% decrease in hours of streamed content in 2018 (4.57M vs. 2.41M) and a 56% decrease in the number of people streaming the game (505K vs. 221K).
As we continue to innovate, one thing will always remain true: We will do everything we can to help content creators turn their passion for entertainment and live-streaming into a business.
There is something to be said about the growth and the noticeable shift in cultural attitude towards video games, live streaming, and the people that shape the community. Gone are the days when people who play video games were called nerds. To quote Ninja, "Drake made playing video games cool". If nothing else, we think this comment reinforces and validates the growth of the live streaming industry this year. We are excited to see what 2019 has in store for the industry so be sure to follow the blog for more industry insights throughout the year.
Please leave a comment or follow us on Twitter. We love to hear feedback.
---