So, you heard Streamlabs Video Editor is a fantastic tool to edit your videos for YouTube, TikTok, Instagram, and much more, but you're unsure where or how to start? No worries—we've got you covered. In this guide, we'll teach you everything you need to know about using Video Editor, from adding your media files to collaborating with others for feedback. Get out your pen and pad; it's time to take notes so you can start making amazing video content in no time.
Signing up for Video Editor
If you're new to Video Editor, there are a couple of ways you can create an account and log in to get going.
Log in with Streamlabs ID: If you're using (or planning to use) tools under the Streamlabs umbrella such as Cross Clip, Melon, and Studio, creating a Streamlabs ID allows you to have one easy login for all of these accounts. If keeping track of logins and passwords isn't your strong suit, we highly recommend going this route.
Log in with Google: Easily set up an Video Editor account using your Google (Gmail) credentials. Click Log in with Google, which will bring you to a sign-in with Google page for you to either select the Google account you'd like to associate with Video Editor or input the details.
Log in with email: Lastly, you have the option to log in using any email address of your choice.
The Basics
Video Editor is a pretty straightforward tool to use. However, we'll still take the time to break down everything you need to know.
Creating a Project
To help keep your video content super organized, Video Editor allows you to create separate projects to house your videos. From your home screen, click the text at the very top left of your screen (for new folks, it should say Demo Project). Next, click New Video Project, customize your email notifications for the project, then select Create. Once your new project is created, you can select Create New Video to begin working on your content.
Settings
Before you begin editing, it's essential to ensure you have the correct settings to create your masterpiece. Below are quick changes you can make under the Settings tab.
Output Format: As you may already know, different platforms require different video formats. For example, uploading a square formatted video vs. a portrait video on TikTok will not only not look awkward, it can also easily ruin the viewer experience. Set the correct format before editing your video.
Background Color: While the default background is set to black, you can easily tweak the color to fit the vibe of your video. From Settings, scroll down to Background Color and click the filled square to the right. Next, use the sliders to change the color or input the hex code for the one you'd like to use.
If you wish to set a video or image as your background instead, add it to your project and ensure it's the bottom layer so other elements, such as text, are visible on top.
Adding Media
With Video Editor, you have the option of uploading files to edit or recording directly from your device. Below we'll explain how to do both.

Uploading
Videos, Images, and Audio: From the left navigation panel, there are two ways to add media to your project. The first is to select the big plus sign (+), which will bring up a window to search files on your computer. The second is to select Media from the same navigation window, then drag and drop or click to upload the video, image, or audio files you'd like to add to your project.
FYI, if you don't have your own audio file, you can select one to use by going to Sounds in the navigation bar, which will bring you to our built-in library.
Recording with Video Editor
If you're starting from scratch (meaning you have no media to upload), Video Editor has a solution for that as well. You can scroll to the bottom of the left navigation panel and click Recording to create media right on Video Editor. Click whichever type of media you want to record (audio, camera, or your screen), grant Video Editor access to the required device(s), then begin recording. Your recording will be stored under Media for you to access and use for your project.
Sounds
The sound library in Video Editor has a great mix of music and sound effects that you can use to enhance your videos. Look through the library (or search by category) to find sounds you may want to use, and simply click the plus sign to add them to your video.
Transitions
For transitions, you can easily drag and drop them between the clips of your choice. Applied transitions will appear purple in the editor.
Text
No matter how amazing your video is, adding text can help your content resonate with your audience. Click Text in the navigation panel. Next, you'll see a variety of fonts to choose from—click the font that you like the most, then input your text in the Content field, replacing the sample text. In the same window, you can change the size, color, and font (if you change your mind), among other things.
Hotkeys
The key to video editing is working smarter, not harder—Video Editor's built-in hotkeys allow you to do just that. Click the Hotkey Guide to see a full list of keyboard shortcuts you can use while editing.
Tutorials
If you're a visual learner who would be more comfortable watching a video about using the features of Video Editor, check out the tutorial tab. Here lie videos on everything from adding media to uploading your video on YouTube
Editing Media
Adding media to your project is one thing, but editing it to create a finished video is another. Below is how you can enhance your video by editing the various elements.
Animations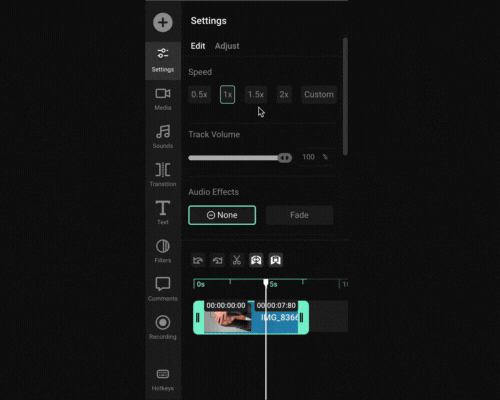 To animate any element added to your timeline, select it from the editor, which will bring up Settings. Here, you'll find animation options such as Fade Out or Zoom. You can also click Adjust to change the speed of video clips or make changes to visuals such as size or color correction and changes to sounds such as volume and speed.
Zooming In and Out of Timeline
Depending on the length of your video, you may find that your timeline goes on for what seems like forever. In this case, you can zoom in and out using the magnifying glasses to the top right of the timeline. This way, you can control your view of what you've already added to your video.
Splitting Clips
Have a clip that you want to split into two or maybe even more? Select the clip on the timeline, then navigate to where you want to split the clip. Next, click the scissor icon towards the top left of the timeline. That's it!
Adjusting Length of Clips
To shorten (or lengthen) a clip, select the clip, then drag the blue slider at either end to adjust to the desired length.
Adding Filters
Sometimes your video can use the finishing touch of a filter, and Video Editor has you covered. To apply a filter to a video or image, click the media you'd like to use, then head to Filter from the navigation bar. Next, select the filter that you'd like to apply.
Collaboration
Video Editor is a fantastic tool for easily editing videos and makes collaboration on projects simple. Below are a few ways to do that.
Invite People to the Project: From the homepage of your project, click the red plus sign next to your profile image (towards the top right). Enter the recipient's email address and assign a role (i.e., editor, viewer, etc.)
Comments: If you or one of your collaborators wish to leave a timestamped comment, click Comments from the navigation bar, then select the point in the video you'd like to leave a comment for your partner to see.
File Requests: Need a file from someone else to use in your project? Streamline the process by sending a file request from your project's homepage. FYI, they don't need an Video Editor account to upload files to share with you. We know—good stuff, right?
Review Links: By right-clicking on your Media under the Video Editing tab, you can copy a link to share with external users for feedback.
Exporting Your Video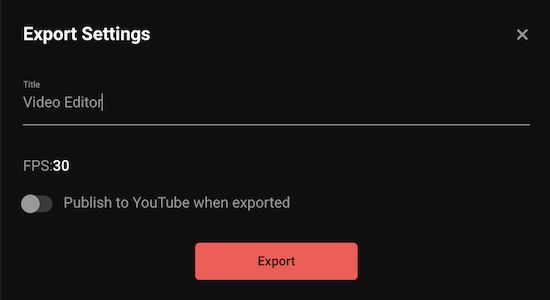 Once you're done editing your video and are satisfied with the project, click the red Export button at the top right of your screen. Here you'll have the option to rename your file and save it to your computer by pressing Export or uploading to your YouTube channel by toggling on Publish to YouTube when exported, which will add the video to your drafts.
Now that you've gotten down to the nitty-gritty of how to edit videos with Video Editor, we hope you feel more confident creating video content that you can be proud of. We can't wait to see what you come up with!
Video Editor Pro
If you plan on beefing up your video content production, you may want to consider switching to the premium version of Video Editor for $10 per month (or $100 paid annually). Below are the key differences between the free and paid versions:
250GB of storage (compared to 15GB from the free version)
1-hour export length (compared to 30 minutes from the free version)
20G max upload size (compared to 5GB from the free version)
Accessing More Creator Tools with Streamlabs Ultra
If you need a few different tools to check off everything from your creative to-do list, allow us to introduce you to Streamlabs Ultra— a suite of pro-level tools for creators, combining the premium services of Video Editor, Streamlabs Ultra (formally Prime), Cross Clip Pro, Talk Studio, and Streamlabs Console into one simple login (using Streamlabs ID) and monthly subscription.
We can't wait to see what amazing content you create using Video Editor. Be sure to follow Video Editor on Twitter and share your creations with us!