If you read our article on VTubing for Beginners and are interested in making your own 3D avatar for free, you're in the right place. Over the past few years, VTubers have been taking over Twitch and the internet in general. Available in 3D, 2D, and PNG versions, using an avatar to stream or film YouTube videos comes with a variety of benefits:
Protects your identity, should you wish to remain anonymous

Makes content fun and interesting to watch

Great for people who don't want to show their face on camera or don't own a webcam

Allows for a ton of creative expression
Today we'll be looking at creating a 3D VTuber model with VRoid Studio software. Though there are other 3D avatar makers, VRoid is arguably the most popular. Not only is it user friendly and provides the "anime style" avatars most users are after, it's totally free. Furthermore, absolutely no art or animation skills are required. You can download VRoid Studio for Windows or Mac, or grab it straight from the Steam store. We'll be using the Steam version today.
Download and Open VRoid Studio
Here is the first screen you'll see when opening VRoid Studio. Any models that you've already created will appear under "recently edited".You'll also find a few "sample models" that you can customize. Today we'll click "Create New'' to start with a fresh base.
Choose Your Base
You can choose a feminine or masculine base for your avatar. If either of these avatars look nothing like you, don't worry: there's a ton of customization options ahead.
Play Around With Face and Body Features
This is the main screen for customizing your avatar in VRoid Studio. Right click and hold your mouse to move the camera around and use the scroll function to zoom in and out.
To the far left you will see options for things like face sets, eyes, nose, mouth, etc. Just next to that you'll see previews. Experiment with a variety of different styles to see what you like best.
Experiment With Colors and Textures
As you continue customizing your 3D avatar, you can get creative with eye and hair colors, skin tones, and more.
Optional: Download Custom Content
While VRoid Studio is perfect for those without drawing or animating skills, having these talents significantly improves your options for customization. Most people believe that artistic talent is a skill you're born with, but any artist will tell you that with practice, absolutely anyone can learn to draw. Naturally, this takes time.
For those who don't have time (or simply don't want to learn), we have Custom Content (CC) creators. Much like mods on Twitch, CC creators are the unsung heroes of the internet, using their skills to deliver content most of us couldn't make on our own. Oftentimes, CC creators give us downloadable goods without receiving pay, recognition, or even a simple thank you—they truly are amazing!
Booth is an indie marketplace where CC creators upload items for users to enjoy. Though there are some items that require a few bucks, you can find loads of free downloadable content on Booth. The website is primarily intended for Japanese audiences but features English translations. VTuber Mari Yume has a great YouTube tutorial about downloading CC through Booth.
In this image, you can see that the creator offers a free, downloadable dress for VRoid Studio in one color but requires 200 yen (less than 2 USD) to receive the other colors. You'll see this quite a lot on Booth. If you have a few dollars to spare, it's a great way to get CC and support the artist at the same time. In the image below, we applied the CC dress to our avatar by uploading it as an image layer in the Texture Editor.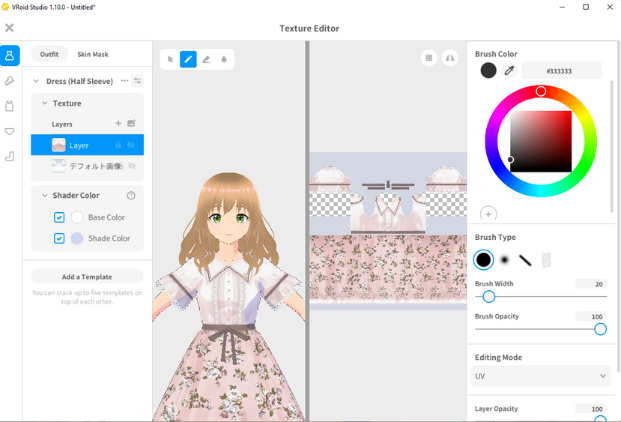 Finalize Your Avatar and Save
After adding some fun, animal ears to our avatar via "Accessories," we're all set. Simply save your avatar and the software will automatically save it as a VRoid file. In our next article, we'll look at facial tracking applications with which to use your avatar and show you how to get set up for streaming or filming YouTube videos.
If all of this feels a bit overwhelming, you can start by using a PNG avatar. Read our article on PNGTubers to learn more. Of course, you can always commission an artist to make a 3D, 2D, or PNG avatar too.
Now that you know how to use VRoid Studio to create a 3D VTuber, what are you waiting for? Trying making a 3D avatar today! We can't wait to see what you create.