At this point in your journey as a creator, you probably understand why branding is essential. From having a standout logo to selecting the perfect colors to use across all platforms, branding helps set you apart from other creators. A well-designed brand not only helps people recognize you but may also attract them to you, whether you're selling your brand's story, your expertise in a specific niche, or physical items such as merch through Streamlabs.
We understand that your well-designed merch store is an extension of your brand, which is why we are happy to introduce free customization options for your Streamlabs Merch storefront. With these new features, creators like yourself can easily change elements such as fonts, font color, background color, custom banner, and themes for your storefront in just a few clicks (no coding or website design skills needed). If you want folks visiting your storefront to feel welcome and at home, we strongly encourage you to check out these new customization features for your Streamlabs Merch storefront.
To jump right in, create a merch store, and start customizing, head to the merch tab in the Streamlabs Dashboard.
How to Customize Your Streamlabs Merch Storefront
Have at least one product set up in your Streamlabs Merch Store? If so, you can start customizing your storefront. Simply login into your Streamlabs Dashboard and select Merch Store from the left navigation panel. Once you're there, you can begin customizing the following elements of your store by selecting the Storefront tab.
Layout
Here you can customize the overall look and feel of your storefront:
Template—choose between a clean, grid, or card layout for your products.

Header—choose between your Streamlabs avatar or text.

Banner—add a banner of your choice.

Categories—toggle this option on or off to display product categories on your storefront's page.

Creator Site Links—toggle on or off to show or hide the

Creator Sites

navigation bar on your storefront.
Color and Fonts
Here, you can add the final touches to your storefront to ensure it is "on brand."
Theme—match your

Creator Site

design, choose from premade themes, or go custom with a custom background, font and font color.

Background Color—use the selector to choose a color or enter the hex code of one you'd like to apply to your storefront's background. This option is only available if you're using a custom theme.

Font—choose from a variety of fonts for your storefront.

Font Color—use the selector to choose a color or enter the hex code of one you'd like to apply.
If you need inspiration for your storefront, check out some amazing examples below.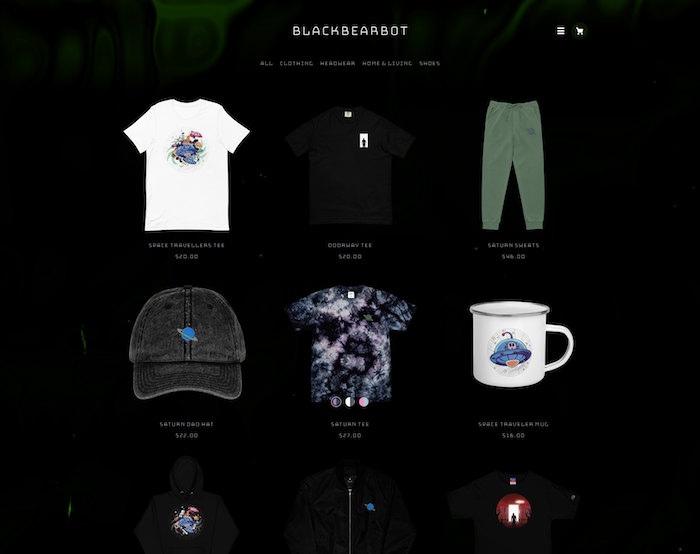 We can't wait to see how you customize your storefront and how it will impact your merch sales. Happy selling and creating!