The spookiest of seasons is upon us and here at Streamlabs, we love any opportunity to use holiday-themed overlays. The Streamlabs overlay and theme library has hundreds of free assets, meaning you can find the perfect match for your streams any time of the year. Streamlabs Ultra creators have access to premium overlays, many of which feature animated stingers, "Starting Soon" screens, and matching alerts. Sometimes themes have complementary tip and merch pages too, so keep that in mind when branding your channel.
We've gathered some of our favorite Halloween themed overlays to bring some frighteningly festive fun to your streams!
"Halloween" by WightVisuals
With a matching tip page, merch store theme, and alerts, "Halloween" by WightVisuals allows you to turn your entire channel into a wicked wonderland just in time for All Hallows' Eve. This premium overlay features animations so aesthetically appalling, the grim reaper himself couldn't have done a better job. From the bats to the most malevolent jack-o-lantern you've ever seen, "Halloween" would be the perfect companion to any spine-tingling stream—just be sure not to disturb any spirits!
"Undead" by Hexeum
We love this black and purple theme with orange accents. "Undead" by Hexeum features a dreadfully drippy animated font and spindly limbs reaching up from hidden depths. Spiderwebs, melting jack-o-lanterns, and the occasional flying bat make "Undead" one of our coolest, creepiest overlays. This premium overlay set would be perfect for a spook-tacular 24 hour stream, blood-curdling co-op gaming session, and more!
"Halloween Night" by Streamlabs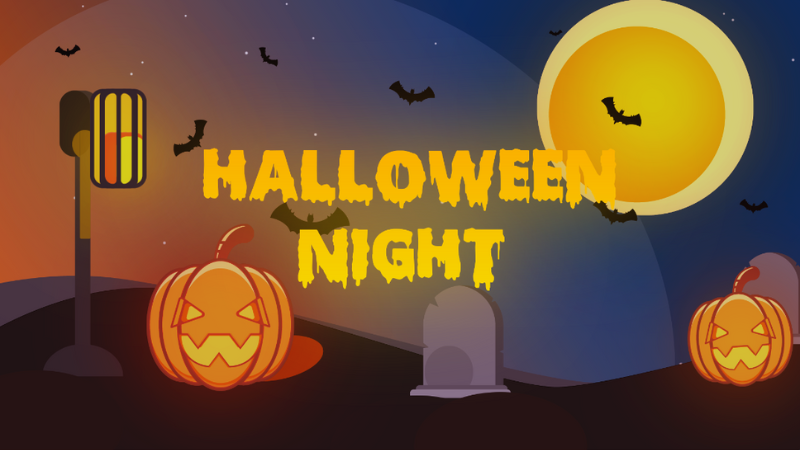 Designed by our talented, in-house artists, "Halloween Night" by Streamlabs features all of the classic Halloween elements you know and love. Bats, jack-o-lanterns, headstones, and more. This black and orange overlay set screams "Trick or Treat!" Best of all, this overlay is free to download and use at your leisure. Pass the candy, the stream is about to start!
"Halloween" by Kudos
'Spoop-ify' your streams with this aqua, purple, and orange overlay set featuring a gamer's desk and jolly jack-o-lanterns. "Halloween" by Kudos is fully animated with candles, floating books, bats, and more. The animated transition stinger will fill your screen with the ghosties galore and even features a matching set of alerts. This premium overlay set would be perfect for a Halloween themed Twitch Watch Party—be sure to invite your friends via Collab Cam to join in on the freaky festivities.
"Fright" by TacticalLionDesigns
This black, white, and red streaked overlay set is giving major slasher movie vibes. "Fright" by TacticalLionDesigns features animated starting, ending, and brb screens with a gritty font that rips across the page. The red splatter transition animation intensifies the creepiness, making this overlay one of our scariest yet. Try out this premium overlay during a late-night gaming or scary story session to terrify your followers to the extreme!
There are even more Halloween themed overlays to choose from in the Streamlabs library. With this many eerie overlays, you could host a different stream for the rest of the spooky season. So, what kind of creep-tacular content will you be creating this Halloween? We wish you and your viewers a ghastly great time!