If you run into camera issues or your screen/camera is black-screened, there are a few reasons why this may be happening. Below we'll cover:
Allow Access to Your Camera/webcam
Camera Overview
Common Camera Issues
Adding Multiple Cameras
Allow Access to Your Camera/Webcam
1. Your camera is not enabled by default on Talk Studio. To allow access, locate & click the lock icon located next to your browser's address bar.
By not allowing your browser to access your mic/camera, you will not be able to display your camera feed(s) and you may receive the following error message:
Camera Overview
All camera feeds including your own + screen shares + co-hosts + guests will be displayed on the left side of your Talk Studio.
Show/Hide on Stream. To

display or hide a camera feed. (*microphone linked per camera feed.)
Spotlight. Displayed as a double-arrow icon, your spotlight keeps your microphone on while screen sharing or displaying a guest camera in fullscreen. Double-click the window you want to fullscreen or click the spotlight icon per camera feed.
2. To change your main camera source, click the up-arrow located next to your Stop Video button.
Video Input: Switch your main camera source or change your camera perspective by toggling the Mirror My Video option.
If you do not know your default camera source, you may visit your Troubleshooting Settings page and click Run to Check Camera or List Available Devices.
Common Camera Issues
Windows/PC Setup
1. If you are using a Windows/PC computer, launch your Settings from the Start menu. (Windows key+I)
2. Click Privacy and scroll down to App permissions and select Camera.
3. Scroll down to Allow desktop apps to access your camera - where you will see your camera toggle switched on, as well as, a list of applications that your camera was or is "Currently in use". If you see any opened applications where your camera is currently still in use, this would be an indication that prevents Talk Studio from accessing your camera/webcam.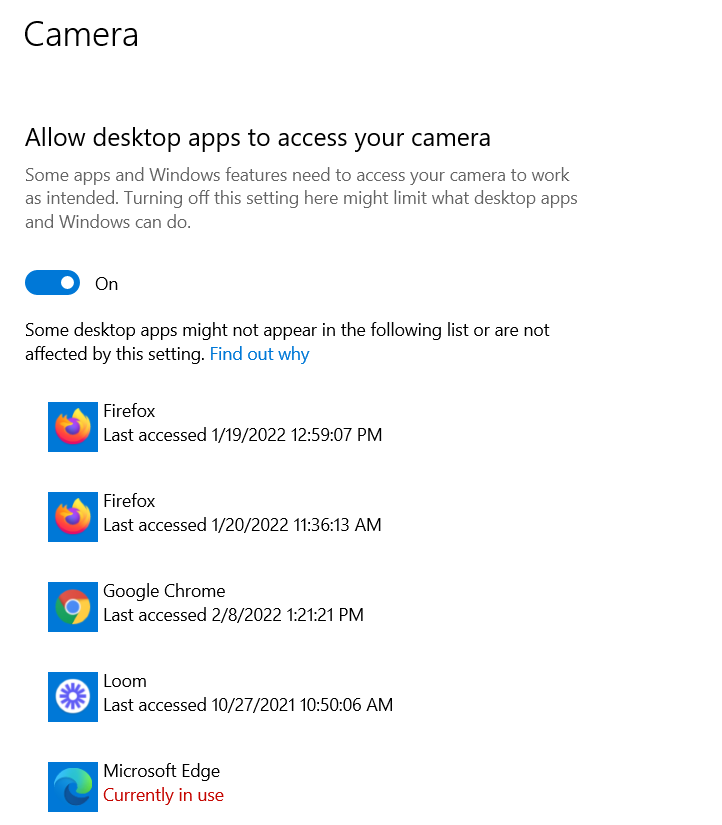 4. Please close/quit any application(s) that is currently using your camera. Relaunch your browser for good measure by pressing the logout button to "Quit Google Chrome".
Apple/Mac Setup
1. If you are using a Mac computer, please launch your System Settings > Privacy & Security Settings page:
2. Select Camera and ensure that you have included your Chrome browser in your Camera list.
Your Guest's Onboarding
Below is the onboarding page all guest(s) will fill out after accepting a Guest invitation link to your live stream. They will be asked to enter their displayed live stream name, speaker option, as well as, microphone and camera option.
Screen Sharing (Mac)
Also treated as a camera, if you wish to screen share during a live broadcast and you are primarily using a Mac computer, please ensure to visit your System Settings > Privacy & Security > Screen Recording settings page before starting your live stream. Please include your Google Chrome browser on your Screen Recording page so that you're able to share your screen. Please Relaunch if prompted to.
Additional Browser Options
If Mozilla Firefox is your primary browser, although supported on Talk Studio, features may be limited. Please note that Firefox will not recognize browser permissions by default per camera or microphone. It is advised that you double-check that you have granted permission for Firefox to access your Microphone & Camera by locating and clicking the camera icon next to your browser's address bar.
Adding Multiple Cameras
You can also add multiple cameras to your studio if you wish to share different camera angles during a particular live stream. (11 cameras total) Audio sources however will only support your primary camera feed. To add an extra camera to your screen:
1. From your Talk Studio, click the Add Cam button. (Shift+K)
2. Select the video input for the camera, as well as, the default resolution, and click Add Extra Camera.
3. If you need to change your camera settings for any reason, please remove the extra camera from your studio by pressing the X on the left side of your studio, and add it back in with your updated edits made. This will include changes to the Mirror My Video option and/or resolution.
Things To Keep In Mind
When adding an extra camera, please keep your primary camera feed on-screen.
If

you are local recording

, please be advised that audio will only support your primary camera feed.
Guests can also add extra cameras, however, please prep beforehand.
You cannot add the same camera twice.
Have any questions? Contact us at, [email protected], and we hope to hear from you soon. Thank you!