TikTok is a popular app that allows users to create and share short clips. Tik Tok is aimed towards audiences of all types. Whatever your interest is, chances are that a community of like-minded individuals are watching the same content as you. The gaming community has noticed this and has become a fantastic tool to build an audience. If you're a streamer on Twitch, Tik Tok is the perfect place to create content and drive people to your channel. As a gaming creator, you probably have multiple clips you'd like to include in your Tik Tok video. Multiple clips are just TikTok videos that contain more than one short clip. It can be beneficial if you'd like to create a short highlight of your stream.
For those looking to create multiple clips, TikTok lets you natively add more than one video, but some other tools like Cross Clip make the editing process even easier.
In this blog, we'll show you everything you need to know to create multiple clips on TikTok. Let's get started.
How to Add Multiple Clips on TikTok
Adding multiple clips on TikTok natively is a fairly straightforward process.
Step 1: Open the app and click on the plus sign.
Step 2: Click on the upload button to view your record videos.
Step 3: Select the videos you'd like to upload and click "Next."
At this point, you can select the sound you'd like to add to your video. You can also adjust your clips, trim them to shorten or lengthen each video, and even hold them down and drag them to reorder how each clip is shown. After you click "Next," TikTok will process your video, and you'll be ready to share your video!
How to Upload Multiple Clips to TikTok using Cross Clip
Uploading multiple clips to TikTok using videos from Cross Clip is a similar process. However, the main benefit of using something like Cross Clip is that we give you all the tools you need to format your videos in the correct dimensions.
Your video is probably in landscape mode if you upload highlights from your live stream or YouTube video. While you can upload this to TikTok, it's not a great viewing experience for your audience. Cross Clip can help you create more professional-looking videos by automatically configuring the output of your video.
You can also add multiple layers to highlight specific sections of the video. For example, if you'd like to highlight your webcam, you can add a layer to focus on that specifically.
Cross Clip is packed full of amazing features designed to make your video editing process easier. From additional layers, preview options, trimming functionality, and more. Learn more about getting started with Cross Clip by visiting our blog.
Uploading Cross Clip to TikTok
After every video you make, we'll email it to your phone along with a download link. Open the clip on your iPhone or Android device and upload it directly to TikTok or any other platform of choice.
Alternatively, use our app if that's more convenient for you! Every clip you compile is available via the app in glorious HD quality. Download the Cross Clip mobile app, available here on iOS and here on Android.
Using Montages
Instead of individually adding clips to the TikTok app and combining, a new feature from Cross Clip called Montages streamlines the entire process. Montages allow users to combine multiple clips into one montage and upload ONE video directly to TikTok.
To get started, head to the 'My Clips' page on the dropdown under your profile icon. There, you'll find a list of all clips you've created with Cross Clip.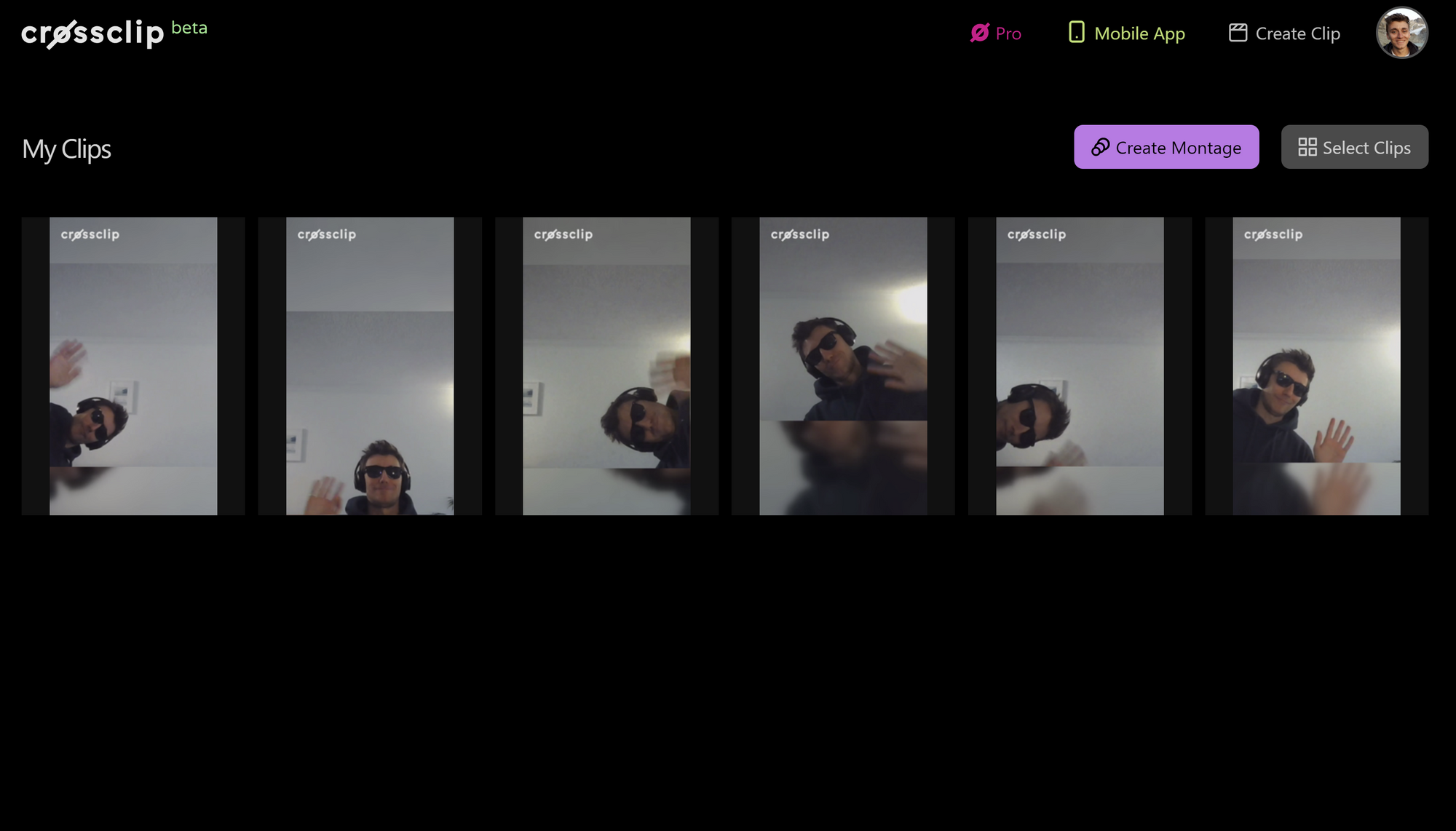 Click 'Create Montage,' select which clips you'd like to combine, specify which transition you would like to use, name your clip, and voila! You can also upload an intro or outro video directly to Cross Clip, and include that in your Montage to make your videos more recognizable and unique to your brand.
We hope this article helps you create awesome content for your viewers. Don't forget to follow us on Twitter and TikTok to stay up-to-date on the latest news from Cross Clip!
Happy clipping!