Since Q2 2018, Epic Games and Fortnite have been the most-watched publisher and game on Twitch. However, for the first time in a year, Epic Games can no longer claim that title. Thanks to League of Legends and Teamfight Tactics, Riot Games has overtaken Epic Games as the most-watched publisher on Twitch for Q2 2019.
Hours watched for Fortnite have been on the decline the past couple of months. When popularity for the Battle Royale shooter exploded last year, we also saw an increase in the number of users on Twitch as well. This quarter, it seems as though the decline in popularity of Fortnite is catching up to the live streaming platform. Twitch is still the top live streaming platform; however, for the first time, we have begun to see stats for Twitch decline.
Lastly, this quarter Streamlabs and DLive, PewDiePie's exclusive live streaming platform of choice, are collaborating to share exclusive new stats that have never been released publicly.
Thanks to Newzoo for providing the data for Twitch, Mixer, and YouTube Gaming Live.
Please note: *Data for YouTube Gaming Live only includes gaming live streams, whereas data for Twitch includes IRL content like "Just Chatting". For this reason, when comparing YouTube Gaming Live to other platforms, consider the fact that YouTube Live proper is not being counted.
Has Twitch Peaked?
Overall year over year growth for Twitch is still very impressive, although it seems to be stabilizing as we see the first decline in growth.
People watched 55 million fewer hours of content on the platform, a 2% decrease from last quarter.
Hours streamed has decreased 10% from last quarter to 95M hours
CCV has dropped 3% from the previous quarter to 1.24M concurrent viewers
4.8M channels streamed on the platform, nearly 1M fewer channels compared to Q1
Average viewers per channel have increased by 9.4% in Q2 for an average of 28.6 viewers per channel
YouTube Gaming Live reaching all-time highs
YouTube Gaming Live is seeing all-time highs for hours watched, streamed, average CCV, and viewers per channel.
*Note*: Data for YouTube Gaming Live in 2018 was limited to the top 100 channels per game at any given time. In 2019, data gathering has been improved and encompasses all live streaming channels. As a result, the graphics for the total hours watched and streamed are not including data from 2018
Hours watched has increased 10 percent in Q2 to 702M hours
Hours streamed has increased 4 percent in Q2 to 13.2M hours
Average Concurrent viewers have increased 9% in Q2 to 323K viewers
1.17M channels streamed on the platform in Q2, a 4% decrease compared to Q1
YouTube Gaming Live has the highest average viewer per channel compared to other major platforms, averaging about 53 viewers per channel, a 6% increase from Q1.
Mixer Experiences Explosive Growth
While Mixer is the smallest of the three, they continue to experience massive growth as they drive new users to the platform.
Hours watched on Mixer has increased 357% percent year over year and 32% since last quarter, reaching 119M hours.
Hours streamed on Mixer significantly increased by 43% QoQ, hitting 12M hours in Q2
Average CCV increased 30%, averaging about 55K concurrent viewers in Q2
1.97M channels streamed to the platform in Q2, A 37% increase since last quarter
Average viewer per channel remains at about 10 for Q2
DLive
DLive is a live streaming platform that leverages blockchain technology. It's one of the newest streaming platforms to enter the scene, and it's PewDiePie's exclusive live streaming platform of choice. This quarter, Streamlabs and DLive are collaborating to share exclusive new stats that have never been released publicly.
34.2M hours of content were watched on DLive in Q2
3.2M hours were streamed on DLive in Q2
There are 147,573 unique channels on DLive
DLive averages about 11 viewers per live stream
Additionally, on June 7th, PewDiePie teamed up with Ninja to play Fortnite for Keemstar's FridayFortnite. Hundreds of thousands of viewers flooded to DLive to watch. During that time, the peak channel CCV reached over 168k, with average channel CCV of 129K during the 170-minute live stream. For a comparison, PewDiePie's first stream on April 14th drew a peak CCV of just over 80k.
Lastly, according to DLive, following a 67% increase in monthly active users to 5 million MAU in May, Q2 daily active users have increased 6 times when compared to Q1.
Facebook
Facebook Gaming live streaming data was not available based on our report methodology. However, the company continues to take steps to increase viewer engagement and attract more streamers to the platform. In Q1, the company launched a dedicated home for gaming content in the Facebook app to make it easier for people to discover and connect around their favorite live streamers. It also disclosed a new stat on the scale and diversity of monthly gaming activity on the platform — each month more than 700 million* people play games, watch gaming videos or engage in gaming groups on Facebook; women represent more than 40% of this total audience of monthly gamers. Their Level Up program is now available in more than 40 countries, up from 21 in Q4 2018. All of these announcements indicate continued investment in live streaming and gaming more broadly.
*Source: Facebook: Based on unique monthly active users either playing a game on Facebook (Instant Games, web games); watching a gaming video for at least one minute; or participating in a gaming group (posts, reactions, and comments). — Dec. 2018.
Top Titles Streamed on Twitch
Compared to Q1 there are a few notable changes here. Apex Legends has dropped from the 3rd most-watched game to number 10. Additionally, Grand Theft Auto V, a six-year-old game, is now the third most-watched game on Twitch, up from 5th place since last quarter.
New entries into this list include Magic: The Gathering, Auto Chess, Teamfight Tactics, and Minecraft.
Games that dropped from this list include Smash Bros Ultimate, Resident Evil 2, Sekiro, and Sea of Thieves.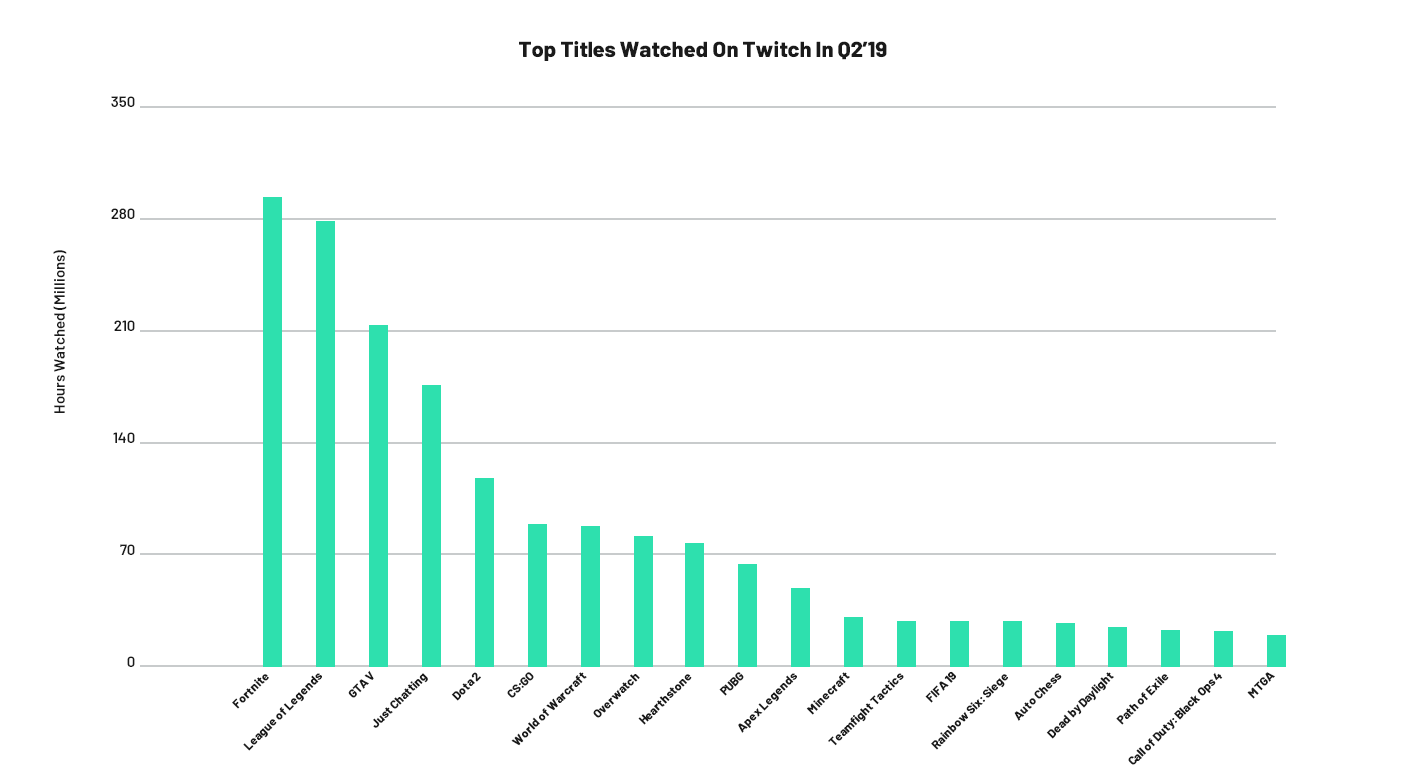 Fortnite Hours Streamed on Twitch
We saw Twitch grow alongside the rise of Fortnite. Similarly, we see a decrease in growth for the platform as the popularity of Fortnite declines.
Top Publishers Watched in Q2'19 on Twitch
For the first time since Q2 2018, Riot Games has overtaken Epic Games as the most-watched publisher on Twitch. Thanks to games like League of Legends, which has managed to withstand the test of time and remained one of the most-watched games on Twitch consistently ever quarter, Riot Games has passed Epic Games with help from TeamFight Tactics.
---
Streamlabs
Creator Sites
This quarter Streamlabs has unveiled a variety of new features to help creators earn a living doing what they love. Most notably, we launched Creator Sites, the easiest website creation tool built specifically for live streamers. So far over 150,000 unique websites have been made using our website themes. In addition, we see a 20% average increase to conversion rate when viewers tip from a creator site.
Mobile Live Streaming
As categories like "Just Chatting" continue to grow in popularity, we are also seeing a rise in mobile live streaming for use in an IRL setting. Streaming on mobile has increased by 16% since last quarter, more than doubling users year over year.
---
Without a doubt, the live streaming industry is going through a period of change. Fortnite propelled Twitch and the platform reached all-time highs because of it. Now that we see growth for both decline, there is an opportunity for a new game to step in, become the next big hit, and once again spur the growth of streaming platforms and the industry.
If you have any questions or comments, please let us know. Remember to follow us on Twitter, Facebook, Instagram, and YouTube.
---