If you have a fire and desire to stream your gameplay of Free Fire, search no more. In this guide we'll walk you through the steps needed to stream to your audience using the Streamlabs Mobile app while you work your way through this ever so popular battle royale game. Keep reading to learn more, including some tips on how to enhance your live stream.
Step 1: Before you can stream your Free Fire gameplay, you of course need to have the game downloaded on your Apple or Android device (if you haven't already).
Step 2: Next download the Streamlabs Mobile app, which is also available for Apple and Android.
Step 3: Once you've downloaded the Streamlabs Mobile app, launch the app and log in with the appropriate credentials.
Step 4: From the home screen of the Streamlabs Mobile app, select the two bars to open the menu.
Step 5: Select Screen Capture.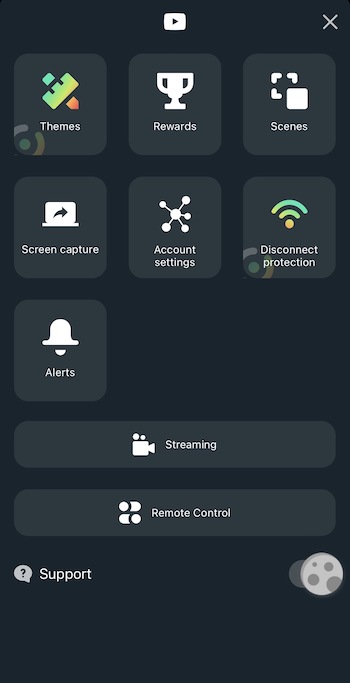 Step 6: You should see a window asking Where do you want to broadcast? Select YouTube, Twitch, or whichever platform you wish to stream your gameplay. If you wish to stream to multiple platforms, click Enable multistream and select each platform you want to stream to. Also, choose whether you want to add the screen capture to an active event (continue an existing stream), upcoming event (start a scheduled stream), or create event (create a new live stream to start immediately).
Step 7: Appropriately title your live stream, write a description, and determine who can access your stream. Press Save.
Note: Streaming your screen and camera simultaneously is not supported on iOS. Additionally, adding Streamlabs widgets like the Alert Box, Event List, and Chat Box is currently only supported on Android devices. If you're streaming from an Android device and want to add other elements to your stream, you can follow this guide for using scenes in the Streamlabs mobile app.
Step 8: Once you're on the Go Live screen, it's almost showtime. Click the green recording button from this screen, then Start Broadcast on the Screen Broadcast pop-up.
Reminder: Everything on your screen including notifications will be recorded. Enable Do Not Disturb or otherwise pause notifications to prevent unexpected notifications appearing on your live stream.
Step 9: Once you click Start Broadcast you'll see a three second countdown on your screen. Now you can head over to Free Fire and start playing as your mobile device captures your gameplay.
Tips for Enhancing Your Free Fire Live Stream
Stream using a strong wifi connection and limit use of other apps:

For the best streaming experience (and to avoid any surprise data charges), stream from your WiFi connection . It's also worth closing all apps (except Free Fire and Streamlabs Mobile) to keep your device running as fast as possible.
Avoid using headphones and don't block your mic:

The best way to capture all sounds of the game and of your voice is to do away with any headphones or connected speakers. Also, remember not to block your device's built-in microphone to avoid obscuring the audio during your stream.

Keep Your Phone Unlocked:

If your device locks while you're streaming, your live stream will end. Keep this in mind to avoid abruptly ending your live.
We hope this guide helps you get started streaming your Free Fire gameplay! If you have any questions, be sure to reach out on Twitter, Facebook, Instagram, and YouTube.