Choose to subscribe to Talk Studio exclusively or through Streamlabs.com under an Ultra subscription. For Talk Studio subscribers, by visiting your Billing page you can review & manage your subscription. For a breakdown of the subscription plans offered, please visit Talk Studio or Streamlabs Ultra via an incognito window.
1. To locate your Billing page, click your Account Icon > Account Settings.
2. From Account Settings, click Billing from your Menu tab.

Your Billing page includes the following options:
1. Subscriptions
On your Subscriptions tab, review your current plan, the cost of your subscription, your next bill date, or the option to change your plan.
(*Your subscription will be charged automatically on your Billed On date. Please ensure to revisit our terms & privacy policy regarding automatic subscription renewals.)
2. Payment Method
On your Payment Method tab, you may review your primary payment method or to Update Payment Method if you would like to change how you pay.
3. Invoices
From your Invoices tab, review or download your subscription receipt or check the total ($) amount that was charged for your current plan.
4. Cancel
If you no longer wish to keep your subscription active and want to cancel instead, please cancel one (1) day before your bill date to avoid charges by:
1. Click Change Plan, then click the option to cancel displayed below the Free plan.
2. Click Continue to Cancel until you receive a confirmation notification that you have canceled successfully.
3. You may, at this point, check your email inbox for your cancel confirmation/feedback email for your records.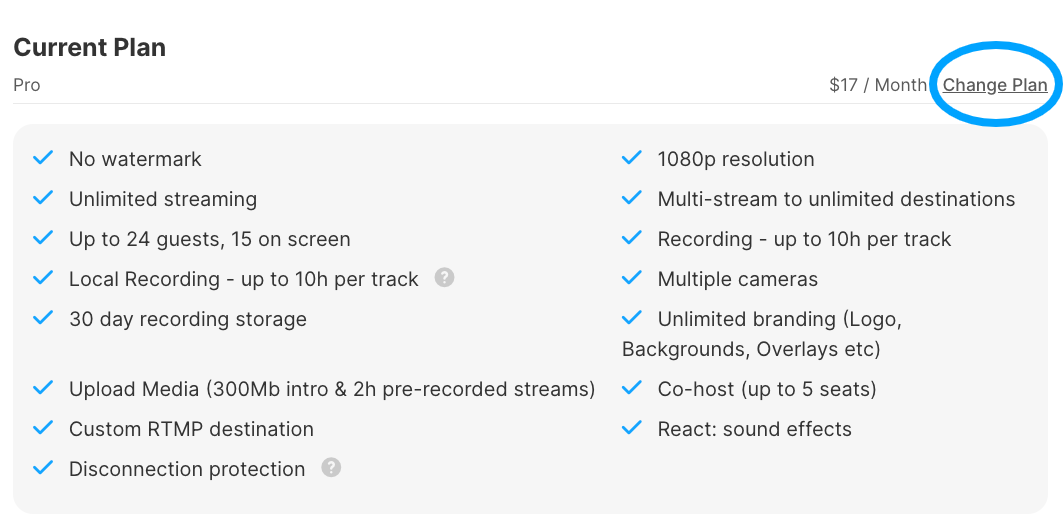 We would love to hear from you! For assistance, send a message to our team at, [email protected]. Happy Streaming!
-The Talk Studio Team