Not every streamer dreams of having an over-the-top at-home setup. Some people enjoy the freedom of taking their phone (and just a few tools and accessories) to stream on the go. If you're a part of the latter tribe, let us say welcome and introduce you to some must-have items that can make your live streaming on the go much more manageable. Keep reading for our recommendations!
Talk Studio is a fast, browser-based service that allows you to stream on platforms such as Facebook, YouTube, Twitch, and Linkedin. Talk Studio makes live streaming from anywhere super simple and offers excellent features such as screen sharing, stream scheduling, and recording. Best of all, Talk Studio doesn't require you to download any software or complete a complicated setup to get going. You can start using Talk Studio today for free or try out a paid plan with pro features starting at $15 (billed monthly).
Smartphone
Considering a smartphone is such a personal purchase, we won't tell you exactly what phone to get, but we will say that a smartphone is probably the best option for live streaming on the go. However, if you're in the market for a new phone and would like recommendations, check out this list of smartphones we recommend for content creators. Instead of lugging around a bulky camera and worrying about connectivity, amongst other things, why not just use your phone, aka the one thing you probably never leave home without anyways?
There's nothing worse than being out on location, live streaming to your fans, and your phone or other device you need suddenly dies. This is why you need to have a portable charger handy. And not just any portable charger—one that can charge multiple devices at once, like this one from Amazon with over 1,700 5-star reviews. This powerful 30,000mAh portable charger features three inputs and outputs and can charge an iPhone X to 50% in just 35 minutes. Additionally, the LED screen takes the guesswork out of determining how much juice you have left, displaying the remaining battery percentage right on the screen.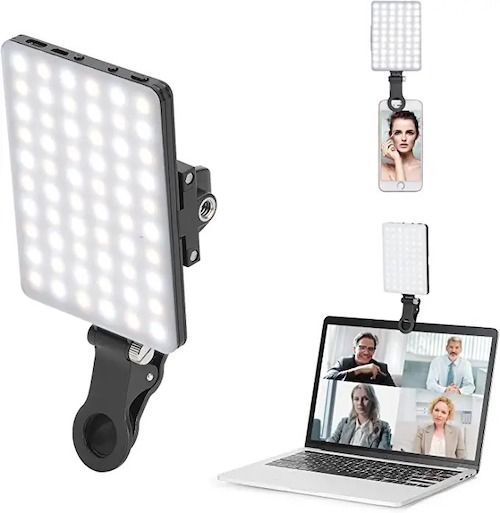 You may run into suboptimal lighting conditions depending on where you are live streaming on the go. In the spirit of staying ready (so you don't have to get ready), it's wise to keep a small but powerful light on you at all times. If you're an avid TikToker who follows other creators for tips, you may have seen this 60 LED clip-on light from Newmowa (available on Amazon). For under $30, you can't beat the quality of this light that offers ten brightness levels and three temperature settings. It's truly worth the hype, and most importantly, it's rechargeable, lightweight, and cordless.
When you're in the comfort of your home, you can get away with not having a tripod and getting innovative instead (i.e., strategically placing items as makeshift ones). However, when you're on the go, you want to stay prepared—having a tripod on hand can save you a ton of time, frustration, and heartache. When filming on the go, particularly with a mobile device, a lightweight tripod like this 4.5-star rated one from Amazon should suffice. You can even use it as a selfie-stick after you've finished live streaming so you can capture images for your archives!
Of course, if you're investing in equipment to bring your on-the-go streaming to the next level, it's only fitting to protect your investment by buying the perfect bag to keep your gear safe. While you may not opt to bring a DSLR or mirrorless camera for your live streaming needs, this multifunctional backpack is excellent for protecting your other accessories and equipment, such as your laptop and anything else mentioned in this roundup. Not only is it shockproof to keep your treasures safe from accidental bumps and scratches, it's also waterproof.
If you plan on live streaming on the go, don't forget to tweet us to let us know how it goes and which items you picked up!