Going live with multiple people used to be a pain. Someone would stream and the others would join through a (usually scuffed) voice chat. Not anymore! Streamlabs Collab Cam is an easy-to-use, innovative tool that has totally changed the game when it comes to streaming with more than one person. Keep reading to learn how to go live with three people (or more!).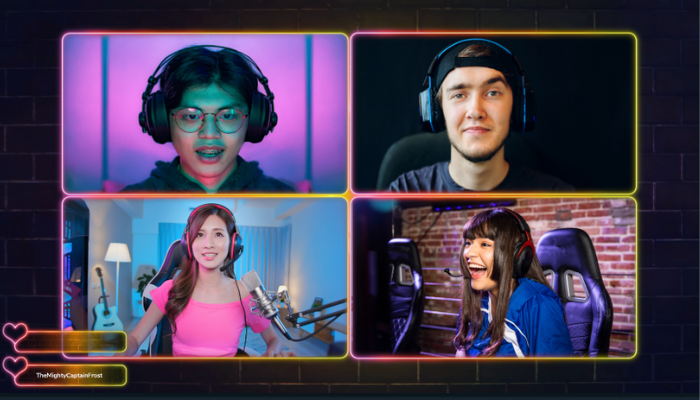 With Collab Cam, you can invite up to four guests*, which makes for a total of five people on stream including yourself. Your guests don't have to be streamers to show their camera on your screen: they can easily join through their browser on a PC, Mac, or mobile device. However, if your guest(s) is a streamer, they can choose to join through Streamlabs Desktop, meaning you both can go live to Twitch, YouTube, wherever, at the same time.
*Invite one guest for free. Invite up to four guests with a Streamlabs Ultra subscription.
It's as easy as 1, 2, 3!
Step 1: In Streamlabs Desktop, add the
Collab Cam
source to your scene.
Step 2: Select Collab Cam (double click) from your source list to generate a link.
Step 3: Copy the link and paste it in a DM or email and send it to your guest.
If you're looking to stream with another person, Collab Cam is the quickest, easiest way to go. You can do more than just live stream with multiple users, you can use Collab Cam to join with your phone if you want to walk away from your computer at any point. Check out our article on how to use Collab Cam as a second camera for more information and ideas!

Whether you want to stream two people for a co-op gaming session or host an entire video conference with five guests on Twitch, Collab Cam makes it possible. Try out Collab Cam today and host one guest (or a second camera) for free. If you want to go live with three or more people, consider trying out a Streamlabs Ultra subscription (Ultra also includes multistreaming, premium overlays, and more!). We hope you love Collab Cam as much as we do!