Going live with multiple people used to be a pain. Someone would stream and the others would join through a (usually scuffed) voice chat. Not anymore! Streamlabs Collab Cam is an easy-to-use, innovative tool that has totally changed the game when it comes to streaming with more than one person. Keep reading to learn how to go live with up to 11 guests.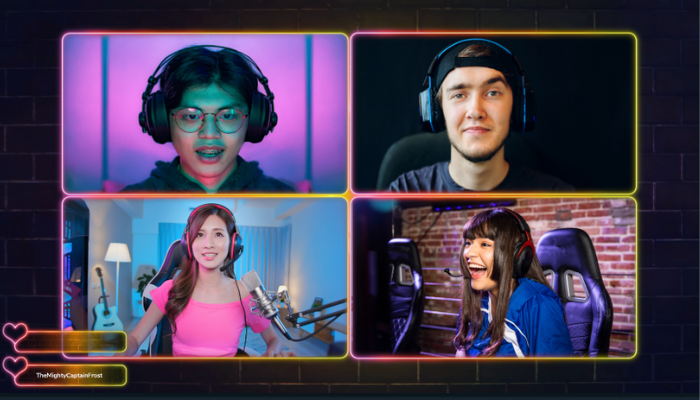 With Collab Cam, you can invite up to four guests*, which makes for a total of five people on stream if you include yourself. Your guests don't have to be streamers to show their camera on your screen: they can easily join through their browser on a PC, Mac, or mobile device. However, if your guest(s) is a streamer, they can choose to join through Streamlabs Desktop, meaning you both can go live to Twitch, YouTube, wherever, at the same time.
*Invite one guest for free. Invite up to four guests with a Streamlabs Ultra subscription.
It's as easy as 1, 2, 3!
Step 1:
Add Collab Cam as a Source
In Streamlabs Desktop, add the Collab Cam source to your scene. If you have more than one guest, you'll need to add multiple Collab Cam sources (one per guest). Click the plus (+) to add a new source, then select Collab Cam from the source list.
Give each source a unique name that will be easy for you to remember. For example, you can assign each guest a number or name.
Step 2: Invite Your Guest(s)
To invite your guests, you need to generate a link and send it to them through a DM or email. To get your unique Collab Cam link, double click on Collab Cam in your source list to open up this window.
Click the Copy button to copy the link to your clipboard. Go ahead and paste the link in a DM or email and send it to your guest.
You can click the Generate a new link button at any time to invalidate your old link. This is especially helpful if your link becomes compromised (e.g. leaked or shared without your permission). It's a good rule of thumb to generate a new link with every new stream so you can keep your Collab Cam connection as secure as possible. Remember, don't show the invite URL on stream if you're sharing your screen, otherwise anyone watching will be able to request to join.
Step 3: Grant Your Guest Permission to Appear on Your Stream
Once your guest clicks the link, they'll be instructed to write their name, choose their microphone, camera, and speaker, and either Join with Streamlabs or Join (in browser). The following image is an example of the pop up your guest will receive once they click your Collab Cam link.
If your guest uses Streamlabs Desktop and wants to stream simultaneously, they can select Join with Streamlabs, which will automatically open their Streamlabs Desktop software. Selecting Join will open up Collab Cam in a browser like Chrome or Safari. When in doubt, have your guest click Join.
Once your guest has joined, you'll receive a notification asking for permission to show their camera on your stream. You'll also see a preview so you can double check that everything looks good on your guest's end. Your guest will not be shown/heard on stream until you click Show on Stream to approve their request to join.
You can hide or disconnect your guest at any time by double clicking on the Collab Cam source they're assigned to. You can generate a new link to invalidate the old one, which will prevent your guest from requesting to join your stream again.
Got more questions about Collab Cam? You can read our guide on how to use Collab Cam or contact support in the Streamlabs Discord.
Other Ways You Can Use Collab Cam
Secondary Camera
You can use your mobile device or laptop as a secondary camera. This is especially useful for streamers who cook, craft, or play an instrument on stream. Also, who doesn't love a good pet cam? Check out our article on how to use Collab Cam as a second camera for more information and ideas!
Take a Break from your PC
Need to take a break but don't want to leave your chat hanging? You can connect your phone to Collab Cam and use it to stay connected to your stream while you're away from your PC. Grab a snack, lounge on the sofa, or use your phone's camera to give your viewers a house tour. Break the chains shackling you to your desktop and experience the sweet taste of freedom.
If you're looking to stream with another person, Collab Cam is the quickest, easiest way to go. Whether you want to stream two people for a co-op gaming session or host an entire video conference with five guests on Twitch, Collab Cam makes it possible. Try out Collab Cam today and host one guest (or a second camera) for free. If you want to go live with up to 11 people, consider trying out a Streamlabs Ultra subscription (Ultra also includes multistreaming, premium overlays, and so much more). We hope you love Collab Cam as much as we do!