Once only available to professional videographers and broadcasters, live streaming has taken the online world by storm as a successful marketing strategy for attracting and engaging audiences. The live streaming market is projected to be worth $250 billion by 2027.
There are a number of ways to monetize your livestream and depends on your streaming platform. From ads to paid tier subscriptions, donations, affiliates, selling merch, and more - the choice is yours as a creator.
Folks figured out how to grow their business and earn an income via their live streams. Establishing a monetized stream is relatively easy and requires just a few steps to get started. Instructions, rates of monetization, and eligibility standards vary slightly from platform to platform. Here are three (3) of the most popular live stream monetization sites.
Facebook Live
Facebook for Media's program allows broadcasters to earn revenue through in-stream video ads. Live streams with 300 or more simultaneous viewers are eligible for insertion of ad breaks that are set up from the business' page or profile where the livestream is hosted. Once the stream has the minimum number of viewers for at least four minutes, the ad breaks can begin. Even after the live stream has ended and others view the recording, streamers continue to earn advertising revenue.
You can learn more about in-stream ads here.
In addition to earning revenue from advertising, Facebook Stars is another feature that monetizes the stream. In this method, viewers purchase stars and send them during the stream. Each star received by the streamer is worth $0.01 USD. In addition to stars, there are animated virtual gifts attached to different star amounts that appear in the stream.
Lastly, you can also earn money through product placements and affiliate links.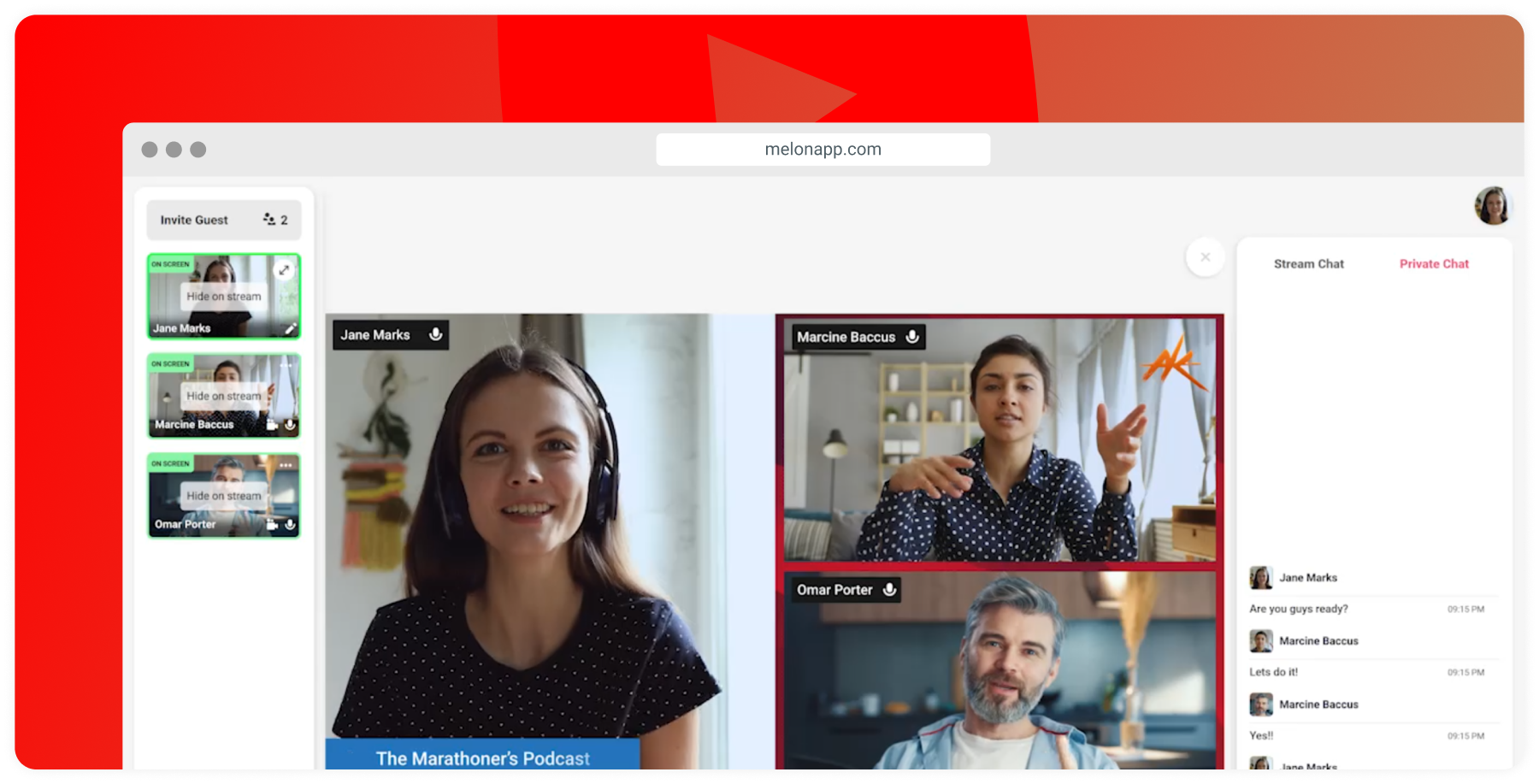 YouTube Live
As a dedicated video streaming platform, YouTube is the go-to site for business owners, professionals, creators, and other organizations for earning revenue through their Partner Program. The program's basic requirements are that broadcasters have an AdSense account, at least 4,000 valid public watch hours in 12 months, at least 1,000 subscribers, and reside in a country where the program is available. As with Facebook Live, the livestream videos will continue to earn revenue as viewers watch recordings of the stream.
Learn more about the YouTube Partner Program here.
Creators have multiple ways of monetizing their streams on YouTube through ads, and unique features like Super Chat, Super Stickers, and Channel Memberships. Viewers purchase Super Chat and Super Stickers to have their chat messages stand out and pin at the top of a feed.
YouTube offers a great Creator Academy program that breaks down monetization options like super chats and super stickers.
YouTube also allows streamers to showcase official branded merchandise for purchase. Select retailers partnering with YouTube offer items such as T-shirts, mugs, and mouse pads allowing streamers to earn a share of each sale. These items can also be promoted at the top of the live feed.
YouTube streamers also earn revenue through premium subscription fees. In this optional feature, viewers pay a monthly fee in exchange for no ads to appear on their end of the stream. As the number of subscriptions increases, the more streamers earn.
Twitch
Many creators also use the Twitch platform for their livestreams. To qualify as an affiliate, streamers must have at least 500 total minutes in broadcast time over the past 30 days, at least seven unique broadcasts, carry an average of three concurrent viewers or more over the last 30 days, and have at least 50 followers.
Twitch will notify streamers of affiliate eligibility when the above conditions are satisfied. Followers are invited to subscribe to the channel and streamers earn a share from their payments. Amazon Prime members get a free Tier 1 subscription that also counts as a part of this program.
Twitch also has a feature called bits that followers can purchase. These are virtual coins that are used to cheer and support the channel. Streamers get a share of this revenue as well.
In addition to the above revenue streams, Twitch offers a partner program that earns at a higher rate. This level requires the completion of a set of merits within a 30-day window. Once a streamer reaches the partner level, streams can include ads that also generate additional revenue.
Donations
On all platforms, creators can also accept donations from their community. You can use tools like Streamlabs to set up a donation link and allow your viewers to support you. Unlike some of the methods offered by the platform - there are no fees from donations except for the payment processing fee so the maximum amount goes from your supporters to you.
Learn about accepting donations from your supporters via your livestreams here.
To recap:
Live Streaming is exploding. There are many ways to earn an income via live streaming. Everything is up to you. Here are some of the ways others are monetizing their live streams on Facebook, YouTube, and Twitch.
Ads
Subscriptions
Various partner programs
Support from their community via donations or via platform-specific methods such as stars on Facebook, bits on Twitch, and superchats on YouTube
Selling merch
Affiliate links
Talk Studio's web-based studio enables livestreamers to easily create engaging broadcasts with just one click on Facebook, YouTube, Twitch, and LinkedIn. Contact us for more information on how Talk Studio can help you reach broader audiences through multistreaming with just a few clicks.
If you have ideas for what you want us to add to our platform - feel free to reach us at [email protected]. We are always listening!