The streaming industry is only getting bigger. In fact, we watched 12 billion more hours of content across Twitch, Facebook Gaming, and YouTube Gaming in 2020 compared to 2019. Whether your live stream is supported through tipping, merchandising, or sponsorships, such a massive increase in viewers means it is more possible now than ever to build a business with your content.
For many people, building a career from live streaming is the goal. It takes an enormous amount of time and a deep commitment to creating engaging content. It is possible to get there, but you'll need some help along the way. Remember, live streaming should be something you do for the love of it before anything else. You won't become famous overnight, and that is okay. Whether you want to turn this into a career, or you do it just for fun, enabling a tip page on Streamlabs can help you along the way. In this blog, we'll talk about how to set up donations on Twitch and customize your tip page settings. Let's get started.
Create a Streamlabs Tip Page
Setting up a Streamlabs tip page is one of the easiest ways to start earning an income from streaming. We work with various payment processors, including PayPal, giving you more ways to monetize your channel than anyone else in the industry. Most importantly, setting up a tip page is entirely free. What's more, we will never take a cut of the money you receive. Setting up your tip page only takes a few seconds, so let's dive into it.
If you are logging into Streamlabs.com for the first time, the onboarding process will ask you to add your Paypal email address or other support payment processor. Once you finish that step, your tip page is ready to go; this is the fastest way to set up your donation page, but if you've already logged in or skipped the onboarding, you can also set up your tip page from the settings.
To do that:
1) Log in to the dashboard on Streamlabs.com. Click on 'Settings' in the lower left-hand corner.
2) Click on Donation Settings > Methods and choose your preferred Payment Processor.
3) Go through the necessary steps to connect your account.
4) After your account is connected, your tip page will be available at streamlabs.com/USERNAME.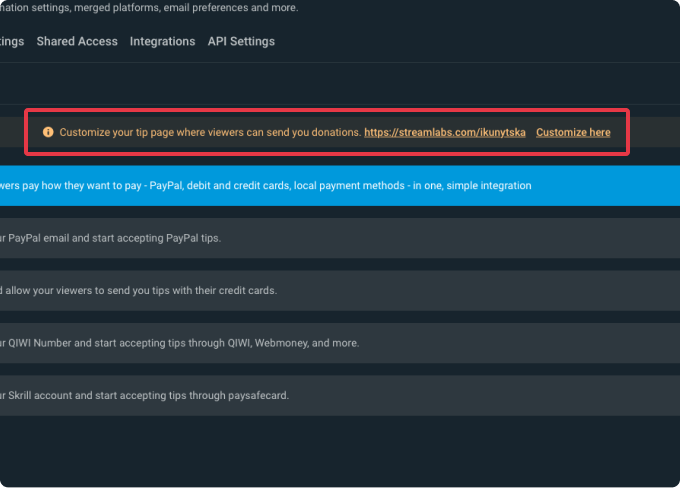 Manage Tip Page Settings
You can manage a range of tip page settings from the Streamlabs dashboard. Not based in the US? Choose which currency you'd like donations to appear in. Set the minimum amount required to donate, and even adjust the recommended amount that appears for a user when they visit your tip page.
Edit the message that appears on your page when users visit, adjust profanity filters to block out offensive words, and even customize the image that appears as your donation page header.
Visit the dashboard to view all of the tip page settings.
Adding Tip Page Link
Depending on the platform you choose, the process to add a link to your tip page is going to be different. Both YouTube Gaming and Facebook Gaming only allow you to copy and paste a link to your Tip Page in your page description or about section. Twitch takes it one step further and gives you the option to add customized panels.
Add a Twitch Tip Panel
In the upper-right corner, click your profile icon.
Select Channel from the drop-down menu.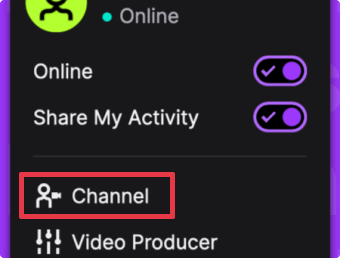 Click the About section on the next screen.
Toggle the Edit Panels option in the top left section of the screen.
Scroll down and click the box with a large plus sign in it and then click "Add a Text or Image Panel".
Now you can add a title to your panel, the link to your Streamlabs Tip Page, a Description, and an image.
Need an Image?
We've recently rolled out a new feature giving streamers the ability to add professionally designed panels from a selection of over 50 different templates.
Visit our Panel Maker page on the Streamlabs Dashboard to start designing your own panels today.
Subscriptions
Unlike tips or donations, subscriptions provide you with a more reliable source of income. If you want to become a full-time streamer, you'll need this supplemental revenue to assist you along the way.
In this section, we will be discussing how you can monetize your live stream through subscriptions. We'll specifically discuss the benefits and differences between Twitch subscriptions, YouTube Channel Memberships, and Facebook Fan Subscriptions. We will also discuss how to persuade your viewers to invest in your content and what benefits you can provide to convince them to stay subscribed.
Subscriptions at a Glance
Twitch Subscriptions
YouTube Channel Membership
Facebook Fan Subscription

Cost

$4.99, $9.99, $24.99

$4.99

Commission

50%

30%

As of August 2020 and for the next year, Facebook will not be taking any fees from Fan Subscriptions.

Requirements

Twitch streamers must be either a Twitch Affiliate or a Twitch Partner.

Visit our

guide

for tips to help you become an affiliate

30,000 subscribers; Gaming channels must have at least 1,000

Member of YouTube Partner Program

10,000 followers or 250+ Return Viewers and one of the following in the last 60 days:

- 50,000 Post Engagements

- 180,000 watch minutes
Twitch Subscriber Benefits
There are a few "built-in" perks, but many streamers add a few bonus ones for those who support them monetarily. These are as follows:
Ad-Free Viewing

– As a subscriber, Twitch will not force you to watch ads before you start watching a stream (with limited exceptions).
Sub-Badges

– Custom badges are unlocked when you subscribe to a streamer. Badges are displayed next to a viewer's name when they participate in the channel's chat. Streamers can customize badges, and viewers will generally receive new badges the longer they stay subscribed. You start with the 1-month badge and get new badges for three months, six months, etc.
Emotes

– Once a streamer reaches affiliate status, custom emotes become available. It is a fantastic way to reinforce your branding as a streamer because viewers can use them across all Twitch channels. The number of subscribers a streamer has dictates the number of emotes a streamer can have.
Sub-Only Chat/Streams

– Occasionally, a streamer will host a sub-only stream. Hosting a stream for your most dedicated viewers is a great way to encourage viewers to sub. During these streams, only subscribers can view the broadcast. Streamers can also set their chat to "subscribers only."
Facebook Fan Subscription Benefits
There are a few "built-in" perks, but many streamers add a few bonus ones for those who support them monetarily. These are as follows:
Exclusive content:

Publish posts, videos, and other content exclusively to your most loyal supporters. Exclusive content generally includes:
Supporter-only polls or Q&As:

give supporters more ways to engage and interact with you.
Behind-the-scenes:

Give viewers a look at the production and day to day activity of your live stream.
Exclusive live videos:

Private live videos can provide an opportunity to answer questions and gain feedback from your community.
Discounts:

Provide discount codes for merch, events, or other products through supporter only messages or posts.
In addition to these benefits, you can also provide supporters with:
Recognition with

shout outs

in public posts.
Early access to your content with supporter-only Premieres or Watch Parties that later go public.
YouTube Channel Membership Benefits
Different perks are available based on the various membership levels available. Streamers can offer multiple membership levels, which all have different prices. Remember, perks build on each other. The highest-priced membership levels will have access to the perks offered at lower-priced levels.
Members-only Community posts

- Use the community tab to share content only with members. You can also share Community posts with members at specific levels.
Members-only video

- Set videos that can only be seen by your members. Anyone can find a members-only video, but only members at the right level(s) can watch it.
Members-only live streams

- Share a live stream exclusively with your members. Members will be notified when you post a link to the live stream with a members-only post in Community.
Members-only live chat

- Make the chat members-only during public live streams. Everyone can still view the live stream, but only members will be able to post chats.
Custom channel badges

- Members will stand out in live chat, comments, and the Community tab via exclusive members-only badges
Custom emoji

- Members will gain access to one or more exclusive custom emoji that can be sent via YouTube in video comments. It can also be sent in any of your live chats.
How to Convince Viewers to Subscribe
Setting unique perks for viewers is a great way to convince others to invest in your content. These will vary from channel to channel, but some of the most common perks include:
Exclusive Chatroom on Discord

– Many streamers create exclusive discord servers for their subscribers and members.
Play with Viewers

– some streamers set aside days where they play games with their subscribers.
Competitions/Giveaways

– Streamers can create special contests or giveaways for their subscribers. These are their way of giving back to their supportive community.
Custom Subscriber Alerts

– Create unique alerts that only play when someone subscribes to your channel. Streamlabs makes setting up alerts easy, so be sure to

read our guide

to learn how to start creating unique alerts.
Products and Services
For most content creators, tips and subscriptions offer the most direct way for viewers to support them. However, there are a myriad of other ways to add supplemental income as a content creator. Ask yourself, "why should my viewers support me?" The answer: because of the value you demonstrate to your audience. For some creators, being incredibly skilled at a game or having a unique and entertaining personality is enough. But it helps to show value in other ways. This article presents other products and services you can use to earn extra revenue than just tips and subscriptions alone.
Open a Merch Store
Adding a merch store to your streaming profile can increase your revenue and significantly help you succeed as a streamer. It allows your fans to purchase custom apparel and showcase your brand in real-life. Streamlabs Merch store feature is one of the easiest ways to set up an online storefront. Set up only takes minutes, and it's entirely free to sell t-shirts, mugs, and hoodies. Streamlabs handles printing, packing, and ships all over the world.
Looking for more ways to maximize sales with your merch store? You can read our blog to learn five proven strategies to sell more merchandise online.
Amazon Associates
If you stream on Twitch, your viewers may be interested in the gear you use. With Amazon Associates, you can share products you like with your community. When someone purchases a product you recommended, you'll earn some revenue. Click here for more inforamtion about the program.
Create Exclusive Content
If you are the type of creator with an established community, you may want to consider creating exclusive content. One of the easiest ways to do that is through Patreon.
Patreon is a paid membership platform for content creators of all kinds. Patreon allows you to customize the benefits your community members receive. The most common perks include exclusive live-streamed content, exclusive forums for community members to talk to each other, community messaging for creators to chat with their audience, gated video content, and more.
You can also completely customize the content you offer depending on what your audience wants from you.
Create More Content
Between newsletters, blogs, vlogs, YouTube videos, clips, and highlights, you can create a ton of content. Each new video or piece of writing is a way to get you in front of your community members and keep you top of mind. The more content you make, the more your audience will want to support you. Don't be afraid to plug your tip page. Creating content takes time and effort. Your audience will be more likely to lend a supporting hand if you can demonstrate that to them.
Advertisements
Running ads can be very lucrative for your channel. Depending on the platform you stream on, you will need to meet specific requirements before you are allowed to advertise. However, it's a fantastic way for your audience to support you without having to spend any money out of their own pocket.
In this article, we discuss the specific platform requirements you will need to meet to run ads. We will also discuss the benefits and disadvantages of running ads and general best practices you should be aware of before monetizing your channel through advertisements.

Twitch Advertising Requirements
Twitch recently made several significant changes to its advertising policy. One of the most significant changes they made was allowing affiliate streamers to earn ad revenue. To become a Twitch affiliate, you must first reach the following achievements:
Reach 50 Followers.
Stream for 8 hours.
Stream on 7 different days.
Have an average of 3 viewers.
Please note, you must complete all affiliate requirements within 30 calendar days.
Types of Twitch Ads
There are three main types of advertisements you can run as a Twitch Affiliate or Partner:
Pre-Roll Ads:

These are ads that play when a viewer first clicks on a stream.
Mid-Roll Ads:

Running mid-roll ads is entirely up to you. It is important to note that it is possible to enable ad-free viewing for your subscribers as an added benefit. If you are concerned that running a mid-roll ad will deter non-subscribers from watching your stream, you can also enable picture-in-picture ads.
Picture-in-Picture:

These ads can run in conjunction with your mid-roll ads. If you're streaming to a gaming category, viewers will still be able to see your stream with Picture-by-Picture, even during an ad.
Streamers on Twitch can also disable pre-roll ads for incoming viewers by regularly running ad breaks. Studies from Twitch suggest that viewers are more likely to stick around during an ad-break than a pre-roll. So you may want to consider running an ad break every so often to get new viewers into your channel and invested in your content early.
To disable pre-roll ads for ten minutes, you will need to run a 30-second ad break. When you run a 60-second ad break, pre-roll ads will be disabled for the next 20 minutes. And an ad break that's 90 seconds or longer will disable pre-roll ads for the next 30 minutes.
YouTube Advertising Requirements
To earn money on YouTube, you'll need to apply for and be accepted into the YouTube Partner Program. To be eligible to join the YouTube Partner Program, you will need to meet the following requirements:
Each feature has its own set of eligibility requirements on top of subscriber and view count requirements. To earn revenue from advertisements, creators must specifically be at least 18 years old or have a legal guardian older than 18 years of age who can handle your payments via AdSense. Creators must also create content that meets YouTube's advertiser-friendly content guidelines.
You can learn more about YouTube's advertiser-friendly content guidelines here.
Types of YouTube Ads
| Video ad format | Description | Platform |
| --- | --- | --- |
| Skippable video ads | Skippable video ads allow viewers to skip ads after 5 seconds. | Desktop, mobile devices, TV, and game consoles |
| Non-skippable video ads | Non-skippable video ads must be watched before a video can be viewed. | Desktop, mobile devices, TV, and game consoles |
| Bumper ads | Short, non-skippable video ads of up to 6 seconds that must be watched before a video can be viewed. Bumper ads are turned on when skippable or non-skippable ads are turned on. | Desktop, mobile devices, TV, and game consoles |
| Overlay ads | Overlay image or text ads that can appear on the lower 20% portion of a video. | Desktop only |
Facebook Advertising Requirements
To start earning money on Facebook through in-stream ads you must qualify. To qualify for in-stream ads, you must:
Pass and remain compliant with

Partner Monetization Policies

.
Publish from a Page (not a profile) with at least 10,000 followers.
Generate at least 30,000 1-minute views on videos that are at least 3 minutes long in the last 60 days.
Be at least 18 years old.
Live in an

in-stream ads eligible country

.
There are three types of ad placements that can be inserted into your content: pre-roll, mid-roll, and image ads.
Best Practices, Strategies and Do's and Don'ts
At the start of the stream, it may be beneficial to keep ad breaks to a minimum to gain momentum. You may find that playing ads during a natural break in your gameplay will lead to higher audience retention when you get back. Try to play ads whenever you go to do something like using the restroom or go eat food.
Be sure to let your audience know you will run ads. Announcing when you will have an ad coming prepares the audience and will make for a more seamless experience during your broadcast without disrupting the content on the screen.
The frequency at which you run ads is also important. It will change depending on each creator, how many viewers they etc, but in general it is good practice to run ads at an hourly interval to reduce the chance of viewers clicking away from your stream. Additionally, if you stream on Twitch, running these mid-roll ads regularly means new viewers coming into your stream will not be met with a pre-roll ad.
You can also easily bind ad-rolling keys to your stream deck to seamlessly transition to an ad when you are ready.
In general, we recommend not using pre-rolls. We suggest letting new viewers get familiar with your content first and leave them with good first impressions. Try to avoid playing ads when you are in the middle of an exciting moment in your content. This disrupts the flow of your content and may prevent a potential new community member from following or subscribing.
Lastly, don't forget to take your audience's feedback into account. If you don't see them responding well to the number of ads you are playing, then reduce it. At the end of the day, running ads can help you make a bit of extra money. Even if you don't have thousands of viewers, every little bit helps. However, you should take into account whether or not ads are hurting your viewership. It's up to you to decide when and how you run ads, but you'll need to consider the cost/benefits and how your audience reacts.
Sponsorships
Sponsorships are critical when it comes to growing your live stream. They provide an additional income source without having to rely on your community's tips and can lead to more opportunities further down the line. Obtaining sponsorships may seem like a daunting task. But with the right mindset and the right tools, you'll soon become a sponsored streamer in no time.
If you're not sure where to start, Streamlabs makes it simple. We have partnered with Powerspike and Pillar to give our streamers access to a variety of paid sponsorship opportunities. To start applying for sponsorships, visit the Streamlabs App Store . Click on the "Sponsorships" category, and install the respective applications.
Read More:
Now that you know how easy it is to apply for sponsors, here are five tips to help build your relationship with companies and grow your channel via sponsorships.
Start Small
For new broadcasters, smaller sponsorships are an excellent opportunity to build up your credibility and experience. Before you start working with larger sponsors, it's important to understand what it takes to have a successful campaign, the expectations sponsors will have, and how to navigate the entire process. The earlier you start gaining experience, even if it's a small sponsorship, the better prepared you will be to work with the bigger guys.
It's vital to demonstrate that you've worked with sponsorships before, and you can display a level of professionalism to potential sponsors.

Build Your Brand
Social media is king. Start building your online presence. The #1 person that should be authentically selling yourself is you, and the easiest way to do that is via Twitter. There are many social media platforms to choose from, but we recommend starting with Twitter because that is most popular in the creator and gaming space. Start communicating with the world about your stream. Promote your social channels when you stream. Plug your handles when you are live. Include links in your about section. Social media can amplify your reach when you go live and gives your community a place to interact with you.
When it comes to sponsors, you must demonstrate your value. Follower numbers are one thing, but engagement is equally important. How can you increase engagement? Talk, ask questions, try to reply to everyone in your chat. Use tools to encourage audience interaction. Streamlabs Cloudbot comes with tons of features like minigames, loyalty points, giveaways, and other features that keep viewers entertained.
Collaborate, Build Relationships, Network
Collaborations help creators grow, reach new audiences, learn something new, meet new people, and connect with others.
Reach out directly via Twitter or Discord and build a relationship. Ask each other for advice, strategies, or support. Play together or stream together. Raid and host each other. Do Instagram takeovers or social media collaborations. Ultimately, you can support each other, and you can create something new.
You can also go to conferences to meet people. While there is a higher cost here, there are few better ways to start a relationship than meeting people face to face.
Networking is a fantastic way to learn about additional sponsorship opportunities and keeps you top of mind for potential brand activations.
Find Something You Genuinely Care About
Find a sponsorship that fits you and your brand. If you focus your channel on health and wellness, don't promote something that may compromise your beliefs or passions. Your community wants to hear about the products you like. Choosing sponsorships that you are passionate about means showing your viewers brands you genuinely believe in. Help establish and keep the credibility you've gained with your audience by promoting brands you stand by.
Take Chances
Lastly, don't be afraid to reach out to companies you care about, but do your research. Are they the type of brand that already works with streamers? What kind of streamers do they work with? Is your community the target audience they want to reach? Set yourself up for success by knowing what brands are looking for and then demonstrating why you are the right streamer to meet their goal.