Live streaming has become so popular over the years as top social media platforms like Facebook and Instagram launched built-in streaming features that allow you to share raw footage in real-time.
The live streaming industry was expected to grow 15-fold by 2022, reaching 17% of all internet traffic. Then the pandemic hit and completely changed the landscape of live streaming. With stay-at-home orders, remote work, and school, businesses, and individuals from all walks of life started to embrace live streaming as a tool to monetize and make a living. Companies and organizations started hosting webinars instead of in-person conferences, musicians started to stream their live performances, and churches started streaming their services.
In this guide, we'll cover:
The benefits of live streaming
Streaming platforms
Ideas for live streams
How to live stream with Talk Studio
Tips on how to livestream
Benefits of live streaming
Live streaming is an effective way for both brands and users to accomplish their goals from promoting new products and services, announcing big company news or teaching an online class. If live streaming isn't yet a part of your strategy, it's time to add it especially if you already have an existing audience on social media platforms with live streaming capabilities.
There are significant benefits to live streaming such as:
Reaching a wider audience
Live streaming your event allows you to reach people who you normally wouldn't be able to due to physical limitations. This has become even more evident as the coronavirus pandemic shut down physical venues.
Building a personal connection
Nothing is more intimate than live, one-on-one interactions with your audience. Live streaming gives your users a face to your brand and a personal connection. Audiences that feel connected with a brand are more likely to be more loyal.
Ease and convenience
A common myth about live streaming is that it's too difficult for the average person. In fact, going live can be very simple and easy. All you need are relevant video and audio equipment, an internet connection and a trusty live streaming platform.
Time and cost savings
Live streaming can be more affordable than pre-recorded video content since there's no post-production or editing involved. Most of the appeal of live streaming comes from its unproduced, real-life nature.
Live streaming platforms
The platform you use to start live streaming depends on who you want to view your stream. Different audiences use different channels, so pick the one that's most likely to attract the users you want.
While there are plenty of live streaming platform options to choose from, here are the main categories:
1. Social Media Platforms
All the main social media platforms like Facebook, Instagram, Twitter, and LinkedIn allow you to live stream and the difference between choosing either of them comes down to where you have an existing audience. Each platform provides native streaming capabilities that allow your followers to be notified and tune into your stream when you go live.
2. YouTube
Home to 2 billion monthly active users worldwide, YouTube is one of the most popular video platforms out there. Due to how easy it is for content creators to share their content with a large audience, there are channels on practically any subject you can imagine and people following them.
YouTube live streaming (or YouTube Live) makes it easy for brands and creators to reach their audience in real time. The platform has tools that help you moderate audience engagement, interact with viewers in real time and monetize your live videos. You can go live on YouTube via webcam, mobile, and encoder streaming.
Please note that while YouTube doesn't charge a fee to use their live streaming feature, monetizing live videos will be subject to the platform's revenue share policy.
3. Twitch
A popular live streaming and on-demand video platform that allows users to watch anything they like directly from their console, PC or mobile device. Popular with video game streamers, the platform's demographics skew at 65% male to 35% female. Twitch also offers one of the most monetization options.
Ideas for live streams
We know that red recording light on your camera can be daunting, but there's no need to be afraid of live streaming. Here are some live stream ideas for different ways you can engage a live audience.
Live Q&A: One of the best ways to connect with your audience is to let them ask you questions in a live setting. Most live streaming platforms allow you to see real-time reactions and comments on your screen, which you can answer. You can also collect audience questions in advance of your live stream, for example, during the registration process.
Live Interviews: A quick, informative live stream interview is a great way to engage your audiences. Whether you sit down with a team member, customer or public figure, viewers will appreciate the authenticity of a live interview.
Prize Giveaways: Giveaways are a tried-and-true engagement tactic on social media and a livestream is the perfect venue for one. Encourage comments and participant attendance by picking a winner in real-time and rewarding them with a prize!
Live Unboxing & Product Reviews: Reviews are one of the most popular types of content on the internet and live streaming is no exception. Live unboxings and product reviews are a great way to give viewers your real, unfiltered first impressions.
Live Tutorials: Along with reviews, how-tos top the list of what people are looking for online. Walk viewers through a process live by sharing your computer screen.
Breaking News: Have some exciting news to share? Let your live streaming audience be the first to know.
Live Events: Show your audience what they're missing out on by going live on site.
How to live stream with Talk Studio
Talk Studio is a web-based live streaming platform that makes it easy to broadcast directly from your browser whether you're using a Mac, PC, iPhone, or Android device. You don't have to download anything, and neither do your guests! Talk Studio lets you do some really cool stuff like interview guests, share your screen, and simulcast to most major social media networks.
In addition to walking you through how to go live with Talk Studio, you can also check out our guides on how to stream to specific social media platforms.
How to start streaming on Twitch with Talk Studio
How to live stream on YouTube with Talk Studio
How to go live on Facebook with Talk Studio
1. Streaming Setup
Let's talk about your streaming setup. Thankfully getting started with Talk Studio is simple. You'll only need a few things and likely already have them on hand!
You need these key items to set yourself up for a successful live stream:
A computer or mobile device
A Stable ethernet/internet connection
A Chrome web browser
A Green Screen
An external microphone and webcam
We've optimized Talk Studio, so you don't need to have a powerful computer to have a great broadcast. You will have the best experience streaming from your laptop or desktop, but Talk Studio is fully compatible to work on mobile as well.
Wifi or ethernet connection is strongly preferred over cellular data. Ensure that you only have Talk Studio open while you're streaming. Having other programs open like Facebook or YouTube will use more of your internet bandwidth, decreasing your stream's quality.
While your built-in equipment will work just fine, we recommend investing in an external microphone or camera to give your stream a professional look and feel. Logitech has a great variety of webcams, and we absolutely love Blue Yeti microphones.
We recommend Google Chrome for Android/Windows/Mac users and Safari for iOS users.
2. Creating an Account
Now that you have your streaming setup squared away, create an account with Talk Studio by logging in with your existing Google/YouTube, Facebook, LinkedIn, or Twitch account or by entering your email instead. To get started visit our homepage at, https://streamlabs.com/talk-studio!
A quick heads up for folks making a YouTube account for the first time. YouTube requires 24 hours to verify your account. If you plan to stream to YouTube, please plan accordingly before your stream.
3. Enabling Mic + Camera Access
Once logged in, please make sure you enable access to the microphone and camera. If the camera is not showing up, please click on the little lock icon found on the left of your browser's address bar. Click Settings to check that you granted access to your camera and microphone. If the camera is not showing up, please try clearing your cache through your browser privacy settings and refresh your page.  
4. Choosing Your Sources
You'll see yourself on the left-hand side of your Talk Studio. Click on your image to Show on Stream. The canvas in the middle is what you will be showing on your stream, so if the canvas is black it's because you haven't added yourself yet. If it's showing for you and not your guest, that means that you're only choosing to stream yourself and you will need to press Show on Stream for your guest's image to the left as well.
5. Inviting Guests
To invite guests, all you need to do is send them the Invite Guest link found at the top right of your Talk Studio: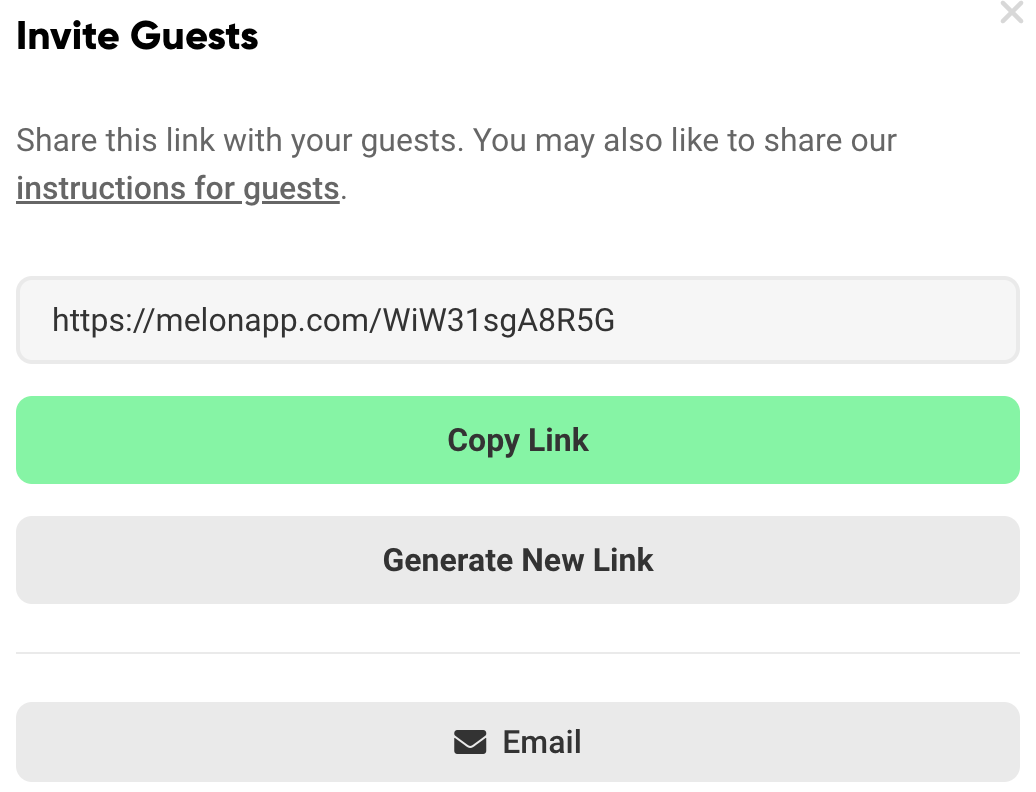 Guests do not need to create an account. Simply ask them to join your stream using the preferred browsers (Chrome for Android, Mac, PC users, or Safari for iOS users) We know that no one likes to make new accounts, so we made this as easiest as possible for your guests to join your stream.
6. Going Live
When you're ready to stream, click Go Live and pick your destination. With PRO stream to Facebook, YouTube, LinkedIn, Twitch, and Twitter or all of them at the same time! You can even stream to your personal website using our custom RTMP.
Streaming to multiple platforms at once is a great way to grow your audience and expand your reach. Make sure to give it a try.
7. Using The Control Panel
At the bottom of your Talk Studio, you'll see a number of options to control your stream.
Screensharing allows you to share any window or tab on your computer. Choose to share your full screen, an application, or a browser window tab. Your guests can also share their screen but it'll be up to the host to share the screen on stream.
You can also highlight chat messages to show on stream. Just be sure to press the chat bubble icon to the right of your Talk Studio. Choose between Stream chat or Private chat. Private chat with only your guests, whereas Stream chat will auto-populate all your social destination comments into one place.
Be sure to also personalize your stream, by clicking on Menu > Design found to the right of your Talk Studio. Change your background, add a ticker or banner, or upload your own logo! You can always edit the screen even while the broadcast is still live.
8. Ending Your Stream
Click End Stream so that our servers know when to stop your broadcast.
Live streaming tips
Now that you've gotten your first live stream out of the way, let's take a look at a few live streaming best practices that will help you create engaging and effective live streams.
Promote before you go live. There's nothing more discouraging than going live in an empty room. Let people know that you're going live ahead of time by making an announcement on your social networks. Get your followers really excited about your live stream by including a description or teaser of what to expect.
Check your internet strength. Make sure your internet connection is in top form before going live. Switching from WiFi to a wired ethernet connection can vastly improve the connection speed and therefore the quality and reliability of your live stream. If you share bandwidth with others, let them know when you're going live and tell them to stay off the network.
Engage with your viewers. Many people watch live video streams because they want that feeling of connection with the person broadcasting. Say hello to the people who are commenting, answer questions, ask questions and treat your live stream as a conversation. Make your viewers want to know you.
Record your live stream. There are millions of live streams going on in the world today and it's impossible to watch everything in real-time. Record your live stream and create Video on Demand (VoD) files that can be accessed by your viewers at any time. This is a great way to continue to build viewership as now anyone can watch a broadcast they missed or previous ones broadcast before they discovered you.
Give viewers the next steps. What do you want your viewers to do after they've watched your live stream? Always make sure to end each broadcast with a call to action whether it is to sign up for your newsletter, follow you on social media or share your video.
Test out your broadcast. Practice makes perfect. Rehearse everything, ideally at the place where you are going to stream the real thing. Rehearse what you are going to say, how you are going to say it, how you will introduce guests, and how you will respond to viewer comments or questions. Make sure to check your camera, microphone, and any other equipment you'll be using.