When it comes to live streaming your Dungeons & Dragons gameplay, having the right overlay can make all the difference in engaging your audience and enhancing their viewing experience. Overlays add a professional touch to your stream, help you organize your content, and even contribute to the overall storytelling of your game. A well-designed overlay can make it easier for your viewers to follow along with the action and help immerse them in your game's world.
If you want to take your D&D stream to the next level, Streamlabs offers various D&D-inspired overlays that can be customized to fit your needs. In this article, we'll take a closer look at some overlays that can enhance your next game of Dungeons and Dragons.
Pro-Tip: To ensure you and all players are set up and ready to go, you must copy web frames to accommodate for each player. We recommend checking out this guide for copying webcam frames before downloading your overlays.
Free Overlays
Looking for a way to add some magical flair to your D&D stream? Look no further than this MTG Arena Tezzeret-inspired overlay featuring an overall magical essence and metallic accents. Whether you're a fan of Magic: The Gathering, Dungeons & Dragons, or both, this overlay will take your stream to the next level.
Inspired by Vivien Reid, this MTG overlay is perfect for any D&D session with a nod to the magical archer seeking to honor the lessons of her lost home plane. The last survivor of Skalla, Vivien is determined to prevent her people's mistakes from being repeated elsewhere in the Multiverse. This overlay will serve as the foundation of an enchanting game of Dungeons & Dragons.
Ultra Overlays
Get ready to heat things up with this overlay inspired by Assassin's Creed: Valhalla, God of War, or Vikings: Wolves of Midgard. This overlay has layers upon layers of realism, including sound effects to make you feel as though you're fully immersed in the game that you know and love.
Add some luck to your live stream with the Nat20 overlay, inspired by Dungeons & Dragons. This overlay features a bold green design with a 20-sided die prominently displayed, surrounded by intricate designs to give your stream the perfect facelift for a game of D&D.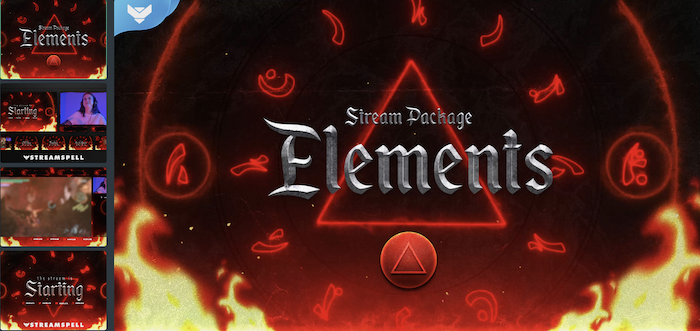 Harness the power of the elements with this fiery overlay inspired by the hottest one of them all. Featuring bold designs and vivid colors, this customizable overlay is perfect for D&D sessions featuring characters who wield flames.
Explore the power of astrology and let the stars guide you with this zodiac-inspired overlay. This package highlights the influence of physical constellations on the zodiac signs, each representing one-twelfth of the full circle.

Although there are many free themes to choose from, if you want to take your stream to the next level, Streamlabs Ultra offers an amazing collection of premium overlays for creators, including some of the ones we featured in this blog post. Additionally, Ultra subscribers are granted the ability to stream with up to 12 people total using Collab Cam. If you plan on taking your next D&D stream to the next level, signing up for Streamlabs Ultra is the way to go!