While we love a good green screen, not every streamer has the space or resources to include one in their setup. Fortunately, those with NVIDIA RTX graphics cards now have the option to blur or even remove their backgrounds completely. We'll show you how to download and use NVIDIA's software to remove your background and how this feature works with Streamlabs Desktop.
NVIDIA Broadcast App Install and Operation
First, download the NVIDIA Broadcast App (be sure to review the requirements pictured below to ensure the software will work with your system).
Allow permissions to make changes to your device and agree to the licensing requirements. Then, install the software in either the Quick or Custom version, depending on your preference (we used Quick for convenience). Close the installer once it's finished to open the software.
Click on Camera. From here, you can play around with the various features like background blur, with the option to select Performance (easier on your graphics card) or Quality (harder on your graphics card, but the effect will be nicer).
To enable the background removal tool, you need an additional download from NVIDIA. Download Video Effects based on your NVIDIA graphics card.
After a quick download, the background removal tool should no longer be grayed out in NVIDIA Broadcast. Click on Background removal to test it out.
If your chair or clothing is similar in color to other items in your background, you may experience some flickering with the background removal effect. Try removing those items from your space or use a screen light for best results (we're using the Logitech Litra Glow).
How to use NVIDIA Background Remover with Streamlabs Desktop
While you need to have the NVIDIA Broadcast App installed on your computer, it does not need to be running while you stream (in fact, you can't run it while you stream, because your camera will already be in use with your streaming software).
Open Streamlabs Desktop and right click on your camera source. Scroll down to Filters then click Edit Filters.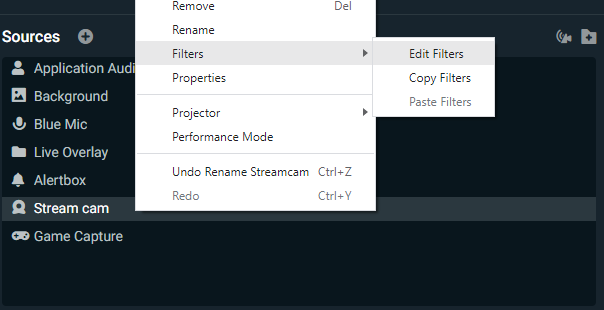 Click on Add Filter.
Click on Filter Type and scroll down to click on NVIDIA Background Removal. Just like with the Broadcast app, you can select Performance or Quality.
Now your background is gone! Try positioning your camera over your game or a custom background for an attractive setup.
Though a green screen is the best option if you want to truly remove your background, NVIDIA's latest innovation is a great tool for content creators. With their free software and a few simple steps, you can completely change the look of your streams. Try out the NVIDIA background removal filter in Streamlabs Desktop with your next broadcast and let us know how you liked it.