Designing great merch doesn't have to be hard! With Streamlabs, not only can you sell your own merch for free, you can use Streamlabs Logo Maker to design it. Intimidated by the design process? Worried that your lack of artistic talent will hinder you from creating quality designs? Fear not. In this article, we'll give you some basic design tips for how to create eye-catching merch that people will actually want to buy and wear.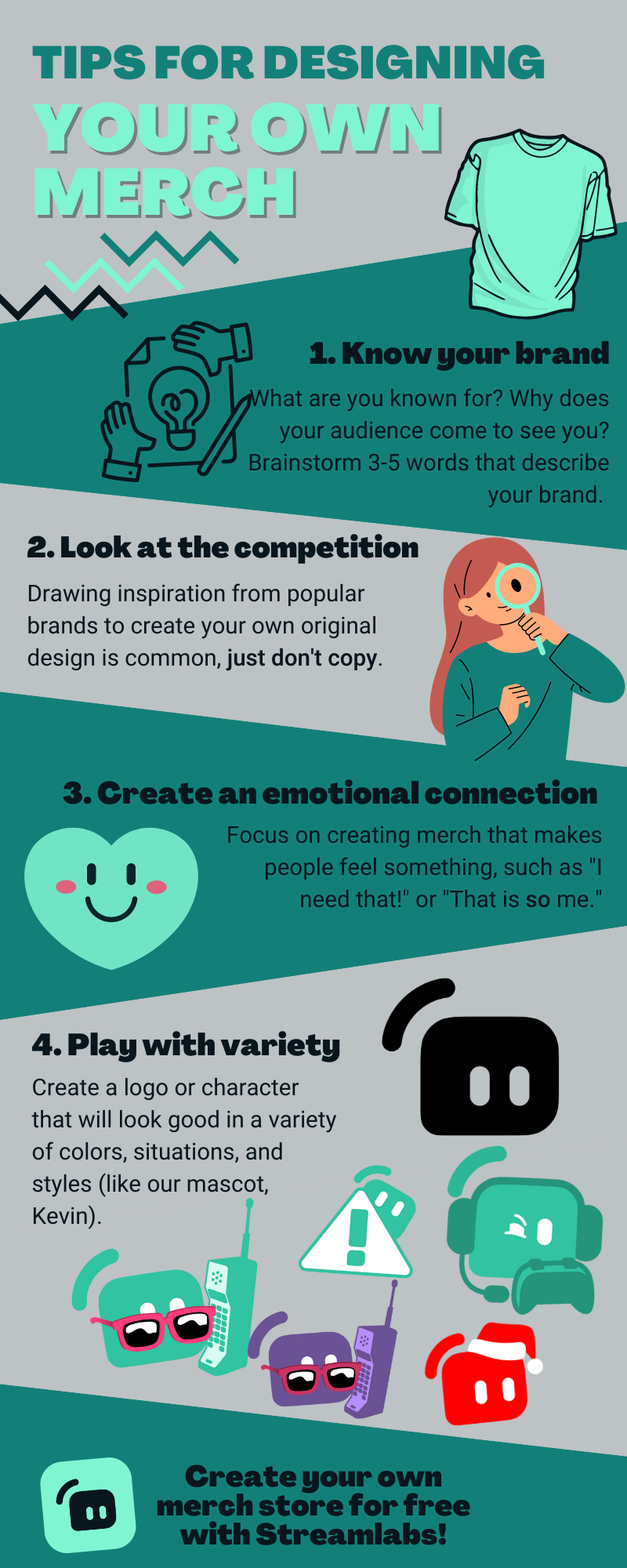 Know Your Brand
Have you given thought to your branding as a streamer, YouTuber, or creator in general? If not, now is the time to start. Check out our chapter on Branding in Streamlabs University for an in depth look at how to brand your channel.
Defining your brand can help you understand your audience, which means you'll do a better job at designing merch that they'll want to wear. If you've branded your channel as a place to relax and unwind with cozy games, you'll want to keep the words "relax," "unwind," and "cozy" at the front of your mind when designing your logo and merch. The same goes for high-intensity, action-packed streams, streams featuring cute and bubbly VTubers, and everything in between.
Look at the Competition
It's time for one of the funnest parts of design: research! Take a look at some of your favorite designers and brands to see what kind of shirts they're making or better yet, have a peek inside your own closet. Think about why you chose that particular design—go deeper than "because I liked it." Really try to pinpoint specific elements of the shirt that appeal to you. Copying isn't cool (or legal), so be sure to avoid direct copying while you're seeking inspiration for your designs.
Create an Emotional Connection
One thing big streamers and YouTubers have going for them is that they can design pretty much any type of merch and people will buy it. Why? Because their fans feel an emotional connection to them. Your favorite creator likely makes you feel happy or inspired, so naturally you'd enjoy wearing merch that represents them. For creators with smaller followings, you'll need to find other ways to connect with people.
Think about your own identity and what makes you feel connected to others. Have you ever met someone and instantly bonded over a shared connection? Maybe you've seen an Instagram post or TikTok and thought, "that is so me." Try to come up with a few terms you strongly identify with, such as "bookworm," "coffee-addict," "lover of heavy metal," etc. and evoke those connections in your designs. If you're passionate about, say, frogs, what kind of t-shirt speaks to the frog-lover in you? This should all tie back to your branding, which we mentioned earlier in the post.
Play with Variety
If you think about the iconic Nike "Swoosh" or Mickey Mouse, you'll notice that both designs have been used in a variety of colors, sizes, and situations. With this method, both brands can create merchandise that appeals to all types of consumers while at the same time, staying true to their fundamental branding. For your own designs, instead of thinking about a bunch of different logos or characters, think about the same logo or character that can be sized up or sized down and displayed in a variety of colors and styles (floral, zigzag, neon, stripes, gradients, etc.). If you have a character, you can illustrate it in different types of situations, such as how Mickey can be pictured alone, with his sweetheart Minnie or all his friends, and even wearing costumes like a Santa outfit or leprechaun costume for St. Patrick's Day.
Tell a Story
When designing a logo, you might just add some elements that look cool together and call it a day. While this is absolutely fine, try to choose elements that have a bit more meaning to you personally. You don't have to go too deep, e.g. "This circle represents the endless suffering of humanity" (yikes!), but try to have a reason behind your design. For example, Twitch streamer lilsimsie released a merch line with the word "sensitive" written in a cute font. Simsie is known for saying things like, "do not bully me, chat, I'm sensitive and I will cry" so this collection was very on brand for her.
Get Wordy with It
If you're intimidated by anything artistic, why not design some text-only merch instead? If you think about it, some of the most iconic t-shirts of all time were made with just typography, such as the "D.A.R.E." tees or the infamous "Keep Calm and Carry On" logo from the early 2000s. While you're researching different sayings to use on your merch, you can check whether the words are trademarked or not at the United States Patent and Trademark Office website.
Use the KISS Method
The KISS Method stands for "Keep it Simple, Stupid" and is a valuable (albeit, condescending) outlook to carry with you through life. First-time designers may feel the need to clutter up their logo or merch with many fancy elements. In truth, a simple design will have much more of a pleasing impact. If you're struggling with the look of your design, try stripping away most of the elements until you're left with the bare bones. If your base design is solid, it won't need any other elements to support it.
For most people, designing merch is only half the battle as they need to search for vendors, worry about costs, and fiddle with packing and shipping. Your Streamlabs Merch store will take care of all of that for you—all you have to do is upload your designs, choose products to stock shop, and rep your merch on stream. If you use the tips we talked about in today's post and focus on making clothes that you would want to wear, your merch is sure to be a big success.