How do I enable credit card donations?
Go to Donation Settings and enter your personal information to get started. If you're a new streamer, we recommend starting with PayPal. If you are getting an error saying you need to have a verified account please refer to Credit Card Verification for Tips/Donations.
Setup
Setting up your credit card donations can be tricky and confusing, especially if you don't know what the fields are asking for. The following will walk you through the process of setting up your credit card donations. Your viewers will not be able to donate with a credit card until you have completed the entire setup process. We'll cover some FAQs at the end of this article.
Keep in mind that the approval process is handled by Stripe (our credit card processor), not by Streamlabs. We do not process nor store your personal information or funds. '
Enable the Credit Card Donation Option
First, to set up your credit card donations, you need to go to Donation Settings. There, you will see the option to set up your credit card donations. Due to legal restrictions, you have to be at least 18 years old to use this feature.
Step 1: Country of Residence
Here, you must select the country of your bank account as well as your physical residence. If you do not have a bank account in the country where you are physically residing, you will not be able to use the credit card donation option. Select carefully, as you will not be able to change your country and take your account balance to a different country account.  Click here to send us a ticket if you wish to change your country. 
Step 2: Personal Information: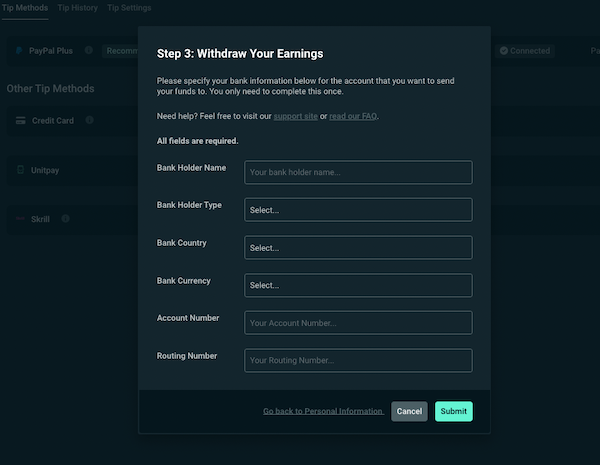 Full Name: Make sure to use your full, legal name as it appears on your official government document. 
Birth Date: Your date of birth must match your legal document. 
Street Address/City/State & Postal:  Your address must be a real, physical address (no PO boxes or military addresses), and must be the same country as your bank's country. 
Last 4 of your SSN (US Only): Here, you want to fill in the last four digits of your social security number. You must have an SSN to complete step two.  International students can apply for an SSN if they do not have one. 
**Picture of your ID** make sure the picture meets the following requirements:
Must be a government issued ID (no school ID or medical cards).

If your ID is double sided, make sure to capture both sides of the ID and merge them into one file. 

Be sure to capture the entire ID, face on including all borders. 

The file must be .jpeg or .png.

Make sure the picture is very clear and legible as the verification system is sensitive. If it is still rejected, try taking the picture at a different angle.
Please wait for the processor to verify your identity. This process will take no longer than 24 hours. If you continue to step 3 before the verification is accepted, you will see an error message in step 3 that says "All Fields Required".
Step 3: Your Banking Information
*Before you continue to step 3, you must wait for the processor to verify your identity*  For the United States, if your SSN verification didn't go through, you will need to upload a picture of a government issued ID. 
Bank holder name: The name of the bank account holder. For example, if Kevin Smith is the owner of the bank account, you would put Kevin Smith in the field. 
Bank Holder Type: You can either pick business or personal based on your preference. 
Bank Country: Where your bank account was created.
Bank Account Currency: The currency that your bank uses. It must be the currency of your bank country. Most cross border accounts do not work with Stripe. 
Account Number: Can be found on your bank statement. If you are not sure, click here for guidance. 
Routing Number: Can be found on your bank statement sometimes. If not, contact your bank for further assistance. If you are unsure of the format, click here for assistance. 
FAQs
Do I need to have a bank account to set up credit card donations?
Yes, you will need a checking account in order to accept credit card donations.
Is there a way to move money from the credit card option to Paypal?
No, this is not possible because the credit card processor does not allow it. If you would like to accept credit card donations directly to your PayPal account, we recommend using our new PayPal integration instead. See the guide here for setup. 
**Be sure to disconnect this credit card option in order to use the new PayPal integration to accept credit card donations to your PayPal account**
I need to change the country associated with my account, what should I do?
You will need to open a ticket to change the country information on your account.
What countries are supported?
The following are the supported countries for our credit card donation option:
Australia
Austria
Belgium
Canada
Denmark
Finland
France
Germany
Hong Kong
Ireland
Italy
Japan
Luxembourg
Netherlands
New Zealand
Norway
Portugal
Singapore
Spain
Sweden
Switzerland
United Kingdom
United States
My country is not on the list, what do I select?
If your country is not on the list then it is not a supported location for the processor. You will need to use one of the other payment options available, such as PayPal, Skrill or Unitpay.
What fees are applied to credit card donations?
The standard fee charged by the credit card processor is 2.9%+ .30 cents USD. This fee will vary by country of streamer and donor.
Any overpayment of fees from the viewer will be automatically added to the streamer's account.
There is also a 2% currency exchange fee if your donor is donating with a different currency than what you stated in your onboarding.
Can people chargeback credit card donations?
Yes, your donations can be charged back through the donors credit card company. If a chargeback occurs you should follow up by submitting a ticket. 
What happens when I get a chargeback?
Streamlabs will be elected to contest your chargeback and you will receive an email notification that you have received a chargeback. It is your responsibility to provide necessary evidence to dispute your casein a timely matter. You should do so by submitting a ticket as soon as possible. 
What are the fees associated with chargebacks?
All fees from chargebacks are deducted from your pending balance by our card processor (from the main balance if there is no pending). When your account gets a chargeback, $15 and the original charge amount will be deducted from your account. This $15 fee is imposed by the credit card processor, not Streamlabs. If the chargeback is won, the $15 fee will be returned to your account.
Does Streamlabs take anything from credit card donations?
Streamlabs does not take any fee from credit card donations and never will. All fees are collected by the credit card processor.
Confirming your Account
Verification is handled directly by Stripe.com. Streamlabs only handles sending this info via API.
If your information is rejected it means that Stripe's system has rejected it.
How old do I need to be to use this option?
You must be 18 years or older.
Why do I need to provide my Social Security Number?
Like your ID, this is needed for the payment processor to confirm your identity and to make sure there are no illegal transactions taking place.
If you are providing your information for the first time, it will only require the last 4 digits of your social security number.
If you failed the verification, the second and additional verification will ask for your full social security number.
Why do I need to upload my ID?
You will need to upload your ID in order to withdraw funds to your bank account.
This is information requested by the credit card processor for identity verification on income.
What type of IDs can I upload for verification?
You can upload a copy of your Driver's License or Passport. If your image is too blurry and cannot be read, it will be automatically declined by the payment processor. Make sure your image is clear so you do not have to go through the verification process multiple times.
Facebook photos, selfies, pictures of you and your friend(s), random pictures from the internet, fake IDs DO NOT count as legitimate images for verification.
ID's must be in color and it must contain an image of the entire ID.
Does Streamlabs save my personal information?
Streamlabs does not save any personal information that you enter or submit for credit card donations. The information is sent straight to the credit card processor and they store and verify the information. 
Withdrawal
Where can I see my credit card donations?
Go to your donation settings to view your pending and current balance.
What is available balance and pending balance?
Available balance is what you are able to withdraw to your bank account. Pending balance is money that is still processing. When you receive money it will remain pending for 2-3 business days. After those days are up it will move into your balance.
Why is there a pending balance on my account?
Pending balance is money that is still going through the process. After 2-3 business days the money will move into your balance and you can withdraw it to your bank. These pending periods depend on the senders bank. 
How often can I withdraw my funds?
You can withdraw your funds as often as you like as long as there is money in your available balance. There is a 0.5% fee for each withdrawal that you make under $2000. Anything over $2000 will have a flat fee of $10. If you make multiple withdrawals in a month, you will not be charged for more than $10 in withdrawal fees.
How long does it take to withdraw my money?
Withdrawals can take up to 3-7 business days. If you have not received your withdrawal and 7 business days have passed please submit a ticket. A pending withdrawal period depends on the receiving bank. 

Are my donors able to see my personal information such as name and address?
No, your donors will not be able to see any personal information.
 
Can I reset my bank account?
Assuming you have not withdrawn the funds, you can request the bank account to be reset.
 > To request a bank account reset, submit a ticket.
If you have any further questions about credit card donations, feel free to reach out via ticket and our team will be happy to assist