The Winter holidays are approaching fast, and it's never too early to start preparing. Holiday sales from November to December totaled more than $180 billion in the US alone in 2020. If you haven't already, now is the perfect time to open a Streamlabs merch store.
Luckily, opening up your own merchandise business doesn't need to be complicated. Here at Streamlabs, we handle printing, shipping, and customer service. All you have to do is upload your logo (Streamlabs Logo Maker is now FREE) or creative design to any of our products, and that's it! There is no cost to you.
That leaves you to create the content and present it to your audience. Wearing your merch while you stream is the best way to promote your brand and sell merchandise. However, indicators point to longer lead times and higher shipping costs as we approach the holiday season. This means that it is critical to start creating holiday merchandise now.
A selection of some of the holiday merch available through Streamlabs for the 2023 winter season
Here are several questions all streamers should consider when selling merch.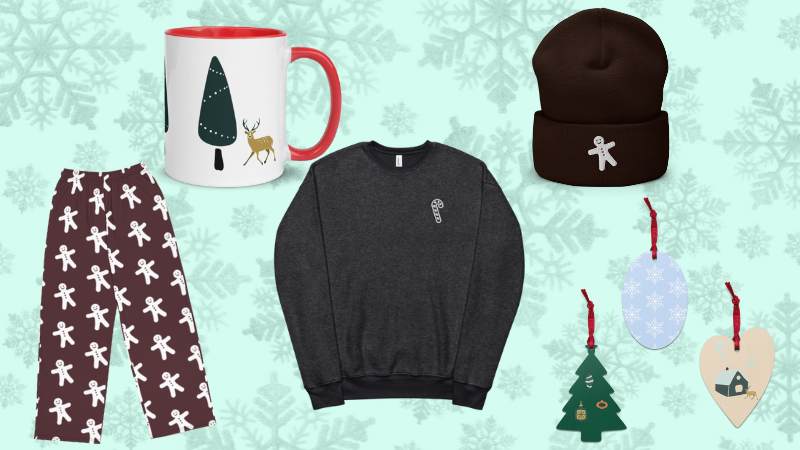 Here are several questions all streamers should consider when selling merch.
What are the Best Times to Sell Merch?
November 23 — US Thanksgiving

November 24 — Black Friday

November 25 — Small Business Saturday

November 28 — Cyber Monday

December 15 — National (US) Ugly Christmas Sweater Day

December 7— December 15— Hanukkah

December 24/25 — US Christmas

December 26 — Boxing Day

When Should You Order Your Merch
It's crucial to have your merchandise ready before your audience needs to place their order. Many shoppers this year plan to shop early to avoid receiving items too late and higher shipping costs. This means you need to be even more prepared.
We recommend creating and ordering all Merchandise by the end of November. If ordering after November 22nd, we recommend selecting expedited shipping when available.
With the Streamlabs store, Streamers can make Merch and order it themselves while hiding items from their public store until they are ready to unveil it for their audience.
Cut-off Dates for Holiday Merch
You and your viewers will need to order by that date if they want to receive your merch before Christmas. The cut-off time this year is November 24th for all items. There are still instances where ordering Merch in December will arrive on time with standard shipping.
It is also important to offer items that make good gifts during the holiday season. 2020 holiday data shows that certain products sell better than normal during the holiday season. Consider creating one or all of the following items:
Wooden Ornaments
Throw Blanket
Pajama Pants
Hoodie
Apron
Mug
Pillows / Pillow Cases
Laptop Cases
Canvases
Bags (totes, duffles, and backpacks)
---