The first quarter of 2019 is behind us, which means it is time to take a deeper look at the live streaming industry and the trends affecting it. This quarter we've partnered with Newzoo to provide you with a more comprehensive and complete look at the industry.
In this report, we are taking a look at how YouTube Gaming Live is showing the first signs of serious contention with Twitch, which video game publishers people are watching the most, and if Apex Legends is impacting Fortnite.
Note: In 2018, data for YouTube Gaming Live was limited to the top 100 channels per game at any given time. In 2019, data gathering has been improved and encompasses all live streaming channels. As a result, total hours watched, streamed and the number of unique channels for Youtube Gaming Live are not being compared to Twitch and Mixer in 2018.
TL;DR
YouTube Gaming Live reached just under 25% of Twitch's viewership in Q1'19
On average, live streamers on YouTube Gaming Live experience 26 more viewers per channel compared to Twitch
With 52 hours watched for an average stream, YouTube Gaming Live has the highest hours streamed to hours watched ratio compared to other platforms.
In Q1 this year, YouTube Gaming Live had 52% more hours of content streamed compared to Mixer despite having fewer channels
Average concurrent viewers on Twitch increased 9% QoQ, ending Q1 with 1.25M average CCV
Overall, Epic Games is the most watched publisher on Twitch since Q1'18
Apex Legends is the third most watched game on Twitch in Q1, behind League of Legends and Fortnite, and the second most live streamed game.
Due in part to the launch of Apex Legends, Fortnite lost 10% of their viewership on Twitch in Q1 this year, compared to the previous quarter
Twitch continues to cement itself as the go-to place to watch live streaming content. However, its competitors are quickly gaining traction as streamers establish their audiences.
Hours Watched By Platform
Growth metrics for YouTube GamingLive have been rising steadily and the platform is beginning to put up some serious competition against Twitch. YouTube GamingLive reached 24% of Twitch's viewership in Q1'19.
651.1M hours of live streamed content were watched on YouTube in Q1, over seven times the amount for Mixer. Interestingly, this difference in viewership doesn't seem to be affecting how many hours people are streaming on Mixer. More details on that below.
Hours watched on Twitch increased 7% to 2.7B hours in Q1 with a 33% increase year over year. Overall, Twitch has amassed 11.9B hours of watched content since Q1'18
Hours watched on Mixer increased 36% to 89.4M hours in Q1 with a 266% increase year over year. Overall, Mixer has amassed 262.2M hours of watched content since Q1'18
Hours Streamed By Platform
Mixer is only trailing YouTube Gaming Live by 4M hours, despite receiving 86% less viewership than YouTube this quarter.
The total hours of content streamed on Twitch has increased by 18% to 103M in Q1, a 58% increase year over year
YouTube Gaming Live clocks in at 12.5M hours in Q1'19
Mixer remained stagnant with hours streamed on the platform staying right around 8K quarter over quarter and actually experienced a 15% decrease year over year.
Average Viewers Per Live Stream
Live streamers on YouTube Gaming Live are experiencing 26 more viewers per live stream compared to Twitch.
YouTube Gaming Live ended Q1 with an average of 52.2 viewers per stream; higher than both Mixer and Twitch.
Twitch ended Q1 with 26.1 viewers per stream; a 9% decrease from last quarter. Overall, Twitch is averaging 28.4 viewers per stream since Q1 2018
Mixer is averaging 6 viewers per stream overall since Q1 2018, however, the platform has experienced a 336% increase in viewership year over year, ending this quarter with 10.9 average viewers per stream, a 31% increase from Q4
Unique Channels By Platform
Youtube has the lowest number of unique channels in Q1 compared to Mixer and Twitch. Considering the number of hours watched per stream, this could be a good opportunity for new streamers on Youtube to establish an audience that clearly likes to watch a lot of content.
There were 1.23M unique live streaming channels on YouTube Gaming Live in Q1'19.
The number of live streaming channels on Mixer has lowered slightly, from 1.54M to 1.44M in Q1'19. Perhaps more significantly, there was a 27% decrease year over year in channels on the platform.
There were 5.71M unique live streaming channels on Twitch in Q1'19, a 17% increase from last quarter.
Average Concurrent Viewership Per Platform
Mixer increased average concurrent viewership by 39% but still trails behind YouTube and Twitch.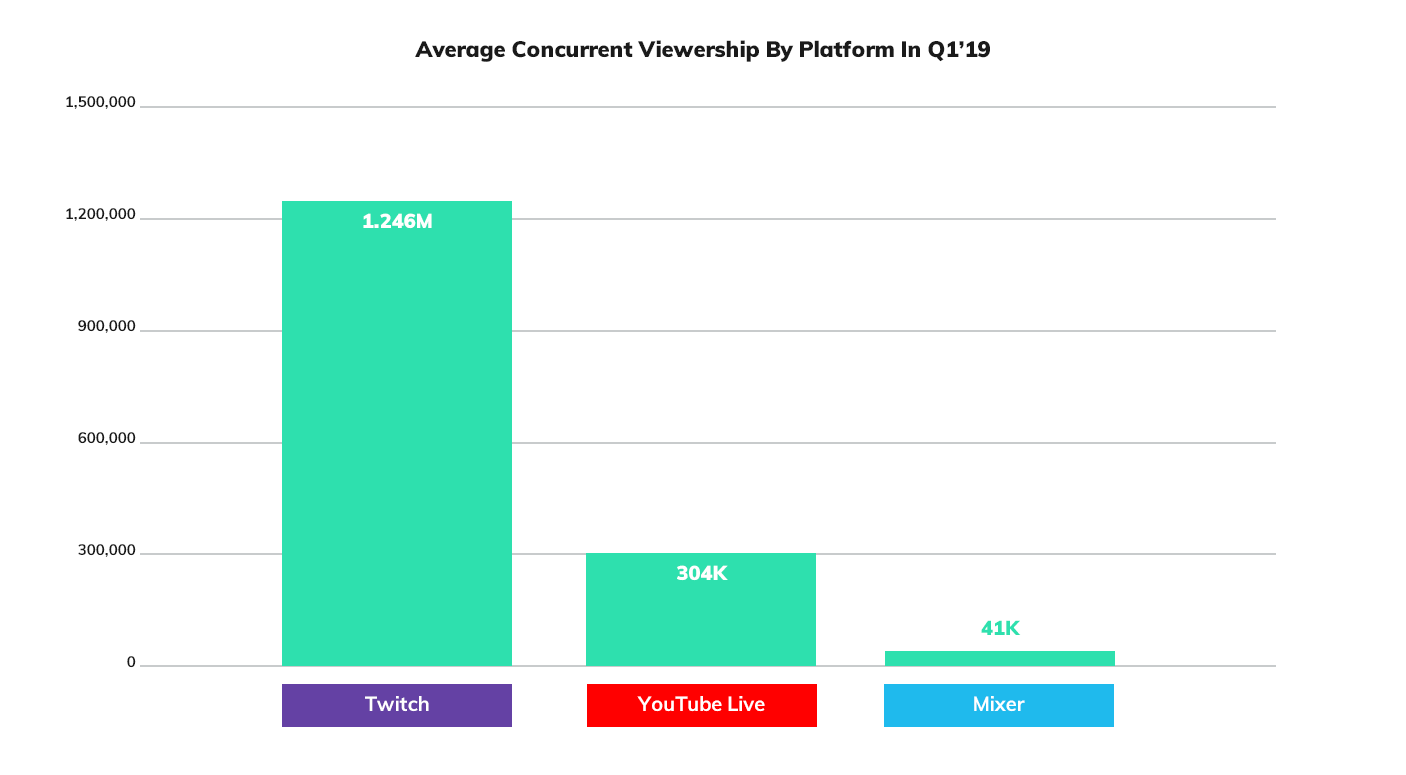 Twitch ended Q1 with the highest amount of average concurrent viewers with 1.25M CCV, a 9% increase from last quarter.
Youtube Gaming Live ended Q1 in second place with 304K average concurrent viewers.
Lastly, Mixer experienced a healthy rate of growth in Q1, albeit with the lowest average CCV, ending Q1 with 41K average concurrent viewers, a 39% increase from last quarter.
Twitch is still the market leader by a significant amount — more than four times YouTube Gaming Live's size — but YouTube Gaming Live is now seeing the same accelerated rate of growth that we first saw in 2016–2017. YouTube's decision to merge YouTube Gaming Live and YouTube Gaming Live into one product seems to be working really well. They've added better monetization and community tools like SuperChat and Memberships and continue to support third-party developers like Nightbot and Streamlabs for added features and tools. Alongside Google's presentation unveiling Stadia, Youtube's Ryan Wyatt took the stage to announce State Share and Crowd Play. We believe these have the potential to reset how fans expect to engage with their favorite gaming live streamers.
Top Publishers Since Q1'18
This quarter, we wanted to take a look at some of the top publishers in the live streaming industry.
Despite newcomers like Apex Legends and Call of Duty: Black Ops entering the live streaming scene recently, these titles still couldn't dethrone Fortnite or overtake Epic Games as the most watched publisher.
Top Publishers watched in Q1'19
Epic Games — 304.6M
Riot Games — 298.2M
Valve — 263.6M
Electronic Arts — 252.4M
Blizzard Entertainment — 217.1M
PUBG Corporation — 67.5M
Activision — 35.2M
However, Epic Games' Fortnite has been steadily declining in terms of hours watched on Twitch. In Q4 of 2018, the popular battle royale multiplayer shooter racked up 337.2M hours watched. That number has decreased by 9% in Q1 this year, ending Q1'19 with 304M hours watched.
It seems like one new contender, Apex Legends, may be having an impact on the decline in people watching Fortnite. After debuting in February 2019, Apex ended Q1 as the number three most watched game on Twitch ending Q1 with 180M hours watched on Twitch, just behind League of Legends (298M) and Fortnite (304M). No other game has been this close to touching either of these games in the past.
Apex Legends was the second most live streamed game on Twitch with nine million hours, coming in behind Fortnite which had 23.9M hours. League of Legends was the third most live streamed game with 5.8M hours.
Streamlabs Desktop
Quarterly active streamers using Streamlabs Desktop across all platforms has increased by 26%, surpassing three million quarterly active streamers for the first time ever.
Mobile Streaming
Streamlabs' mobile iOS and Android live streaming apps are the most-used by professional streamers in the industry and grew even faster than our web or desktop tools.
#1 App Store for Broadcasting
The Streamlabs Desktop App Store for streamers continued growing and delivering killers apps for streamers, making it the #1 App Store for Streamers & Broadcasting
Since launching in November 2018, there are now 44 apps available in the store and over 27K app subscribers, growing 91% from last quarter.
Overall, 2019 has already proven to be a standout year for live streaming. YouTube is really picking up steam, managing to attract many new viewers to the platform. Meanwhile, Epic Games has been the most watched publisher overall since Q1 2018. However, Fortnite has been facing some stiff competition from newcomers such as EA's Apex Legends. Despite Apex's meteoric rise, its viewership has been naturally stabilizing following its initial hype. Still, Apex has proven that Fortnite is not untouchable.
Streamlabs will always be here to help make you a better streamer and help turn your passion into a business. We hope you find these industry insights valuable. If you have questions or comments please let us know and follow us on Twitter. Newzoo is a leading research provider in the space and collaborator on this report, and you can check them out here. If you haven't already, remember to download Streamlabs Desktop by visiting our website.
---