Did you know that creating original sounds on TikTok is a great way to help your profile and videos get more views and engagement? Sounds are integral to creating on the platform, and TikTokers who are stamped as original creators of popular sounds reap the benefits. Even if you don't use original sounds in hopes of them going viral, it's a great way to make your content stand out or showcase your talents (such as DJing or being outright funny). However, it wouldn't hurt if your original sound launched a new TikTok trend. Keep reading to learn more about adding original sounds on TikTok.
How to Make an Original Sound on TikTok

Open the TikTok app and hit the plus sign to start recording a new video.
2. Alternatively, you can upload a video from your phone's library if you have a stored video you'd like to grab audio from.
3. When you're done recording (or uploading a saved video), click the red "Next" button towards the bottom right side of your screen.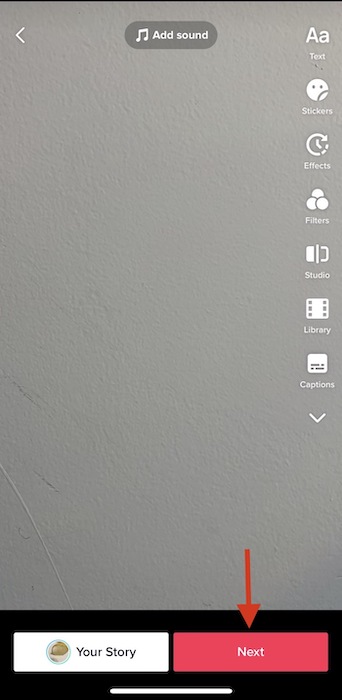 4. You should land on a window asking you to input details for your TikTok video, such as the caption, location, etc. However, this is unnecessary if you're simply using the video to create a sound for future use. Instead, we recommend skipping the details, changing the "Who can watch this video" setting to "Only me," and hitting the red "Post" button, which will upload the video privately.
5. Next, head over to your TikTok profile and go to your private videos. You can find these in the second tab on your profile, marked with a lock at the top.
6. Next, select the private video you'd like to use as a sound and click the spinning record icon with your profile picture in the center.
7. You should be brought to a page of all videos featuring this sound—in this case, it should only be yours since it's from a private video. Select "Use this sound" at the bottom and use your audio to create a TikTok video. That's it!
Pro-Tip: When creating public videos after making a private one, be sure to switch the "Who can watch this video" setting back to "Friends" or "Everyone," as TikTok typically saves your last upload setting.
Also, remember when using a sound on the app, your video will only be the length of the sound (even if you set the video to record longer than that). For example, if your sound is two seconds long, but you set your video to record for 15 seconds, you'll only be able to record two seconds of footage.
How to Add Your Own Music as a TikTok Sound
If you're an artist who would like to add your music to the TikTok sound library, you'd be delighted to know this is relatively simple. Below are two different methods.
Music from Your YouTube Channel or Twitch Clips
If you're an artist that performs during live streams or uploads music videos on YouTube, you can easily use a tool like Cross Clip to get your videos off these platforms and onto your phone to grab audio for TikTok sounds (using the steps we outlined above).
Head to streamlabs.com/cross-clip and input the link to the YouTube video or Twitch clip you'd like to use as audio. You can also upload a file instead. Remember to adjust the clip according to which part of the audio you'd like to use as a TikTok sound, as Cross Clip will only convert the video to a 60-second clip.
Next, wait for the clip to upload.
Once your clip is uploaded, select "Compile" to save it to Cross Clip. Don't worry about adjusting the inputs; we're only concerned with getting the audio.
4. Next, click upload to TikTok—this will automatically send the video to your TikTok inbox for you to upload it on the app. Alternatively, you can save the video from the email sent from Cross Clip once your video is ready or use the Cross Clip mobile app to save the video and upload it manually.
5. Lastly, follow steps 2-6 from the "How to Make an Original Sound on TikTok" section of this blog post, and there you have it—your music is ready to use as a TikTok sound!
Music from Audio Files
If you have audio files that you want to use as TikTok sounds, you will first need to convert them into videos to use the above workarounds. You can easily do this by using a tool such as Video Editor to create a video using any placeholder image or video and adding your desired music or audio file. After the video is rendered, you can use the same steps from above to use the audio as a TikTok sound. Check out this general guide on how to edit videos with Video Editor if you need some help.  
How to Add a Voiceover to a TikTok Video
While voiceovers aren't technically sounds on TikTok, they can enhance your video by allowing you to narrate what's happening. Take the following steps to record a voiceover on TikTok.
After recording and editing your TikTok video, select the downward-facing arrow and scroll to "Voiceover."
Once you select Voiceover, you should see a screen with a miniature version of your TikTok video and a red record button. Hold down the button to begin recording your voiceover, releasing the button when you're done. Make sure whatever you're saying in the voiceover aligns with the video clip the viewer will see at that moment.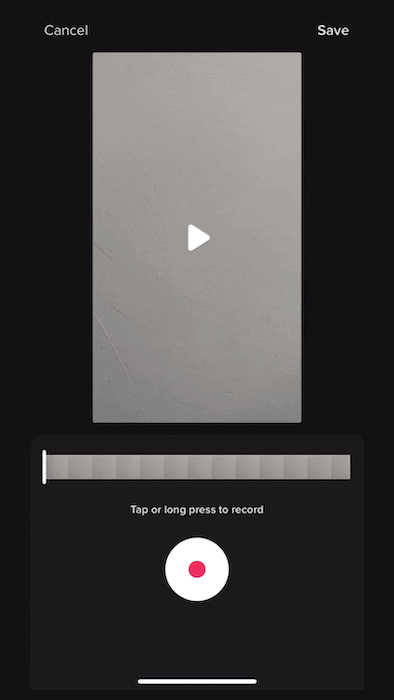 3. When you're done recording the voiceover, click "Save" and then "Next" to upload.
Pro-Tip: It's a best practice to do voiceovers as the last step of your TikTok editing process. Going back to edit clips in your TikTok will erase your voiceover, and you'll have to re-record it.
Though it may take a bit of creativity and patience with workarounds, creating original sounds for TikTok is possible and worth it if you'd like to grow and create stellar content on the app. You never know if your page will gain traction simply from creating a viral sound on the app. Try using original sounds on TikTok, and let us know how it goes on Twitter.