Connecting a pet cam to your stream is a great way to encourage channel point or bit donations (if you stream on Twitch and are an Affiliate or Partner). If you don't have donations set up, a pet cam is still a fun and interesting element to add to your stream. Without a doubt, your viewers will love seeing what your furry, scaly, or feathered friends are up to. There are a few different ways to use a pet cam with your live streaming software. Today we'll show you how to use Streamlabs Collab Cam, an easy, free solution to add a pet camera to your stream.
Different Options for Adding Pet Cams
Hook up a webcam directly to your PC (only works if your pet's usual hangout spot is close enough to your computer to be connected by a cable).

Use a pet cam with a designated app (Furbo, Wyze, etc.) then use a phone emulator on your computer to show the app on your screen.

View your pet camera feed online and add it as a browser source to your stream (only works if your camera feed can be viewed online).

Use

Streamlabs Collab Cam

to use your phone/tablet/laptop/etc. as a second camera.
How to Use Streamlabs Collab Cam as a Pet Camera
Using Streamlabs Collab Cam as a second camera is very simple. In addition to second camera functionality, you can also use Collab Cam to host a guest on your stream, regardless of where they are in the world. Collab Cam is free for one guest or second camera, which works for the setup we'll create in this tutorial. The option to host multiple guests or cameras with Collab Cam is available with a Streamlabs Ultra subscription.
First, you'll need to decide what device you want to use as your pet cam. Collab Cam will work on most smartphones, tablets, laptops, etc. There are no apps required, your device simply needs to have a camera, internet connection and be able to access a browser (Safari, Chrome, Internet Explorer, etc.).
Add Collab Cam as a Source to your Stream
Let's get things set up before you go live. First, add Collab Cam as a source to your stream.
Name your source. We'll choose "Pet Cam" for convenience and easy remembering.
Click Add Source.
Send the Collab Cam Link to your Second Device
Now you need to copy your Collab Cam link and send it to your device. You can send it through an in-app messenger or in an email—whatever works best for you. Click the Copy button, then paste it in a DM or email and send it to your device.
Join the Stream from Your Second Device
For this tutorial, we're using an iPhone 11. If you're using a different device, your screen may look slightly different. Click on the link you received from your desktop to join the stream.
Tap Allow, then name your device and check the settings. We switched from the front camera to the back because it's higher quality. Once everything looks good, tap Join.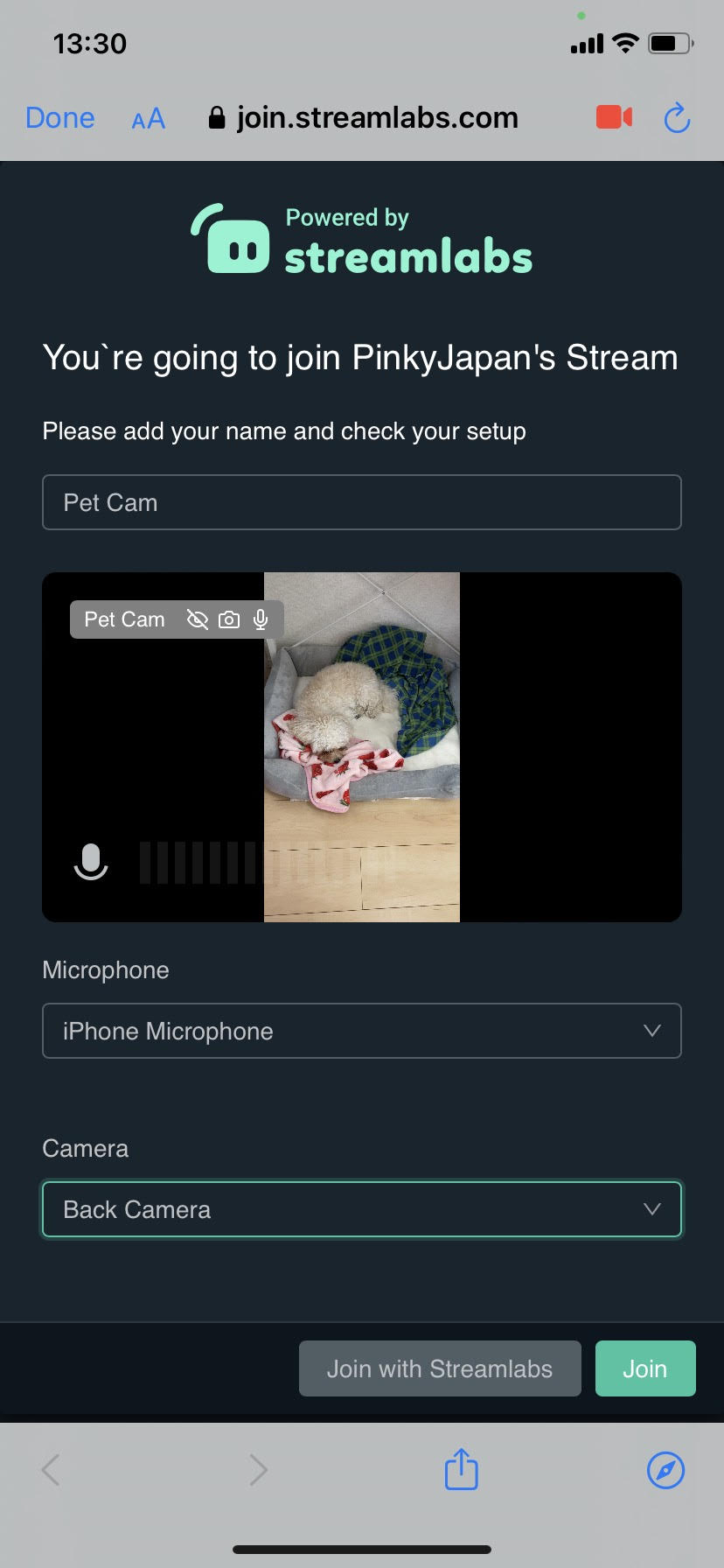 Position your Pet Camera
To position your camera IRL, use a tripod if you have one. If not, you might have to get a little creative. We set our iPhone on the floor and propped it against a few books to achieve a nice angle.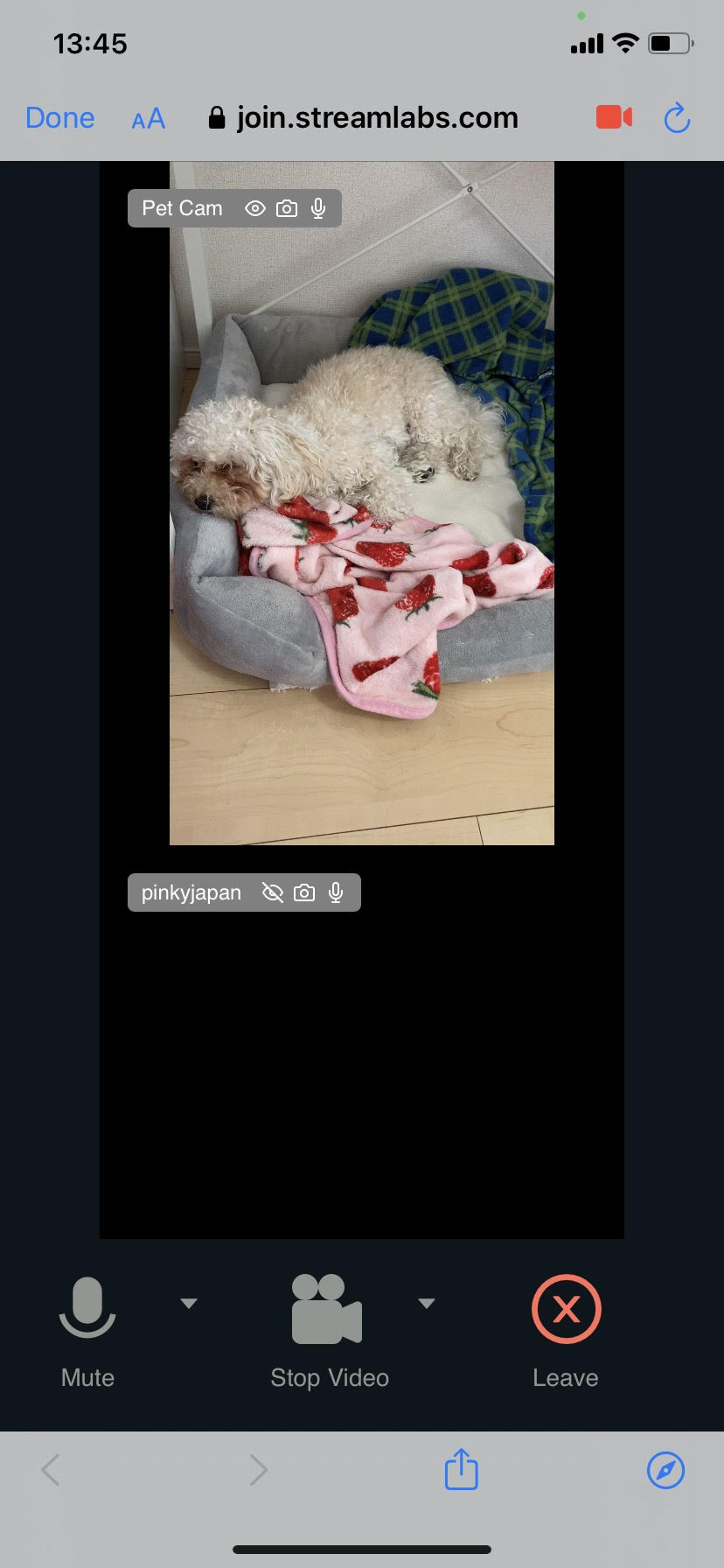 Position your pet camera on stream by clicking and dragging it. You can also hold down ALT and drag in the sides to crop it as needed.
Gaze Upon Your Pet with Love and Wonder
If you're planning to use your pet cam as a reward for donating bits or channel points, hover over it in your source list and click on the eye logo to hide it from your stream until the donation requirement is met. You can also set hotkeys to show and hide your pet cam quickly.
How to Bind Your Pet Cam to a Hotkey
Click the gear icon on the lower left side of your screen to open the Settings menu. From there, click on Hotkeys.
Locate the scene where you have your pet cam enabled. Ours is called "Live - Comfy Crafting." Scroll down until you see your pet cam source.
Now all you have to do is decide what keys you want to use to show and hide your pet cam.
Streamlabs Collab Cam makes it really easy to add a pet camera to your stream. With Collab Cam, there's no need to buy a separate camera—you can just use a phone or tablet you already have around your house (or an old phone you don't use anymore, perhaps?). Since Collab Cam works through your device's browser, you don't have to worry about downloading any special apps either. Best of all, Collab Cam is free to add one extra camera or guest to your stream. In this case, your guest is your pet, and we have no doubt they'll quickly become the star of the show!