YouTube Analytics (also known as "metrics") offers a ton of useful information that can be used to help grow your channel. The trouble is, how do you make sense of all those numbers and statistics? Don't worry, we're here to help!
As you start to fill your channel with content, it's important to get in the habit of checking your analytics regularly. YouTube's analytics will tell you the results but they don't tell you the cause or reason for them. For example, analytics will tell you if a certain video got a spike in views, but it won't tell you why. To figure out the reason why your numbers are the way they are, you'll need to do some investigating.
Let's take a look at how to access your channel analytics, the most important things you should be paying attention to, and how you can use the data to your advantage.
How to View Your YouTube Channel Analytics
Go to your YouTube Studio channel dashboard and click on "Analytics" from the column on the left hand side of the screen. You'll notice that your analytics page has four areas you can view—Overview, Content, Audience, and Research.
Overview Section
In the Overview section, you'll see a graph with Views, Watch time, and Subscribers. Underneath that, you'll see your top ranking videos with the number of views and average view duration displayed (in both minutes and percentage) for specific videos.
What to Make Note Of:
Average view duration is one of the most informative pieces of data in this section. If viewers are only staying on your videos for a couple of minutes or seconds, you'll need to do a deep dive as to why. Poor lighting, audio, or quality of video could cause viewers to leave early on, so you should double check these if your views are on the short side. Do you have a 90 second intro and see that most viewers aren't getting past it? Cut it down. Do you have an ad at a certain point in every video and find you lose viewers in that time range? Look for ways to modify your videos to avoid the trend. If one video is performing better than others, consider what you did differently and think about how you can apply learnings to future videos.
Content Section
The YouTube Analytics Content section is chock full of important data. First you'll see a graph displaying Views, Impressions, Impressions click through rate, and Average view duration. Underneath tells you how viewers found your video (via YouTube, outside websites, etc.).
What to make note of:
Impressions click through rate is the most important piece here. If it's low, it could mean your thumbnails aren't engaging enough. If your click through rate is high but your watchtime is low, that means your thumbnails are grabbing viewers but the content isn't keeping them.
Audience Section
The Audience section is also full of informative data that will help you learn more about the people watching your videos. Here you can view when your audience is active on YouTube, other channels and videos your audience is watching, age, gender, geography, and the amount of people watching who are subscribed vs non-subscribers.
What to make note of:
A lot of the info on the Audience page can be used to your advantage. You'll want to analyze every piece of data from this page to figure out how you can best connect with your audience. Watch time from subscribers is an especially important item to note that we go into more detail on below.
Research Section
The Research section includes a handy little tool for SEO research. Use this in conjunction with the other tips you learned from our section on YouTube SEO to help you plan keyword research.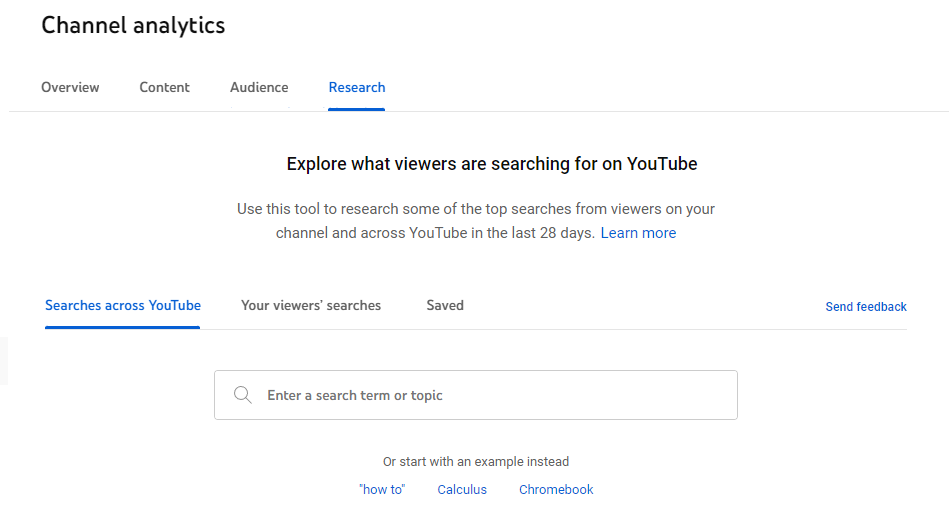 What to make note of:
Use the "Your viewer's searches'" section to see what types of videos your audience is interested in. How can you incorporate some of these video traits into your own content? For example, if you notice people searching for listicle videos (for example, "Top 10 Netflix Shows to Binge" or "5 Fall Items to Add to Your Wardrobe," etc.), try filming one of your own to see how it performs.
Tips for Utilizing Your YouTube Analytics Data
Naturally, everyone on YouTube is looking to improve their analytics in one way or another. For new YouTubers, populating your channel with videos is the most important step. Don't let your fear of failure stop you from publishing videos. It's ok if your videos aren't perfect from the get-go. The only way to learn from your mistakes is to make mistakes in the first place!
As YouTube's analytics start providing you with feedback, averages will begin to develop. Try to keep your thumbnails, content, lighting, filming area, and upload schedule the same in the beginning. You can tweak one thing at a time later on to see how it affects your analytics. Keep an eye out for any video that performs way above or way below average. Use your sleuthing skills to figure out why. Here are some other quick tips to keep you on the right track:
If your

average view duration is higher than 50%

, keep doing what you're doing!

If your

average view duration is lower than 50%

, try to formulate a strategy to keep viewers watching for longer.

If your

impressions click through rate is higher than 10%

, keep doing what you're doing!

If your

impressions click through rate is lower than 10%

, try going for a different strategy with your thumbnails. Check out this article from Video Editor on

how to create a click-worthy YouTube thumbnail

to learn more.

If your

watch time from subscribers is less than 50%

, be sure to include a CTA (call to action) at the start and end of your videos by asking people to subscribe.

If your

video isn't performing well during the first 48 hours after publishing, work on cross-promoting your videos on other platforms.
Remember, the more you check your analytics, the less daunting they will seem. Try to set aside some time every week to go over your analytics and brainstorm ideas to improve. Pay attention to the numbers but don't obsess over them. Don't forget to pat yourself on the back for all of the hard work you've been doing and take breaks when you need to. Up next, check out how to earn some well-deserved cash for your efforts with How to Make Money on YouTube.