Adding a merch store to your business can increase your revenue and significantly help you succeed as a streamer. It gives your fans an opportunity to purchase custom apparel and showcase your brand in real-life.
But a merch store, like your live stream, requires a certain level of flair and dedication to keep your fans coming back. If done successfully, you can increase your revenue, build your brand, and turn your passion for live streaming into a business.
Below are five proven growth hacks to help your merch store succeed.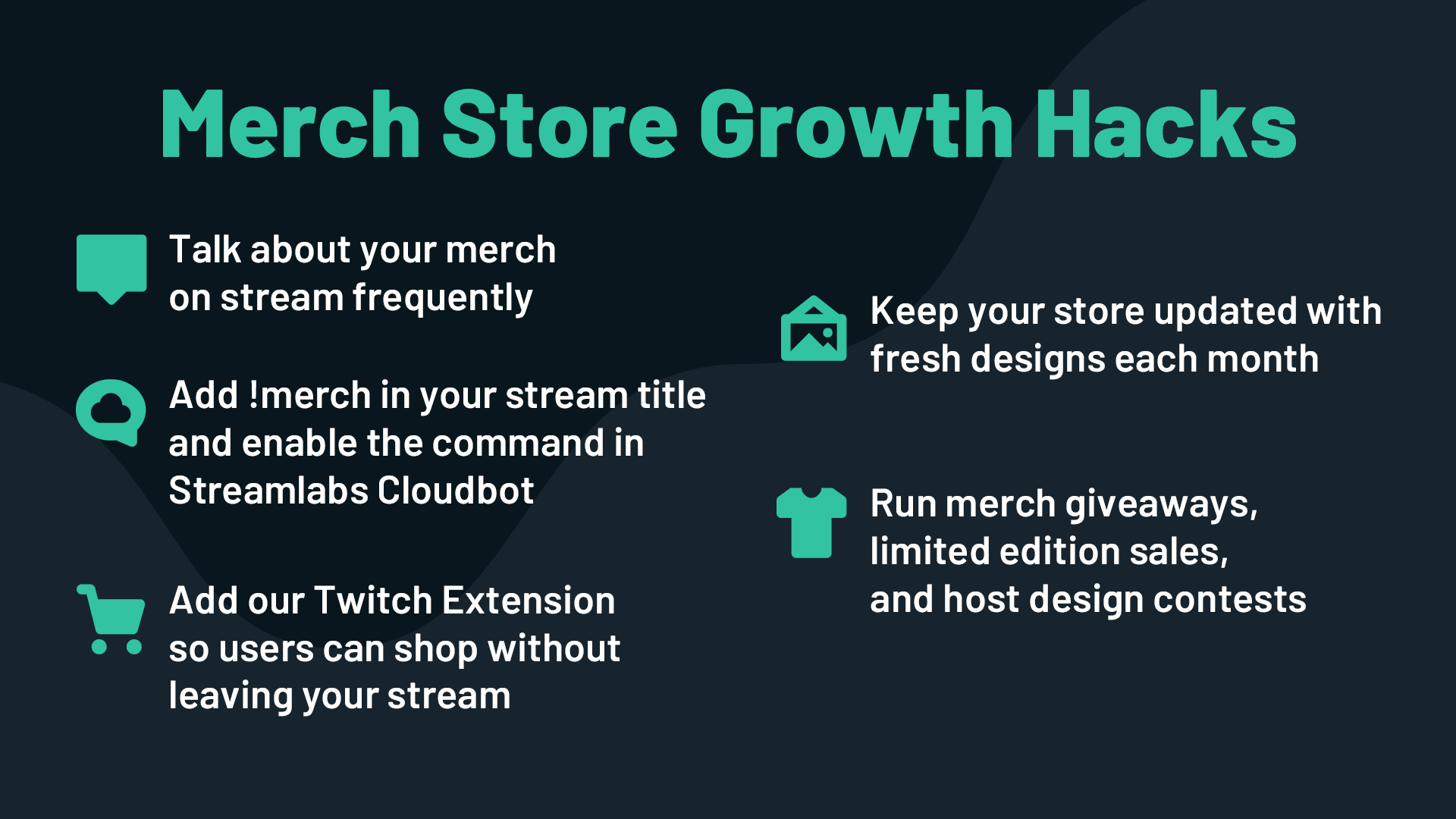 Don't forget to set up merch alerts, so when a viewer purchases your item, it will show up on the screen and in your recent events. With live on-screen alerts, you can give your viewers recognition on stream when they purchase.
92% of all sales come from t-shirts, hats, and mugs.
Be sure to highlight those items at the top of your store. However, dozens of different products are available to choose from including apparel, headwear, stickers, and home goods.
Getting your merch store set-up is simple.
Upload your logo or design to our wide selection of products, and preview them in our mockup generator.
Set your product titles and prices
Select whether you want to keep the items in your store permanently or run a limited edition campaign to really boost your sales!
Our pricing is simple, and we're the only merch provider that offers you 100% at-cost pricing. That means you can sell customized t-shirts for as little as $11 and mugs for $10. Any price you set over the minimum required amounts is yours. We'll never take a cut.
Now that your store is live, Streamlabs handles the rest. Printing, packing, and lightning-fast shipping all over the world. We'll even handle customer service.
Visit our website to find out more or contact [email protected] if you have any questions!
Remember to follow us on Twitter, Facebook, Instagram, and YouTube.
---