We're in the homestretch of 2017, and it's shaping up to be a stellar year of growth for the livestreaming and online gaming industry. It has been reported that over 600 million people watched gaming videos in 2017, and that more people watch online gaming videos than HBO, Netflix, ESPN, and Hulu all combined together. One can argue that online gaming is becoming the new entertainment destination.
Since last quarter, Streamlabs has been quite busy. We are now supported by Facebook Live and Mixer, in addition to releasing new mobile livestreaming apps, and Twitch Extensions. Our numbers in the Q3 report will reflect these changes showing steady streamer growth and viewers. Streamlabs grew by 20% in streamers, with YouTube adding an increase of 56% in streamers using our platform. Twitch is still climbing in streamers, and had an increase of 67% in concurrent streamers. Tipping continues to climb to $100M in donations for the year, and we have now doubled what was processed in 2015.
➤ Highlights, TL;DR
Twitch increased 67% in concurrent streamers, while YouTube fell 12%.
Periscope increased 80% in concurrent viewers, proving it can become a place to grow a streamer's fan base.
YouTube outpaced Twitch this quarter in monthly active streamers, and grew by 56% compared to Twitch, which only saw a 16% increase in streamers using Streamlabs.
Over 3.8M hours streamed of PLAYERUNKNOWN'S BATTLEGROUNDS, becoming the #1 game streamed on Twitch for the quarter.
Increase in viewer spend and engagement with over 152 million alerts and notifications and 2 million donations processed this quarter, proving that live streaming will become an official entertainment destination.
Over the last 3 quarters (Jan-Jun) Streamlabs processed ~$75M in tips. Projected $100m+ in tips for 2017.
---
Twitch outpaces all platforms in concurrent streamer growth
Twitch remains the #1 platform and home for streamers. Twitch increased in growth by 67% in concurrent streamers for the third quarter. Concurrent streamers are the number of streamers on the platform streaming at the same time. In our last report, we discussed how Twitch made it easier for streamers to become affiliates and grow, and we base this growth on the same theory. However while the streamers grow, concurrent viewers for Twitch has remained the same. We believe that while adding smaller streamers to the platform is great, it may take a while for them to gain any following and grow in viewership. We expect to see a bump in viewership for Twitch in Q4 & Q1'18, following this large influx of smaller streamers.
YouTube Gaming Live saw a slight decrease in both average concurrent streamers' and viewers' growth, declining by 12% for both. The huge surprise however this quarter was the increase in average concurrent viewers on Periscope.
Periscope (Twitter) saw an 80% rise with concurrent viewers.
While Twitter is struggling to grow its active users, the initial success of Periscope indicates that live streaming could present a huge growth opportunity to the company.
Streamlabs Continues to Grow — More Channels & Streamers
YouTube Live continues to grow and become a major player and competitor to Twitch. The platform saw a 56% increase from Q2 to Q3 in streamers using Streamlabs, hoping to monetize and engage with their fans more on the platform. After seeing a 54% increase from Q1 to Q2, Twitch only witnessed a 16% increase for Q3 this time around in monthly active users.
According to a recent report from SuperData Research, approximately 563 million people watch YouTube's gaming content, whereas 212 million viewers hop on Twitch.
This growth in YouTube general viewing habits can attribute to the rise of people looking to stream on the platform. Where the viewers are, the streamers will come.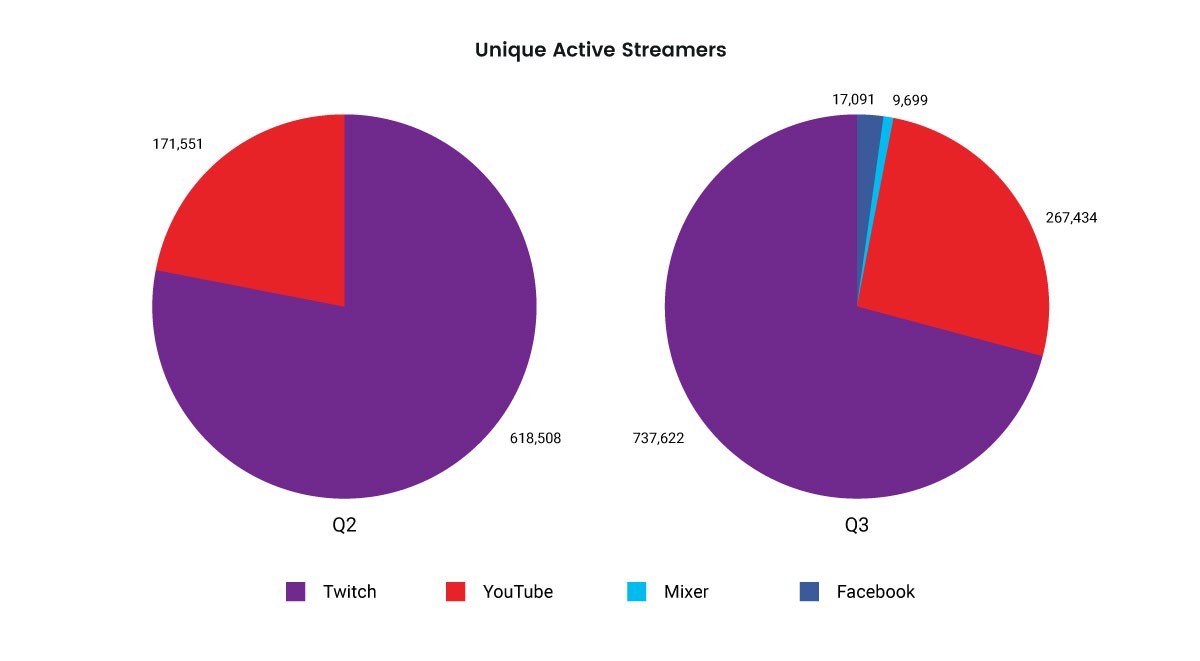 ---
The number of Monetized Channels also grew by 14%
---
The biggest game on PC, is also the most streamed
For a game that isn't even finished yet, PLAYERUNKOWN'S BATTLEGROUNDS, or PUBG, is destroying the industry and breaking records. In September, PLAYERUNKNOWN'S BATTLEGROUNDS broke the record for most players online at the same time. The game's official Twitter account made the announcement, saying that it had 1,342,857 players online, beating Dota2 for the honor.
During this quarter over 3.8M hours was streamed of PUBG, surpassing League of Legends, making it the #1 game streamed between July and September.
League of Legends dropped down a spot and for the 3rd quarter coming in as the #2 game streamed on Twitch, with over 2.5M hours streamed.
Grow.Monetize.Engage
Over 152 Million Alert Notifications Sent — Viewer Engagement Is Growing
Having an engaged audience is key to building your base. Our notifications include donation and subscription alerts, emotes and more. Here at Streamlabs we provide the tools to help streamers grow their channel, monetize their broadcast and engage with their fans.
The Gaming video and Livestream industry is just getting started, and we are very excited in seeing where we will go.
Data collection footnotes:
¹ YT Gaming: This only includes data for YouTube Gaming Live, not YouTube Live overall. We are limited by what data is available. YouTube Live is certainly much larger overall when other categories such as sports, entertainment, politics and mobile are included.
² Facebook Live: This data only includes public, openly-accessible-to-anyone broadcasts. The majority of live broadcasts on Facebook are to friends-only, or privacy-restricted, and hence not open to everyone. Thus the total broadcasts and viewers on Facebook Live are much, much higher, but that data is privacy-restricted and not available. However when looking at open broadcasts on Facebook, it does enable a somewhat apples-to-apples comparison with other openly-accessible broadcasts on other platforms.
³ Estimated Viewers: YouTube and Periscope viewers are calculated using this. These are calculated by directly measuring the concurrent viewers in at least 25% of the broadcasts, and then extrapolating from measured averages to cover the total number of broadcasts.