➤➤ Highlights for Q2'18, TL;DR
Streamlabs Desktop streaming software doubles in growth for the quarter; now accounts for 30% of all streams on Twitch
Streamlabs users grow 21% in Quarterly Active Streamers, between Q1 2017 and Q2 2018, putting monthly active users now over 1M
Mixer sees significant growth up 63% in active users; Twitch and YouTube Gaming Live both also grow 21% and 20% respectively
Twitch passes 1M in average concurrent viewers for the first time for the quarter
Fortnite continues to dominate adding over 1M streamers for the quarter; Number of hours streamed grows over 100% from 8.3 million hours to a whopping 17.6M hours in Q2
Tipping continues to rise, Streamlabs sets an all-time record for a single quarter with over $36M in tips processed; Up 45% from Q2 2017
---
We are now at the halfway point in 2018 and video game livestreaming is on a record-breaking path. Putting this in perspective according to a report by Conviva, more than 23.3 million hours were viewed of the World Cup quarterfinals on streaming platforms, setting a new record. However Twitch in June alone racked up over 126M viewer hours of streaming content from the popular game Fortnite alone, according to a report by Gamoloco, as reported by PC Magazine. In the report below, Streamlabs data confirms and follows this growth trend, with all platforms seeing an uptick in users. Unfortunately, Facebook data was not available for this report due to our our tracking breaking from API changes, but it will be available next quarter.
Streamlabs Desktop is now the #2 Streaming software globally on Twitch
With only being available for six months this year, Streamlabs Desktop is quickly becoming a go-to streaming software for those looking for the quickest and best tool to start streaming. The new streaming software now accounts for 30% of all Twitch streams, doubling its user base in only three months. This is measured by dividing the number of channels live with Streamlabs Desktop by the total number of channels live on Twitch at any given point, in 1- minute intervals, averaged over the course of a day. This trend was also noted by folks over at Elgato:
We attribute this increase of users from many factors, ranging from new features, upgrades, and additions to the free library of widgets and overlays, available only on Streamlabs Desktop. In addition to an increase in our mobile app, due to a major feature allowing the mobile app to behave like a remote control, applying a hotkey system to their stream. Learn more about the the software here.
Twitch reaches 1.37 million active streamers for the quarter; Mixer and YouTube Gaming Live see growth
Twitch continues to dominate, leading the pack in active streamers for the quarter, with a slight increase of 22% . YouTube Gaming Live also grew by 20%. The big winner of the quarter with the most relative growth was Microsoft's Mixer, seeing a big boost in quarterly active streamers of 63%. Understandably, with these increases, the total monthly active streamers for Streamlabs also witnessed a 13% bump, bringing its count now to over 1.1M active streamers per month. Our biggest quarter to date.
We can determine that with the popularity of Fortnite, more players have begun streaming for the first time causing an increase across all platforms. It'll be interesting to see if these active streamer numbers continue to grow over the course of the year. Fortnite is now doing for game streaming what League of Legends did many years ago.
Mixer continues to get viewers to their platform as well, more than doubling it's count this quarter from 9.5K last quarter to 19.6K in Q2, a 106% increase.
Twitch with over 1M concurrent viewers for the quarter is proving it is still the #1 place viewers are flocking to watch. The largest Twitch streamer Ninja is steadily breaking concurrent viewer records, and according to Twinge receives over 100K avg. viewership.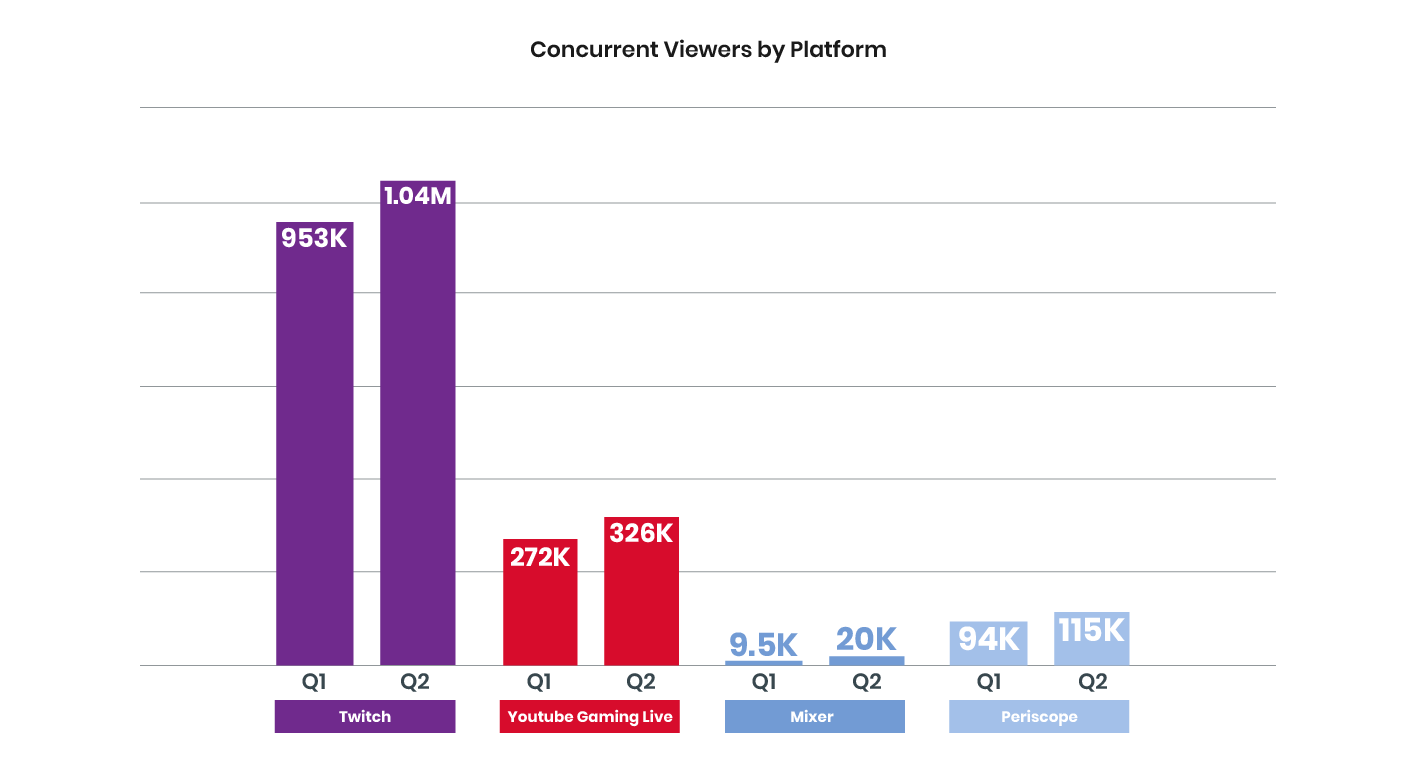 Mixer seems to be the fastest-growing platform, but that is also due to its relatively small size. Mixer celebrated its 1-year anniversary in May, has been adding more interactive tools, and gave its user base a revamped look, as reported by TechCrunch, which can account for the increase in popularity.
YouTube Gaming Live had a strong showing for concurrent streamers and more than doubled their streamer count this quarter, while Twitch only saw a 9% uptick.
Footnote on data collection — our collection methodology was improved for YouTube Gaming Live this quarter in partnership with YouTube Gaming. With this new methodoogy, our data collection for YouTube Gaming Live will be more accurate. Some of the increase in numbers is due to more accurate data, while the rest is due to growth.
Fortnite the Game of the Decade?
Fortnite continues to dominate online, adding over 1M streamers in just three months, between Q1 to Q2, totaling over 2.2M unique streamers. The number of hours streamed continues to steamroll the competition and grew over 100% from 8.3 million hours to a whopping 17.6M hours streamed in Q2. The next game behind Fortnite, PUBG, last year's darling, had roughly 3.8M hours streamed, and a little less than 400K unique streamers, which shows the big difference between #1 and #2 in that category. It also shows that the "battle royale" format is the direction that we will see most game publishers turning to in the near-future.
We asked about Blizzard in our last report, and it looks increasingly difficult for the gaming studio as their #1 Esports title Overwatch which has a newly formed professional league came in at fourth place with about 300K unique streamers, and roughly 2.2M hours streamed. This may improve with ESPN, Disney and other TV channels set to broadcast OWL League on cable TV.
Tipping Volume Rises to All-Time Record High
Tipping volume for the year continues to soar, and we are projecting to hit $150M this year, which would be a 50% increase from last year. This quarter we processed over $36M, our highest total to-date for Streamlabs. The number of monetized channels also rose between 30–40% year-on-year, which still holds true to our beliefs that more broadcasters are making money, doing what they love streaming!
Our mission at Streamlabs, our reason for being, is to help all Streamers turn their passion into a career
In closing, these numbers show that live streaming across all platforms continues to grow aggressively, and is quickly becoming a #1 destination for entertainment, creating an internet culture that is replacing traditional TV. Livestreaming is the future of Television, and with every quarter, we are getting there.