As autumn leaves start to fall and the air turns crisp, what's better than cozying up with a warm drink and tuning into a live stream that feels like home? Whether you're gaming, just chatting, or entertaining in any other way, our collection of cozy overlays will make your stream the go-to spot for comfort this season. Plus, with Streamlabs Ultra, you get access to these extraordinary themes, along with premium features and much more. Let's dive in to explore some of the best cozy overlays for your live stream.
Embrace the magic of the night sky with Starmie by StreamSpell. This overlay features twinkling stars and a captivating moonlit backdrop that transports your viewers into a celestial wonderland. With animated alerts and transitions, you'll offer a viewing experience that's out of this world.
Curl up with the Cozy Room overlay that offers a calming view of snow-capped mountains framed by a window. Decorated in hues of purple and lilac, this overlay creates an inviting atmosphere, making it the perfect setting for your seasonal streams.
Calling all cat lovers! Cute Cats by Kudos comes fully loaded with everything you need for a purrfect stream. From adorable stinger transitions to customizable alerts, this overlay makes sure you and your audience have a meowvelous time.
Replicate the serenity of your personal workspace with the Lofi Desk overlay. Washed in relaxing shades of pink and purple, it blends the line between your real and virtual worlds, offering a familiar and cozy streaming environment.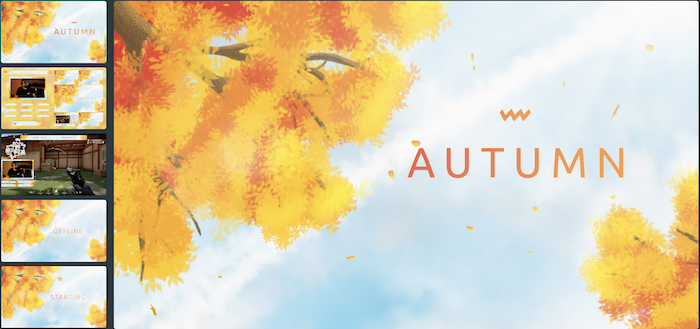 Celebrate the fall season with Autumn by WightVisuals. Immerse your stream in the warmth of amber leaves and the freshness of crisp air, offering your viewers a stunning autumnal experience.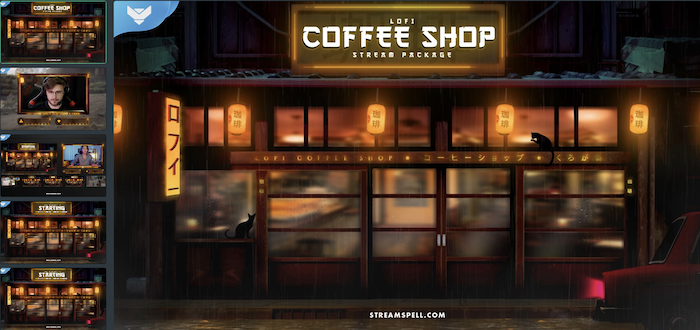 Step into the comforting embrace of a LoFi Coffee Shop, complete with animated alerts featuring glowing lanterns and a mysterious black cat. Inspired by the unique atmosphere of Japanese coffee shops, this overlay warms the soul and elevates your streaming experience.
Whether it's the celestial wonder of Starmie or the homespun charm of Cozy Room, the Streamlabs Cozy Overlay Collection has something for everyone looking to bring a touch of coziness to their live streams this fall. And remember, all these exquisite themes and overlays are available to Streamlabs Ultra Subscribers, along with a suite of premium features. Don't miss out—make your stream the ultimate cozy corner this season!