We now have a new PayPal integration option available which allows you to accept credit card donations directly to your PayPal. You can find it here .
Simply click the blue panel in "PayPal Plus" and follow the onboarding to link your PayPal business account to Streamlabs. We don't recommend setting up PayPal Lite if you are already using PayPal Plus or vice versa. As a reminder, credit card payments can only be accepted with the PayPal Plus option, which requires you to link a business account.
Sign into your PayPal account
After you sign in, you need to fill out all of the information to the best of your ability. This is required for this business integration. PayPal recently updated its business integration processes as of June 2022—the process is a bit more involved than before.
Select your business type (Individual, Sole Proprietor, Limited Partnership, etc.)



Tell PayPal about your business:

Business contact (First and Last name)

Legal business name

Business Address

If you enter your personal phone number here and do not remove it in the steps later, it will show on the payment receipts.

Agree to PayPal's User agreement by checking the box next to it

Give permission to share your payment info with Streamlabs by selecting the checkbox



Describe your business:
You must determine your product or service type on your own or with the help of PayPal support. Streamlabs cannot advise you on this.

On the phone number portion, please leave the number as is (this is a dummy phone number that we will explain how to remove later).

Enter your business email address on the email portion- this is shown to all of your donors on their receipts regardless of whether you enter it here. You can use the same email that you use for PayPal.
Tell PayPal about yourself:
SSN

DOB

Country

Home address
If PayPal isn't able to verify your information, they may ask you to upload documents to confirm your identity.
When you reach the step below, be sure to click "Go Back to Streamlabs" to complete the onboarding.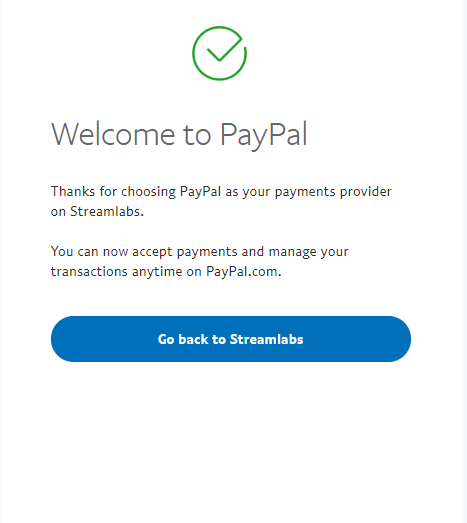 When you are finished, you should see the connected status on the blue panel. You will not be able to see the PayPal email connected here because we do not have access to that information. If you do not see the connected status, click the blue panel again and complete the onboarding once more.
Remove the Customer Service Phone Number From Payers Receipts
Unfortunately PayPal does not allow us to process your business onboarding integration to accept credit card donations without adding a customer service number. Not to worry, we have entered a dummy number to protect your information and you can remove it from your PayPal profile by following the steps below.

In order to configure your PayPal account to accept tips/donations automatically, follow this guide.