These days, keeping your personal information safe on the internet is crucial: your Twitch account is no exception. Having your Twitch account compromised could turn into a devastating experience, particularly if you depend on streaming as a form of income. Whether you're just getting started with streaming or already a Twitch partner, protect your account today by enabling two-factor authentication (2FA).
What Is 2FA?
2FA adds an additional layer of security anytime you log into a website. In addition to your password, the website will ask for your phone number, email address, or to be added to an authenticator app so it can send you a code. The code is required before you can gain access to the website.
Why 2FA?
You might have noticed 2FA becoming more popular recently. As hackers get smarter, websites need to adapt in order to protect their users. If someone discovers your password, they won't be able to log into the website without access to your cell phone, email, or authenticator app. Though it might seem like an unnecessary pain, setting up 2FA now could save you from the massive headache that comes with having your account information stolen. As a bonus, Twitch offers special emotes to anyone who enables 2FA!
How to Set up 2FA for Twitch
First click on your Twitch profile picture, then click "Settings."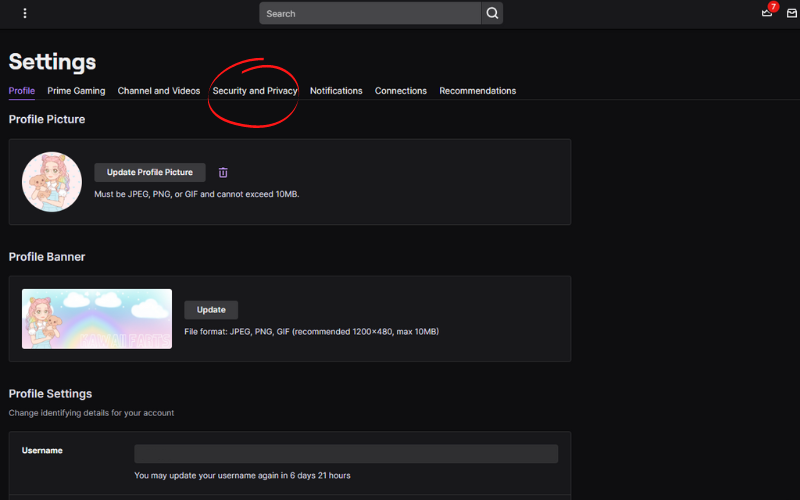 From there, click on "Security and Privacy" from the selection list.
Your Twitch account must be "verified" before you can enable two-factor authentication. If you haven't linked your phone number yet to verify your account, go ahead and do so now. Once you've done that, you can click on the "Set Up Two-Factor Authentication" button. Note that setting up 2FA will log you out of Twitch across all of your devices.
Give the message a quick readthrough to make sure you're ok with everything, then click "Enable 2FA."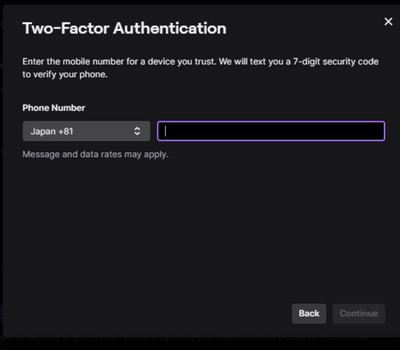 Enter your phone number.
Enter your password.
Enter the code sent to your email (if Twitch asks you for this step).
Enter the code sent to your phone.
Now Twitch will ask you to download and use an authenticator app like Authy by Twilio or Google Authenticator. You can opt to receive a text message instead but this is not recommended in case you ever lose your cell phone, change your number, etc.
If you have an authenticator app already set up, scan the QR code from the app and you'll be given a code for Twitch that times out and is replaced by a new code regularly. If you don't yet have an authenticator app, download one and set it up, then scan the QR code provided by Twitch and follow the prompts, entering the code from the app into Twitch for the final step.
You should receive an email from Twitch letting you know that 2FA has been enabled, as well as a notification regarding the special emotes!
You can jump into a stream to verify that you've received the emotes or navigate to your channel's chat and view them there.
Achievement unlocked—way to go! Now not only can you enjoy some exclusive emotes, you can rest easy knowing that your Twitch account and channel are safe from malevolent forces.
Two-factor authentication is becoming more popular and is even required by certain websites. Getting into the habit of using 2FA with your various accounts is a great way to protect all of your important data to the fullest. As always, stay safe and happy streaming!