Streamers know that emotes are an integral part of streaming culture and are important for encouraging viewers to subscribe. Therefore, it's essential that you offer up a variety of popular, versatile emotes for your chatters to use at their leisure. How does one acquire emotes? Why, you make them with Streamlabs Emote Maker, of course!
What is Streamlabs Emote Maker?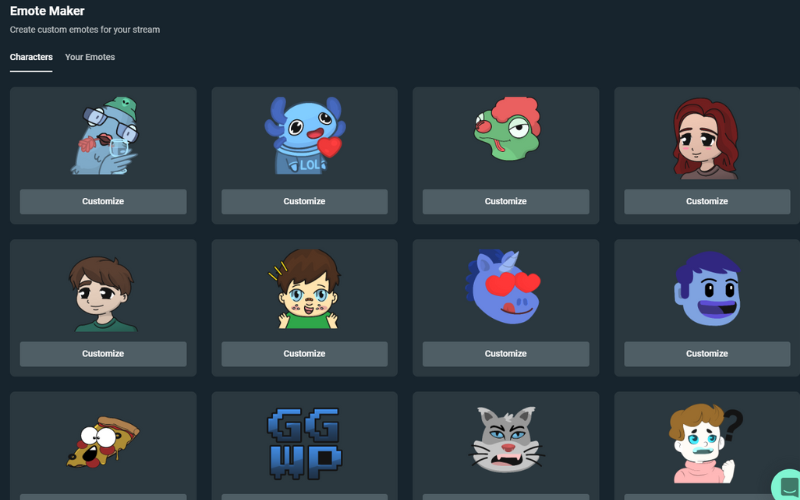 Streamlabs Emote Maker is a free tool that allows creators to modify emote templates to fit their channel's branding. Within each template lies a variety of features you can switch out (hairstyle, eyes, etc.), recolor, reposition, and/or resize. If you're not an artist, that's ok! We've done all the drawing for you; all you need to do is customize.
How to Use Streamlabs Emote Maker
On the left side of your Streamlabs Dashboard, you can find the Emote Maker tool under the Brand dropdown menu. Choose an emote you like and click Customize.
You'll see a few different examples of the different types of emotes you can create with the current template in the top right corner of the screen. On the left side, you'll see the different layers. If you've ever used a digital drawing app, you'll know that layers can be selected and modified without disturbing the rest of the image.
The layer at the bottom of the stack is the foundation layer and anything above it will be placed on top (similar to how sources are positioned in Streamlabs Desktop). Click on a layer to modify it or click the trashcan to delete. You can select different elements (eyes, mouth, etc.) to add from the menus on the far left.
When you're finished, you can save your emotes as a file on your computer, which you can then upload to Twitch (if you're an Affiliate or Partner), Discord, or wherever. You can also save your emote in Streamlabs and come back to it later to make further changes.
Essential Streamer Emotes
While there are a ton of emotes out there, chatters in the streaming community have definitely singled out a few favorites. Here's our list for popular emotes that your chatters will get a ton of use out of.
Megalul
Your streams are bound to have laugh-out-loud-worthy moments, which is why a megalul emote is essential for your channel. While the original megalul features a very distorted, enlarged mouth, we used Emote Maker to achieve a similar effect by resizing the mouth on our little goblin character. Using the tilt function at the top of the resizing tool, we tweaked his features to be just a bit off-kilter. Your chatters will love using the megalul emote and you'll love seeing it!
Sadge
Not every moment of your stream is a barrel of laughs. For those soul-crushing times when your character dies during an intense gaming session or you sing off-key during your mini-concert stream, your viewers need an emote to express their best sympathies. While the traditional sadge emote features a heartbroken frog, we used Emote Maker to create this tearful ghostie. We did give him a jazzy little hat though, so at least it's not all bad.
POG
Every streamer who games needs a POG (aka "Play of the Game") emote for their chat to spawn when they do something cool or exciting in game. While the standard POG emote features a guy with his mouth open, nothing says "cool" or "nice play" like a pair of shades and a satisfied smirk. We used Emote Maker to give our character a monochromatic purple scheme and some groovy shades.
Yes/No
Sometimes you just want to ask your chat a quick yes or no question and receive quick responses in return. While typing "yes" or "no" isn't difficult, it's easier for the chat to spam emotes and easier for you, the streamer, to see what the general consensus is. Here's a tip: make your "yes" and "no" emotes different colors for maximum clarity.
Dance Party/Raid
If you're having a musical moment on stream, your chat will want to join the party. There are also times where your stream will get raided and no doubt your viewers will want to welcome the new guests accordingly. We used emote maker to create a character gleefully throwing rainbow confetti in the air because let's face it: rainbow confetti makes everything better.
Now that you have some ideas for emotes, why not give Emote Maker a try? At the time of writing, Emote Maker has over 40 different emote templates to play around with. Our talented, in-house artists are working hard to create even more and it is our goal to have something for every streamer. With a mix of humanoid, mythical, and even food-related emote templates, we're confident you'll enjoy playing around with all of the customization options Emote Maker has to offer.