Let's face it: streaming gameplay on your own can be tiring, challenging work. Not only do you need to read and respond to your chat and alerts, you need to keep the conversation flowing all while concentrating on your game. Thankfully, with Streamlabs Collab Cam, you can effortlessly host a guest (or 11) and share the task of keeping your chat entertained. But what if your guest likes to game on their Switch while you prefer PC?
Fortunately, game companies are catching on and creating more cross-platform titles. Cross-platform games allow you to engage in multiplayer play, regardless of whatever systems your friends are using. Most gamers have a preference, whether it be gaming on a PC, a console such as a Switch, Xbox, or Playstation, or even a mobile device like a smartphone or tablet. We've compiled a list of a few fun cross-platform games for you to try on stream. Invite a few of your friends via Collab Cam and let the good times roll!
Dead by Daylight
Our top choice for cross-platform, multiplayer gaming is Dead by Daylight, a household name amongst most gamers. Available on Switch, PS4, Xbox, PC, Mac, and iOS and Android systems, Dead by Daylight is one of the most accessible multiplayer games around. While a team of survivors (up to 4 people) works together to escape, one person plays as the killer. Featuring original characters as well as world-famous horror icons (available through DLC), Dead by Daylight is a frightful romp that's sure to bring shrieks of both terror and laughter to your next stream.
Fortnite
There are many reasons why Fortnite continues to be one of the most streamed (and watched) games around. Not only is it cross-platform (all consoles, PC, and Android) with several interesting multiplayer options, it's free! In Fortnite, you can either work as a team, join a battle royale, or explore player-created worlds while wearing the "skin" of over 1000 different pop culture characters and celebrities (some require in-game purchase). Of all the shooter games available, Fortnite is said to be one of the easier games to learn—don't let the fact that you're a beginner deter you from giving it a try.
Genshin Impact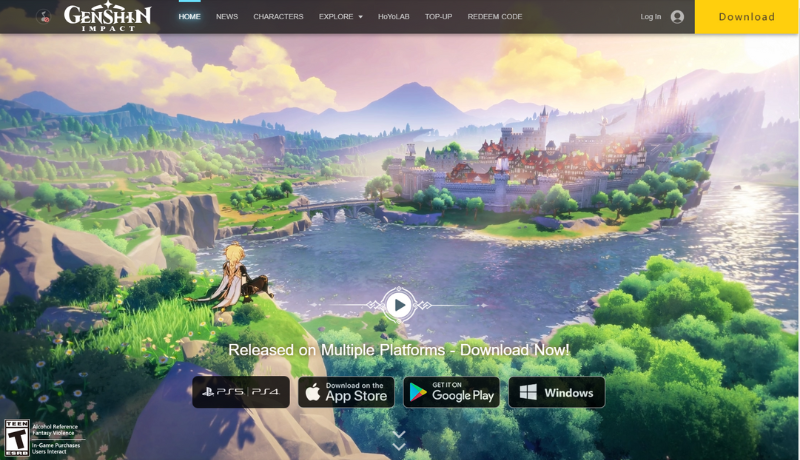 An open world RPG that has taken the world by storm, Genshin Impact has generated billions in revenue. While Genshin is free to play, users can't resist the limited characters and rare weapons available through the addictive gacha system. With a team of up to 4 players, you can defeat big bosses, farm for items in domains, or simply explore the breath-taking landscapes together. Genshin is cross-playable on PS4, PC, Android, and iOS. There are a few caveats with Genshin multiplayer though: Players must reach AR (Adventure Rank) 16 before they can engage in multiplayer and lower-ranking players can't travel to higher-level worlds (though the other way around is fine). While casual players may find Genshin harder to pick up, this cultural phenomenon continues to delight (and unite!) users from around the world.
Tower of Fantasy
Dubbed the "Geshin Killer," Tower of Fantasy debuted in China last year and became available to the rest of the world in August of 2022. Indeed, Tower of Fantasy is incredibly similar to Genshin Impact in terms of open-world gameplay, anime-style character aesthetics, and gacha wishing system. Unlike Genshin, Tower of Fantasy allows for character customization and has more of a futuristic vibe. While the comparisons have raised a few eyebrows, most players are happy to try another open-world epic (who doesn't love options?). Tower of Fantasy is free to play and has cross-platform capabilities with PC, Android, and iOS.
Overcooked! 2
Overcooked! 2 is easily one of the most hilarious multiplayer games ever created, made even better with its cross-platform functionality on Switch, Playstation, Xbox, and PC. Overcooked! 2 is the perfect game to jump right into, beginner or seasoned pro, with a group of friends and watch the chaos unfold. Up to 4 players work as chefs in a variety of restaurants preparing dishes for customers, all while dodging obstacles (and each other) in an attempt to dish out orders on time. The bonds of friendship will be tested as you mix, chop, steam, deep-fry, and grill your way to culinary success.
Honorable Mentions
Moving Out 2 (available in 2023)

Among Us

Fall Guys

Minecraft

Apex Legends

Overwatch

Rocket League
Games We Wish Were Cross-Platform
It's important to remember that just because a game is available on multiple platforms doesn't mean that it's cross-platform. Here are some examples of great multiplayer games we love playing on stream that unfortunately don't have cross-platform capabilities or are exclusive to one platform.
Stardew Valley

Left 4 Dead

Splatoon (Switch only)

Mario Kart (Switch only)

Phasmophobia (PC only)

Valorant (PC only)

GTA V
With popular games showcasing just how much players value cross-platform accessibility, it's likely that more titles will be created (or updated) as time goes on. For now, try giving one of the games from our list a play in your next stream and use Collab Cam to invite your friends or streamers you're looking to network with. We know you're going to love how easy Collab Cam makes going live with other people and without a doubt your viewers will enjoy watching the multiplayer mischief unfold!