A few weeks ago, Twitch and Streamlabs announced a new Twitch extension that helps streamers grow their Tier 2 and Tier 3 subs by letting their viewers apply 29 Twitch exclusive Face Masks to their face cams when they cheer Bits or sub at Tier 2 or 3.
The early results are promising as viewers are engaging in Face Masks to the point that streamers with the extension are seeing significant increases in Bits and Tier 2 and 3 subs.
If you'd like to get started, you can follow our detailed tutorial here or follow these instructions if you're a Twitch Affiliate or Partner:
Click Face Mask Settings in Streamlabs OBS. If you don't have Streamlabs OBS, you can get it here.
2. Enable Face Masks and Subscriber Masks
3. Install the Twitch Face Masks Extension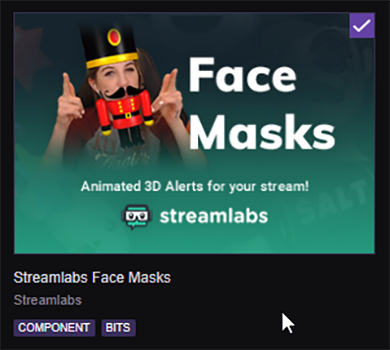 4. Click Manage Permissions
5. Grant the extension access to subs and Bits
6. Activate the extension, and enjoy!
If you're not a Twitch Partner or Affiliate, you can set up Face Masks to be applied from donations by following the instructions here. If you need any help getting started, please reach out to us on Discord.
---